Strengthening Porirua's Pacific families
While Christmas time and the summer break that follows is part of the silly season, it's also known for a surge in reports of domestic violence. Theresa Nimarota, CEO of Taeaomanino Trust (pictured left) and Thomas Isaako, Manager of Counselling and Addictions (pictured right), talk about Taeaomanino's services to support their families during stressful times and what it takes to build stronger, resilient families.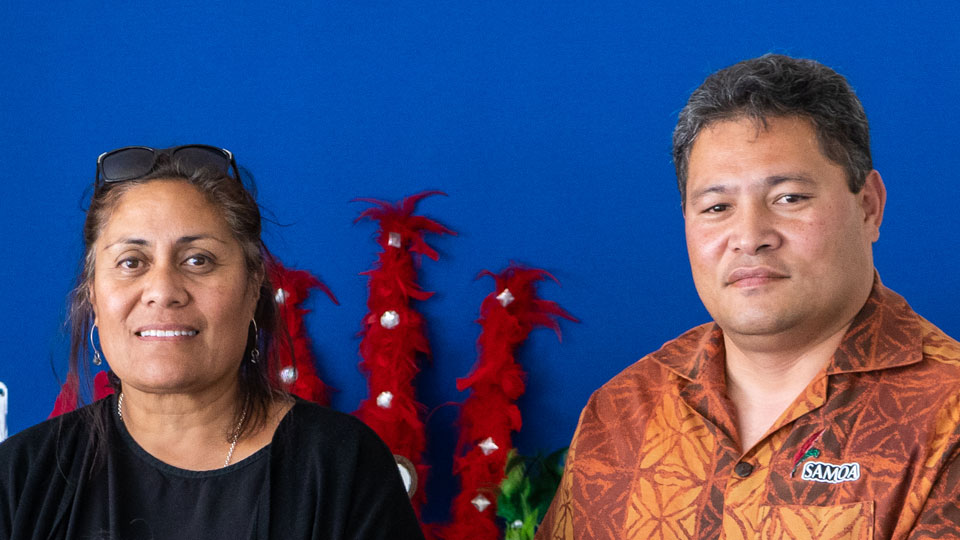 Taeaomanino Trust is the largest Pacific provider in the Wellington region, providing social and mental health services, as well counselling support to Pacific families and people in the Porirua and greater Wellington Region.
Chief Executive Theresa Nimarota, Porirua born-and-raised and whose parents migrated from Samoa in the early 60s, says the trust's main priority is being able to quickly respond to the needs of their communities.
"Needs and communities change so often, so it's just being able to respond to those in a timely fashion," she says.
Taeaomanino Trust offers a range of services to respond to and help as many vulnerable families in their region as possible.
For instances of family violence, Taeaomanino provides a prevention service for child abuse and domestic violence prevention.
As a qualified social worker with a background in education, Theresa believes the best way to prevent family violence is through education and communication.
"Sometimes people don't see it as such, but they really are, especially in regards to the importance of having open dialogue with our children."
Thomas Isaako, Manager of Counselling and Addictions at Taeaomanino Trust, agrees.
"We want to see positive communication between family members," he explains.
"We include the whole family when working towards resolution and working out solutions, rather than just focusing on an individual perpetrator."
While Christmas and New Year holidays are often portrayed as the time to celebrate and enjoy yourself, it's the time of the year when family violence typically peaks.
It is most important during times of stress, as many don't have the routine of work or school and are often at a loose end. Social workers dealing with at-risk families began putting safety plans into place in mid-November.
"We started the rollout of ensuring those plans were in place for all of our families, with an eye particularly on those families we've identified as high-risk," says Thomas.
"We gave them a list of important numbers they could call, including the police. They can also access us via telephone during the main two weeks of the holidays and we'll attend to their needs in such a crisis."
Referrals leading up to Christmas 2018 showed an increase in reporting and referrals for family violence compared to the previous year.
"We had received about 165 referrals between the period of July – December 2017, but at the same time a year later in December 2018 there were 185 referrals already through to our service, which is almost 20% increase in referrals."
Many referrals were not only family violence, but for issues to do with substance abuse, self-harm, suicidal ideations and attempts.
Taeaomanino provides a wraparound service which includes Whanau Ora for those that come through to the trust.
"We help our people to understand that the solution is in their hands … it doesn't come from providers like us," says Thomas.
Pacific families are supported to understand the solutions are within themselves. Their role is to work alongside them to realise their potential to be that solution and enabling them to apply it.
"A simple solution can be rethinking their commitments and obligations back home to the islands with fa'alavelaves (eg. special events requiring donation which could include weddings, funerals, and titles, which often requires sending large sums of money," says Thomas.
"As soon as they understand their priority is the welfare of their children and themselves, and they prioritise the wellbeing of struggling families here, they start to see changes."
Its motto Stronger Families, Stronger Futures, is taken seriously at Taeaomanino Trust. Families are not just given crisis help, but also the tools, quality leadership and knowledge to improve their situations, with the aim of enabling high levels of health, social and economic well-being.
For more information go to: https://www.taeaomanino.org.nz/
Get Help
If you have experienced family violence or would like to talk to someone about how to keep you or your family safe, call or txt 1737. For online help you can ask Aunty Dee.
If it is an emergency call 111.