Up2 Tokelau Youth Gameshow celebrates Family Values
Five Wellington college teams of four students each took part in a youth gameshow Up2 Tokelau in early September at the Porirua Elim Centre. The students not only walked away with prizes, but knowledge of Traditional Family Values based on the Tokelau Conceptual Framework for addressing family violence; Kāiga Māopoopo.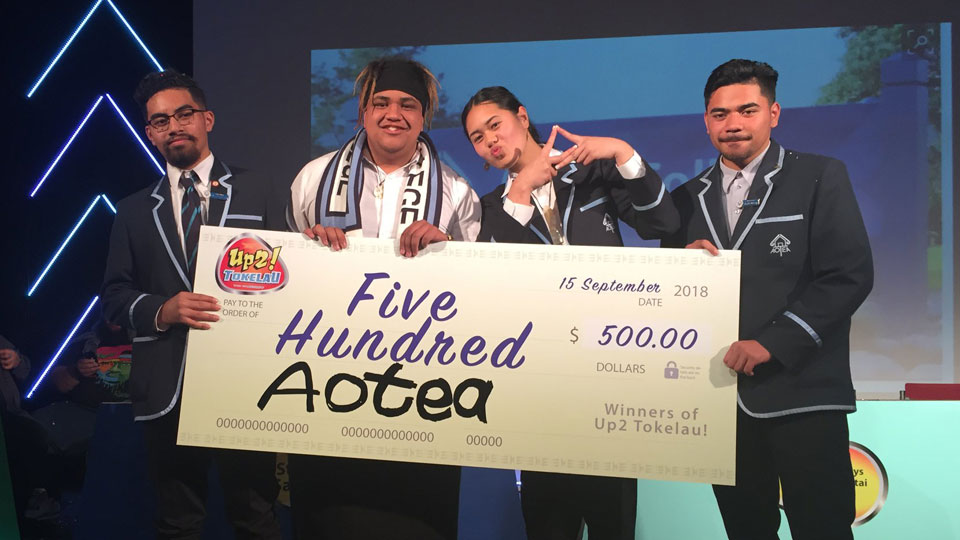 Moses Viliamu, one of the organisers, says the gameshow was modelled on the framework in which the game show teaches cultural aspects and focuses on familial relationships.
"Questions looked at relationships between brothers and sisters, the roles of uncles, aunts and the wider extended fanau as a whole," says Moses, who adds it was also an opportunity to run a contemporary event aimed solely at Tokelau youth.
It provided a platform beyond the gameshow-style quiz for youth to express themselves in an artistic, modern way, which Moses says resulted in attracting "a variety of local youth performances".
While the event itself was mainly to inform and educate about family violence within the Tokelau community, Moses says the youth were introduced to the Nga Vaka Framework as preparation for the gameshow.
"We met with them to introduce the games and provide the framework for them to study," he says.
Leon-Jay Gaualofa (pictured second from the left), youth captain of the Aotea College team which won the inaugural Up2 Tokelau Youth Gameshow, says he and his teammates were grateful for the opportunity.
"We had the opportunity to meet and have friendly competition with Tokelauan students from other schools in a positive environment," says Leon-Jay.
"But the best thing about this event, to me personally, was the information and new knowledge I gained from it."
The Aotea College team captain hopes that next year's students will have the same opportunity to explore their culture and expand their knowledge on Tokelauan traditional values.
There was around 100 youth watching from a total audience of around 200, on top of the 20 youth contestants who participated.
Moses describes it as "a very successful event, with everyone wanting to see it happen again."
"Our Tokelau community group believes it's important for the youth to keep this going."
The Tokelau committee are planning an Up2 Tokelau resilience-building event for early 2019.