Tuvaluans on the Rise
New Zealand's first Tuvaluan Christian congregation has opened a stunning new church in West Auckland that has been decades in the making and perfectly timed to celebrate Tuvalu Language Week 2020.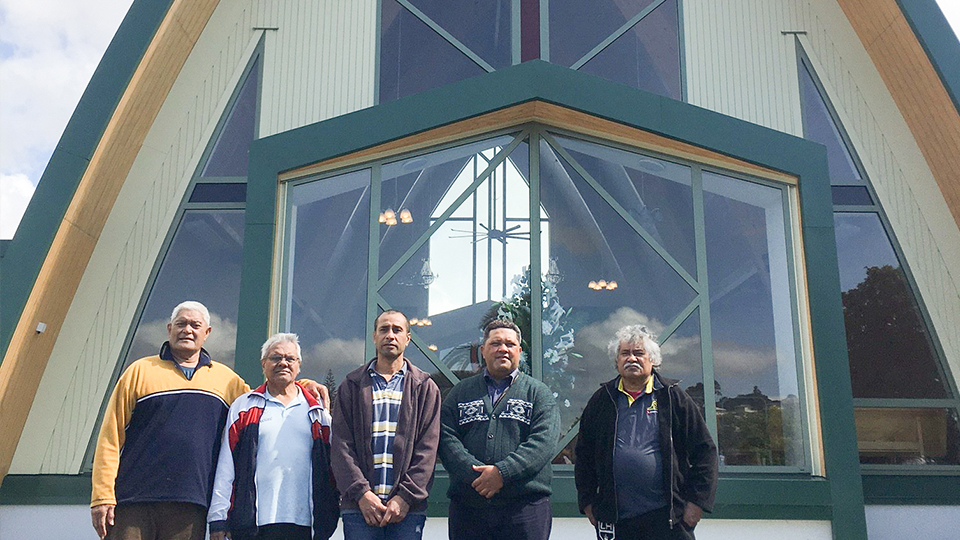 Trustees: Uelese Malaga, Tapakea Vaimauli, Uatimani Maloo, Elisala Molu, Tomasi Iopu.
There's a genuine sense of pride when parishioners arrive at their newly-built church in the suburb of Henderson, tucked away down a side street amongst a small, semi-industrial and quiet neighbourhood.
Since the church was established in 1992, the goal has always been to create their own home. To finally achieve it after strenuous and dedicated fundraising was cause for celebration, but also acknowledgement of those pioneers who began it all.
For Reverend Tomasi Iopu, this was the dream of the first faifeau (pastor), Laumua Kofe, and many others.
"There were a lot of people involved in this project and some of them have passed away, including Laumua," he says.
"When the church began, there were only a few families attending. Now we have around 50 families that are part of our congregation. I am sure they are not only proud of the new facilities, but the growth of our faith."
Such growth has seen parish numbers rise to 3000 and counting.
There's also a source of pride is knowing the Tuvalu Christian church was designed by a Tuvaluan, Australian-based architect Fakalulu Ben Kofe. Designed towards a traditional tuvalu manaeapa, a meeting house, the church can hold up to 220 people.
The initial planning to build this church started in September 2018 and the contract to build was signed later that year in December. Work on the church started in April 2019.
"We not only had fundraisers to help pay off the church, but they sold one of their properties next-door to the church," says Project manager Tapaeko Apisai.
Astute investments have contributed to their aspirations and they have no intention of resting on their laurels.
Tuvaluans living in New Zealand are also constantly aware of their families still living on the small island nation of Tuvalu amid rising sea-levels.
The IPCC (Intergovernmental Panel on Climate Change) know of the growing social problems and the local catch-all phrase "Tuvalu is sinking" due to the ongoing effects of climate change on this tiny island archipelago.
He believes their only alternative is to bring them to New Zealand. With a population of approximately 11,500 living in Tuvalu, there are few viable, mid-to-long term options.
"We have a Tuvaluan community that is growing and contributing to this nation. I know it's a long and arduous process, but I'm confident that we have more to contribute to our Pacific families."

Celebrating Tuvalu Language Week
Tuvalu Language Week is now in its fifth year with the Ministry for Pacific Peoples (MPP) Pacific Language Weeks programme.
This year's theme is Fakatili Te Kiloga Fou, which in English means Navigating the changing environment, which is a call on all Pacific peoples to be strong and resilient in the face of COVID-19. 
This has challenged us deeply as Pacific peoples, and it has made us rethink how we live and work, changed our daily patterns of life, the way we engage and stay in contact with family and friends, and it challenges us on how we practice our cultural events and traditions going forward.
The introduction of the Pasefika Proud Pathways for Change framework for 2019-2023 centres on and celebrates Pacific strengths, with an emphasis on values and concepts that have enriched Pacific cultures for centuries and instilling a vision that 'Pacific families and communities are safe, resilient and enjoy wellbeing'.
Hon Poto Williams, Associate Minister for Social Development, says the Pasefika Proud vision that "Pacific families and communities are safe, resilient and enjoy wellbeing" should be a given.
"All families in our country have a right to feel safe, strong and well - to live lives free of violence," she says.
"We know while family violence was traditionally not part of our cultures, today too many Pacific families are blighted by this scourge."
In terms of family violence, the Reverend Tomasi Iopu of the Tuvalu Christian church says it advocates to make changes for the better.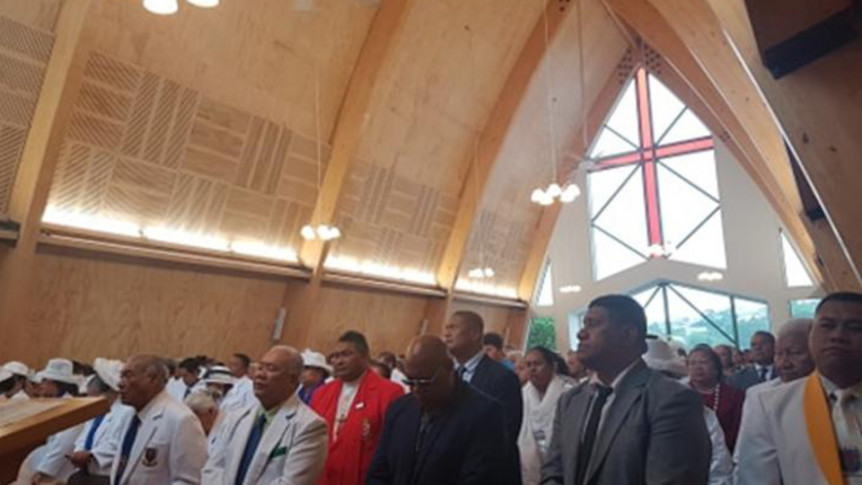 "For our Pasifika people, church life plays an important role in their spiritual lives," he says. So it's an area of focus where, by providing the right resources, it can be effective. 
As with the other language weeks in 2020, Tuvalu Language Week was launched on Sunday on the official Tuvalu Language Week Facebook page.
It runs until October 3 and is being hosted by the Tuvalu Auckland Community Trust.
A range of interactive, online events which illuminate the heritage, language and culture of Tuvalu will be delivered throughout the week, and in conjunction with the events, Tuvalu will celebrate its 42nd year of independence on October 1.
Pasefika Proud Pathways for Change 2019-2023 Pacific families and communities are safe, resilient and enjoy wellbeing.
Click here for resources and links to available service providers.
(external link)(external link)(external link)(external link)(external link)(external link)
Pasefika Proud is a social change movement – 'by Pacific for Pacific' – to boost wellbeing for Pacific families and transform attitudes, behaviours and norms that enable violence. Our name and strapline embody our strengths-based, community-led approach:
Pasefika Proud: Our Families, Our People, Our Responsibility