The Power of Trust
Being present and engaged with our at-risk young Pacific people is essential to building trust. Having delivered community-based mentoring social services to at-risk communities for more than 20 years in the heart of Otara, South Auckland, no one knows better than Crosspower New Zealand.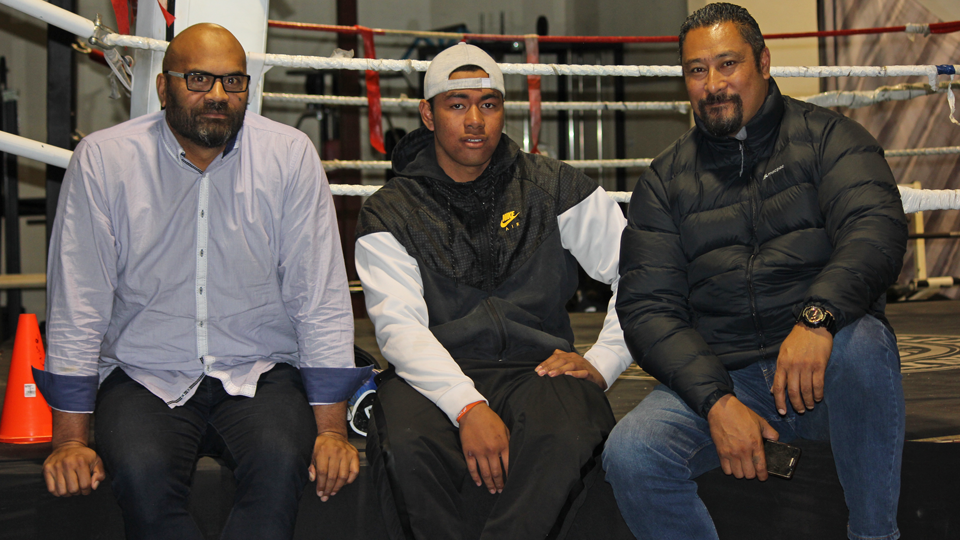 Crosspower New Zealand General Manager Robert Muller, social worker Soane Papali'i and youth Teufilo Lai Kong know it's the small things that can make a big difference.
They know that always being present by listening establishes trust when coming into a young person's life, which can often lead them away from harm or crime.
"It takes time to build a relationship with a young man who wants to go out and commit crimes," says Soane Papali'i, a Samoan social worker who also served in the NZ Navy.
"We need to know what the causes and their concerns are. To do that, they need to open up."
Robert Muller agrees, saying when troubled youth first come to Crosspower, they've got a certain mind-set.
"They're defensive because they've dealt with a number of different organisations. Those experiences are sometimes not good."
Crosspower's method is to gently chip away at the young person's defensive stance, reaching a point where someone like Soane, or the mentor they're working with, is deemed trustworthy enough to open up to.
"That's the biggest challenge for us … building up trust," says Robert.
"As Soane says, relationships are key, because how they present might not actually be the problem or issue. Nine times out of 10, the real issue is totally different. It could be a family breakdown, or just generational differences."
Robert says Crosspower isn't looking at who's right and who's wrong. But he's gradually trying to get a sense of what the real problems are, which involves spending enough time to gain a young person's trust to find out.
Everything they're told by the youth who use their service, is treated as valid and valuable.
"A lot of the times, they're coming to us after telling 20-30 other people the same story," he says.
"We do value that whole relationship and we build upon it so that, through thick and thin, a young person knows that they can depend on us."
Doing so doesn't require extensive work, but rather just their presence, time and having someone they can talk to. Although Teufilo Lai-Kong, a 17-year-old Samoan, says he is close to his mum, he admits they do not talk much.
At Crosspower, Teufilo says he talks to Soane about anything, what they're doing for the day, what they did last week, or what they had for dinner.
However Robert says that when Teufilo says he can come here and talk to his mentor, it's more than 'just talking'.
"When you've got no one to talk to, or you feel like you don't, it can be very frustrating for them," he says.
"We don't see ourselves as counsellors and therapists, but we definitely listen as mentors, as someone older and mature that can provide them with advice.
"The role of mentoring is to provide direction, because it's very easy to get misdirected."
A typical day starts with Robert picking the young men up.
"I have the gym vehicle that I use to get these boys to Prideland, to keep them fit and healthy and busy," he says, referring to the boxing gym beside them, which is operated by the charitable trust.
But most importantly, he's there to talk, something Teufilo says is all good with him.
"They keep us busy, take us out and help us get a job and that."
Having just completed the Limited Service Volunteer (LSV) Programme with a job at the end of it, it's hard to believe that Teufilo came to Otara from Christchurch just last year, got into a bit of trouble with the law, and was court-ordered to come to Crosspower.
Robert and Soane say the young man now in the room is not the same man who first came into their service.
"We've taken what has been a court directive and turned that into a relationship," says Robert.
"That's the moment where it starts changing because it doesn't become about compliance … it becomes about relationships."
Nothing could have been achieved without engaging Teufilo's family.
"The success of us is that understanding the culture has allowed us to work with Teufilo and his family, to engage them at a cultural level and involve them in the process, because we can't work with Teufilo himself," says Robert.
"At the end of the day, Teufilo's got to go home."
Soane knows it's important to involve and be respectful of the family.
"I'm not there to change the family," Soane says. "I'm there to contribute to forming that relationship between Teufilo and his mother, by way of taking him out of home and giving them both a break, explaining the process to the family and asking for their permission to help."
Robert agrees, saying their social worker plays a part in making the family comfortable and confident about what's going on and keeping the family involved.
Which is why the Pasefika Proud tagline is as relevant to dealing with family violence as it ever was.
"It's a Pacific thing, where we all value the families and we don't want to undermine their role," he says. We want to make sure they're part of the process, not excluded."
Because it's Our Families, Our People, Our Responsibility.
Find out more