Pasefika Proud message spreads to Samoa
Samoa is learning from the Pasefika Proud campaign, with Samoa's own family violence prevention communications campaign being developed thanks to project support from New Zealand's Ministry of Foreign Affairs & Trade (MFAT) and the Ministry of Social Development (MSD).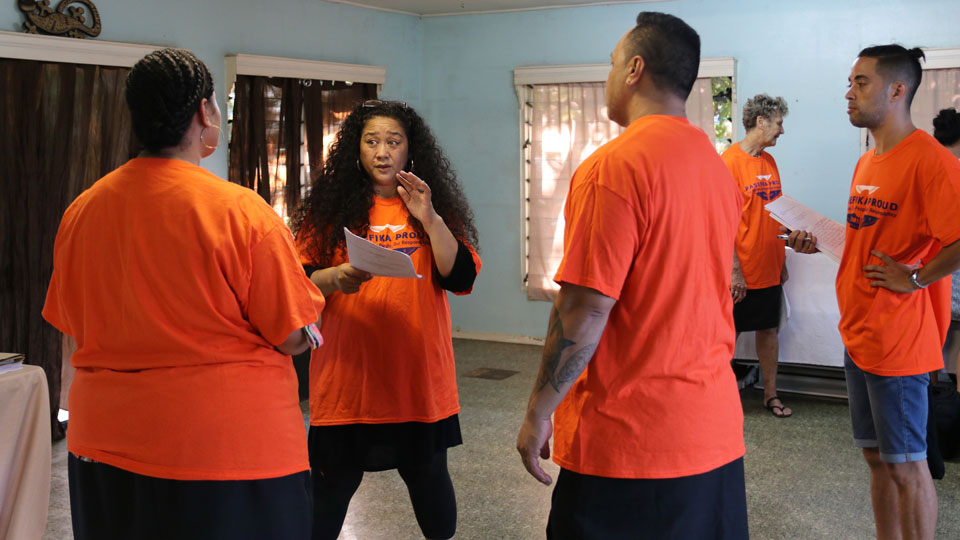 With funding provided by MFAT, MSD supported Samoa's Ministry of Women, Community and Social Development (MWCSD) to develop Samoa's own strength-based family violence prevention communications campaign.
Wellington-based communications agency Pasifika Network was engaged to train Ministry officials on the basic elements of a social marketing-based communications campaign, developing the campaign structure and key messages, examining appropriate communication tools to reach the target audiences and designing graphic design elements that could be incorporated.
"It was beneficial taking some of the lessons learned from the Pasefika Proud Campaign in New Zealand and showcasing them in Samoa," says Pasifika Network Director Samson Samasoni.
The major strategic outcome of the workshop/training exercise was the development of a robust messaging framework for the Ministry's family violence programme with four workstreams: Zero Tolerance; Safer Home; Changing Lives; Our Responsibility.
Pasifika Network also supported the Samoan Ministry to develop a range of resources, including the brand, graphic and newsletter templates and draft press releases.
Following the training and review of Pasefika Proud resources, the Samoan Ministry decided to prioritise developing a video drama.
The communications campaign follows on from the release of the 2017 Samoa Family Safety Study in July that found close to 90 per cent of girls and boys experienced some form of family violence.
Chief Executive of the Ministry of Women, Community and Social Development, Fuimapuao Beth Onesemo – Tuilaepa said: "The study documented alarming statistics that we need to urgently address".
She said the communications campaign that would result from the training and support would be in line with the report recommendations of strengthening the family unit, promoting family safety and supporting village councils to intervene in incidences of family violence.
Assistant Chief Executive for the Samoan Ministry Fitiao Susan Faogalii said it was important to ask another Ministry overseas, with close connections to Samoa, to help in the areas of strategy, communications and social marketing.
"We all know that changing behaviour is the end goal, but we know it's difficult, so our immediate goal is really to start people thinking about their behaviour and attitudes about how they treat people, especially in families," says Fitiao.
The launch of the 2017 study findings was hosted by the Ministry of Women Community and Social Development (MWCSD).
The Family Safety Study Report provides detailed information on the prevalence and frequency of different forms of violence in families, examines risk and protective factors at the household and community level and offers possible interventions and strategies.
Speaking at the launch, Ombudsman Maiava Iulai Toma stressed the need to speak out against abuse.
"Family safety is at the very heart of Samoan culture, we know this instinctively to be true. Expressions of culture and sentimental beliefs roll easily off our tongues in the sayings and proverbs we have," he said.
"What greater injunction can there possibly be than to deal decisively with family violence in Samoa. Family violence hurts deeply. But there are people that think or pretend that this is not a problem at all.
"The victims of family violence, in many instances, suffer quietly out of sight. Family violence is not peculiar to Samoa, and is a very serious matter, not only here but in the world."