Love and Leadership
David Tua may have retired from the boxing ring four years ago, but the former world heavyweight title contender can still wow an audience, as he revealed how the love of his life helped turn his life around and gave him new purpose with their Love Leadership Programme.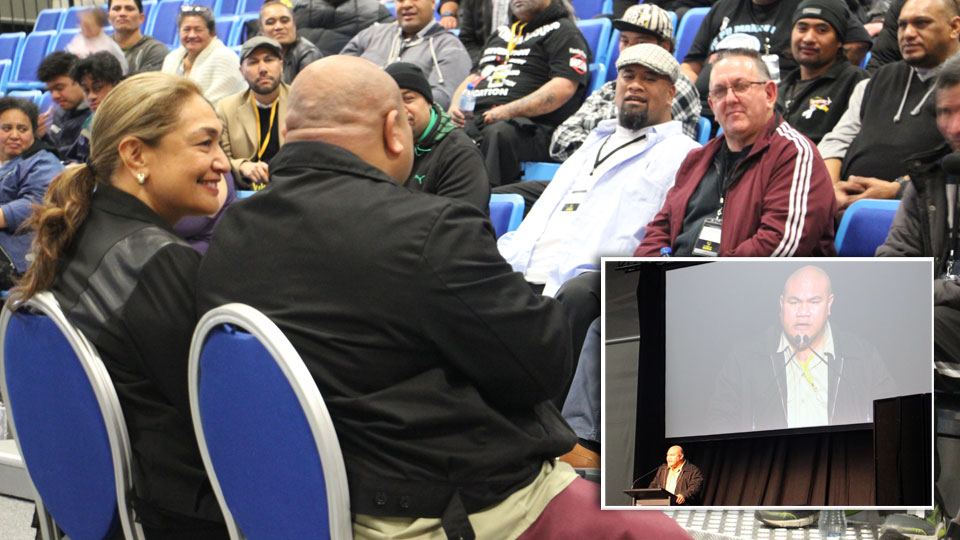 Boxing legend David Tua feels blessed to have married Helen Amituana'i.
He refers to Helen as his best friend, his soul mate and someone he can truly trust. Someone who helped turn his life around.
The former world heavyweight boxing title contender and Samoa's favourite son, Olympic medallist and hero to Pacific people across the globe, said that for three months he held bitter thoughts against those he associated with.
Seething at the sense of injustice, David would hear voices in his head, urging him to seek revenge, to 'just do it'.
He prayed, then cried, then asked God for forgiveness because deep down, he knew his darkest, inner-most thoughts of vengeance weren't the right path to travel.
Time heals … and so, says David, does a good woman.
He met his wife Helen, nee Amituana'i, a Community Relations Manager, at a fundraising event for Cyclone Evan, which devastated Samoa in 2013.
Helen says they clicked almost immediately, having both been married before and with children from their previous relationships.
They also shared the fact that both bought homes in Auckland for their respective parents.
Helen told an attentive audience at the Gathering that her previous marriage was an abusive one.
David confessed he hated the fact his father would line up the strong men in his village to box against.
"I couldn't understand why he was doing it. I was only seven when I started and some days I would fight crying or stay at the beach to be away from it all," he recalls.
"Then one day Dad said to Mum that 'we're going to New Zealand, because if our kids do well at school or in sport, they'll have a stronger future than in Samoa' … he was right."
The family left their Samoan village of Faleatiu for South Auckland. Both of his parents worked hard and long hours in their new homeland. David remembers their father was hardly seen during the week while his mother worked at a rest home as a cook and as a cleaner at their local school. But his skills in the ring immediately caught the attention of local gyms.
David was only 15 when he became New Zealand Heavyweight champion in 1988. At the 1992 Olympic Games in Barcelona he won a bronze medal.
It led to him signing with American boxing promoter and manager Lou Duva. By 2000 he had won 39 of his 40 professional fights and challenged for all three major heavyweight titles, losing to the defending heavyweight champion.
David's career would unravel in 2003 due to management disputes over his earnings. The legal disputes that followed meant he was unable to fight for two years. He would return, but time was against him, so he retired in 2013 after losing his 59th and final professional fight at age 39.
Today, David and Helen together run the David Tua Love Leadership Programme.
"We visit schools and speak to kids from dysfunctional families," says Helen.
"Initially, the programme had a strong focus on the physical aspect and disciplines of boxing as that's what was probably expected. But David said there are lots of issues happening with these kids and he wanted to share more of his own background so they could connect.
"They did connect. As the kids opened up more, it gave them strength."
David Tua admits he sees his teenaged self in a lot of the students they meet at the school visits. And when he engages with adults, as he did in depth at the Gathering, David sees and hears issues which reveal why such events are important.
"This deals directly with the ones who perpetrate the most violence within our families … which is us men," he says.
"What I've learnt from my experience is to surround yourself with positive people who you can trust. Helen is top of that list. I say to the kids, 'don't give up … don't be like me …. be better than me. Honour and respect your parents … and say your prayers'."
It's Our Families, Our People, Our Responsibility.