Heartbreakers and Heroes
Beulah Koale knew how to act the part of a young bakery worker in the critically-acclaimed film One Thousand Ropes. It was part of the life he lived growing up in South Auckland. At both the Wellington and Auckland premieres, attended by Pasefika Proud, he spoke openly from the heart about violence within his own family. He speaks to Pasefika Proud about his champions – the women in his life.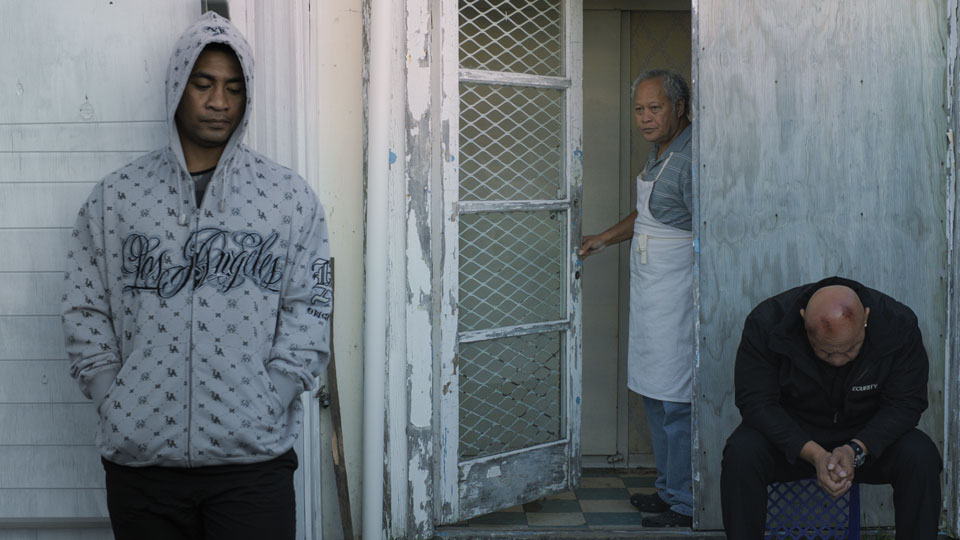 Throughout much of Beulah Koale's young life, the men involved constantly failed him. Whether it was abuse, verbally or physically, from his father, cousins or uncles, or their frequent and often lengthy absences, they failed him.
On their sporadic returns, the male talk centred on "being all about family", confusing him. He admits to feeling a little hate for the men in his family. But it was the women in Beulah's life who urged love and forgiveness, despite the fact they were often the victims.
"At one stage it felt as though life didn't mean anything to me, as my blood had let me down so often. I felt anger at the family … and the world," he recalls.
"I often felt the men in my life resented us kids, probably because they were still young themselves when we were born and they just wanted to carry on drinking and partying. We were a reminder that they needed to grow up … but they still felt like they could do both and lead this double-life… which they couldn't."
This was all-too-apparent when his father and friends would return home drunk, unhappy, abusive and violent. He would listen to the men talk about "going hard, being strong" and that if anyone got in the way to "take them down".
Beulah began to question the traditional roles within his family. It soon became apparent where the real toughness and strength came from.
"I was taught the men were supposed to be the foundation of the families because of our strength and power, but I've come to realise it's the women, like my Mum," he says.
"She's forgiving, and in the times I'm feeling dark and helpless, she pulls me out and provides the light.
"I was over in the (United) States for a film and was feeling down.
"Then mum called me, out of the blue, she called to see how I was.
"I told her, and she comforted me by saying she loved me and that I'll be alright … and I was because of her call."
Beulah is astounded at his mother's ability to forgive, despite the many times he feels she's been betrayed by family. He's also come to recognise her resilience.
"Throughout her life, these hardships have made Mum stronger.
"I see that in my partner, Georgia, who gave birth to my premature twin baby boys born three months early.
"I felt helpless but she helped me through," he says.
"I feel lucky to have two women so close in my life willing to take up the challenge to be strong and be there for their children.
"When I say strong, I mean strong through love, because love can take you so much further in life."
Beulah certainly relished the opportunity to feature in director Tusi Tamasese's critically-acclaimed film One Thousand Ropes, particularly after seeing Tusi's previous feature film The Orator in 2011.
He describes the director as a genius for creating a film that makes the audience work to try and figure it out, rather than simplifying- to explain it all.
"The pace of the film allows audiences the opportunity to work out for themselves what's going on and the different relationships between the characters.
"The film is character-based rather than theme-based. While you initially think the various storylines don't necessarily link, you discover they do," he says.
"I've always wanted to do a Samoan movie, and being part of One Thousand Ropes was very fulfilling. It was also weird being directed in a mixture of Samoan and English, as Tusi often did. It was a reminder of how my parents spoke to me.
"It was also a privilege to work alongside Uelese Petaia (playing the main character Maea), who Samoans know from the movie Sons for the Return Home (1979).
The 2006 film Sione's Wedding was the first time Beulah saw Samoans starring on the big screen. He was 13 and loved it so much he bought the DVD, watching it endlessly, including the behind-the-scenes footage and out-takes.
Although he enjoyed playing rugby, his decision on the last day of school to attend a drama class would prove to be a life-changing experience.
The drama classes continued for three years.
Once Beulah started working alongside fellow Pacific actors he idolised, he was hooked.
His career continues to blossom, having returned from the United States where he was lead in a Dreamworks film Thank You for Your Service, directed by Jason Hall who wrote the film American Sniper.
Beulah plays a soldier from American Samoa, a territory of the United States which suffers the greatest number of casualties per capita of any US state or territory.
Beulah confesses its dark tones took their toll during filming, hence why his mother's timely phone call from New Zealand helped pull him through.
It's also the reason why his openness moved audiences at both premieres in the hope that more Pacific men discover what strength truly means and who our heroes truly are.
Pasefika Proud acknowledges Bright Sunday(external link) for their promotional work.
This story features in SPASIFIK Magazine (external link)Issue 69