Gathering of the 3000 engages Pacific men on key issues
Pacific men assembled to take part in more than 20 workshops at the Gathering Of The 3000 over Friday 30 June and Saturday 1 July at Porirua's Te Rauparaha Arena. The first event of its kind, it aimed to tackle issues facing the community, in particular Pacific men.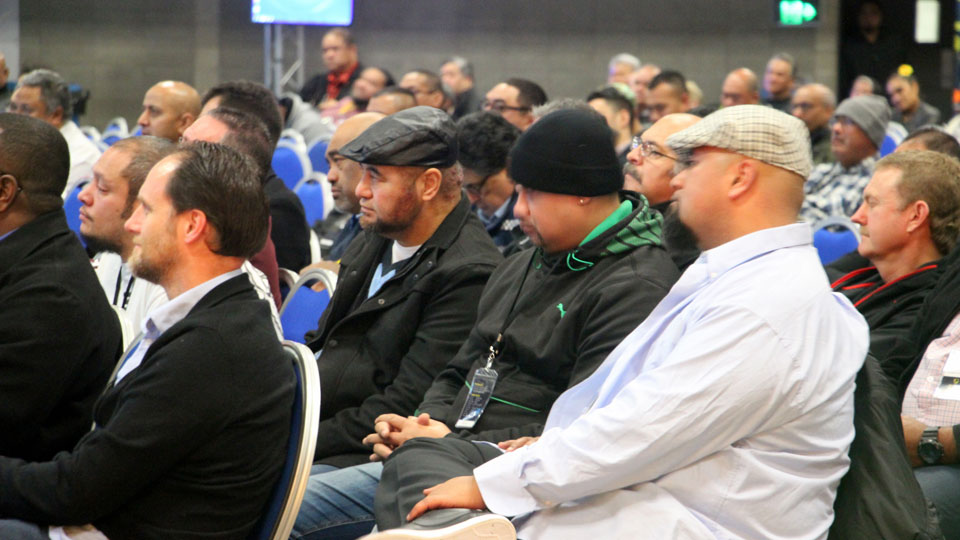 The Gathering's Project Manager Samson Samasoni says the programme explored different aspects of what being a Pacific man is about.
"Its particular focus is on risk factors in terms of family violence, family stress and things that might lead to violence," he says.
"But it was also a deep sort of analysis of different components of what being a Pacific male is."
Keynote speaker and former world heavyweight boxing contender Toaletai David Tua spoke openly of losing everything, battling depression and trying to supress the desire to seek revenge against those he says wronged him, overcoming many obstacles with the help of faith, inner strength, and loved ones.
In his presentation Getting Yourself Up After being Knocked Down, David attributed his redemption to finding salvation through his wife Helen and learning the power of forgiveness. The couple now run The Love Leadership programme based in Auckland which involves turning children from dysfunctional families into tomorrow's leaders.
Prime Minister Bill English and Chief Executive of the Ministry for Vulnerable Children, Oranga Tamariki, Gráinne Moss were keynote speakers.
Gráinne Moss talked about the vulnerability of Pacific families.
"Vulnerability comes from all range of sources and I think every family and every child, and every human being at some point will feel vulnerable. The issue is, how do we build the networks, the communities, the resilience to be able to cope with adversity, trouble, uncertainty?"
Kris Faafoi, MP for Mana spoke about the role of fathers.
"The role of being a father can be hard for anyone. The best thing us men can do is talk and share the challenges we face, so we can create solutions together."
Rugby legend and Pacific leader La'auli Sir Michael Jones focused on messages of community empowerment.
"We have a saying in the Pacific community, that 'e fofō e le alamea le alamea', which means 'solutions for issues affecting a community can be found within that same community'. I think it's all about identifying and acknowledging we have the solutions in our community and we need to take charge and own it," he said.
"Domestic violence is a big part of the kaupapa tonight and we really have to man up and do whatever we have to do to ensure that our wahine, our wives, our partners, our girlfriends - the ladies in our community - are honoured and respected, ensuring violence not part of who we are and our culture."
Amongst the sessions was a MAN UP workshop. MAN UP is a fast-growing movement with more than a hundred groups currently operating in towns and cities throughout New Zealand.
Since its inception in 2015, this rapidly expanding brotherhood has impacted men from all walks of life, empowering them to confront and conquer destructive cycles of abuse, hardship, and dysfunction.
Dennis Makalio, a senior member of the Mongrel Mob in Porirua, led a NZ P-Pull workshop, a National movement created by locals from Porirua.
The movement provides prevention, education and awareness to support families who are dealing with methamphetamine (P), a drug that has strong links to violence, prostitution, gambling and suicide.
"It (P) is a poisoned product with no ethnic, gender or class distinction. Schools are referring our young people for help regarding synthetic substance abuse. We're seeing young people out on the streets begging from this," says the NZ P-Pull Team.
Samson says more than 4000 people have signed up via Facebook to support the ongoing pledge agreed at the end of the gathering.
"A pledge was issued to the men who were present and signed up, to take this further and not let the event be an end on its own."
He said the pledge aims to support and empower role models to keep providing a positive impact and influence on the men that surround them. The aim is to grow this social movement and influence more Pacific men around the country.
Smaller gatherings in the lower North Island are planned before the end of the year. Beyond this a larger event in Auckland is a goal with the possibility of an annual gathering on the horizon.
Event footage will be released soon showcasing the key messages from a range of key note speakers – watch this space.
Find out more