Finding Faith in Fiji
Daren Kamali's late grandparents are among the many fond memories of his childhood upbringing in Fiji. It's a matriarchal line which he holds close. As Auckland Council's Heritage Pacific Advisor – Auckland Libraries, Daren feels blessed to have access to the libraries' extensive historical archives which go back centuries. He's also aware of the challenges relating to family violence from his experience growing up in Fiji before moving to New Zealand.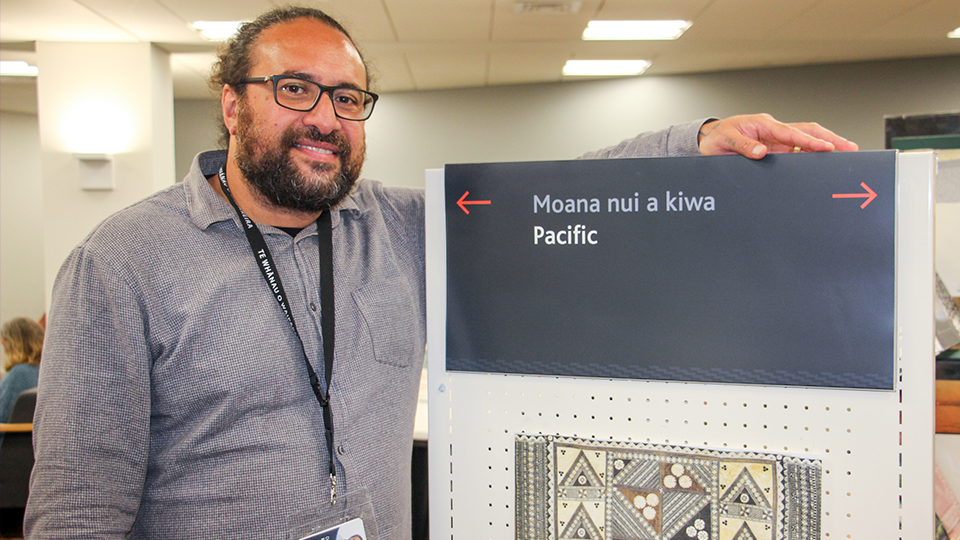 Daren Kamali's late grandparents were a significant influence in his upbringing during the first 17 years of his life.
"My father's mother was Fijian and his father a Kiwi, but he had nothing to do with me growing up. It was my grandparents who raised me," he recalls.
"My grandfather was from Wallis and Futuna (a French territory) and my grandmother was of Samoan and Scottish descent. Our grandparents worked very hard to pay our school fees in Fiji over a period of 10 or 11 years so we could gain a better education," he recalls with a telling sense of gratitude.
"I was brought up on my mother's side of the family and my grandfather was in the military. She's from Wallis and Futuna, a French territory where the family name came from, and of Samoan and Samoan descent."
The family lived and worked in New Zealand and Australia for more than a decade, paying ongoing school fees and necessities while his grandparents looked after him in their search to create a better life for their family. Daren's Kiwi grandfather was a soldier in the military, based in the capital Suva at the national headquarters of the Queen Elizabeth Barracks, Fiji's national military headquarters.
"We're a matriarchal family with many women involved, including a grandmother, two other mothers and seven sisters," he recalls, "so us boys just did whatever we were told to do, which was usually working on the plantations."
The Fiji military has long been a source of pride to the nation. Per capita since 1970, Fiji has contributed more personnel to UN Peacekeeping missions than any other state. But Daren became increasingly aware of the plight of those soldiers who went to war and suffered.
"A lot of Fijian soldiers abroad didn't get the therapy needed to help them recover on their return from the trauma and conflict," he says.
"It was hard to get back to a so-called normal life, which was why a lot of the soldiers turned to violence and alcohol as a way out from what they'd seen and been through. I was there at the tail end of those times and I know what my Mum and her siblings would have faced from my grandfather," he muses.
"Looking back, I'm grateful that our church and our culture were a positive impact in relation to reducing and overcoming family violence and helping our younger ones who were often neglected. My parents worked hard to keep us occupied and out of trouble. Through the Catholic Church we were able to learn more about our history."
Included in that history is love of language, a reason why he feels privileged to have access to archives that are centuries old.
"Fiji alone has around 300 dialects which relate to their relative villages. It creates a sense of pride in our respective cultures and the melting pot we know we are part of. Fiji has had its challenges with a couple of military coups in our relatively recent history, but it's definitely improved in relation to family violence thanks to those who embrace the wonderful, vibrant hospitality and laughter Fijians are renowned for."