Unpacking Niuean Values
Maliaga Erick has been involved with social work since migrating to New Zealand with her family from Niue in 1975. Through her career and voluntary work, Maliaga has worked tirelessly towards creating safe spaces for Pacific women and children. She is excited to be facilitating the Fakatupuolamoui Niue Family Violence Training Programme for the second year.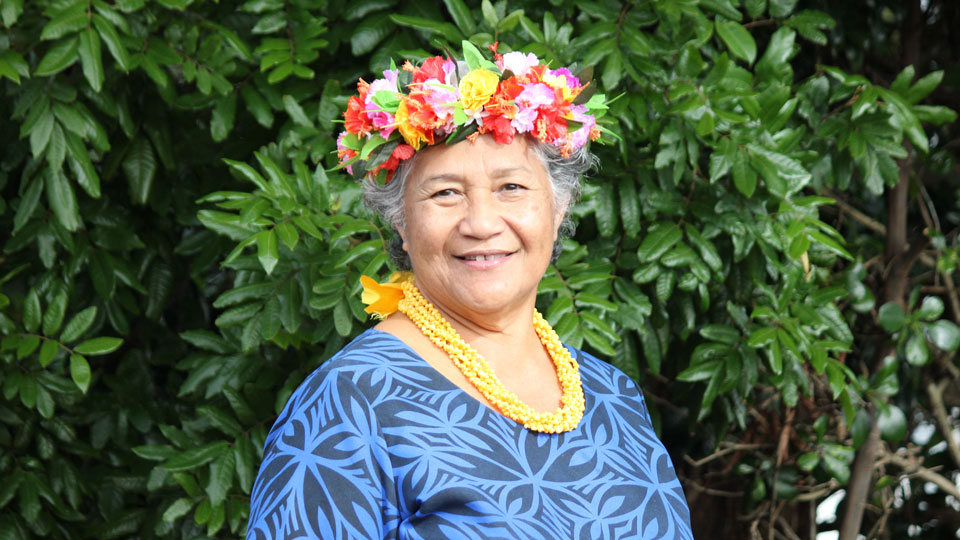 The Niuean-born and raised mother of seven says coming to New Zealand from the Niuean village of Alofi was an eye-opener for her in terms of family violence.
"I was very sheltered in Niue, and it wasn't until I came here that I witnessed violence within my own extended family.
"I guess that was the beginning of my journey into family violence."
Pregnant with her second daughter at the time, Maliaga says it was a documentary about abused women, and seeing the abuse her own cousin suffered, that spurred her on to pursue a way in which she could try to help Pacific women and children who've been abused.
She holds a degree in Social Work, a Graduate Certificate in Dual Diagnosis (Mental Health & Drugs and Alcohol) and an Incredible Years Positive Parent Certificate.
When her husband, who was working for the Railway, finished a stint in Te Kauwhata and their family moved back up to Auckland, Maliaga became even more involved.
"I got involved with a group of Pacific women and we set up the first Pacific Islands Women's refuge in New Zealand. I was the coordinator; it was all voluntary at first."
With a heart for the Pacific, especially her Niuean community, Maliaga was assiduous in her work with Pacific island women.
"I was picking them up, putting them into the women's refuge and advocating for changes," says Maliaga.
She advocated for separate waiting rooms for victims of family violence ahead of a court hearing, away from their abusers.
"Advocating for the end of violence against women and children has always been a passion of mine - because it's not okay."
Maliaga works as the Pacific Cultural/Clinical Advisor at Werry Workforce Whāraurau for two days a week, and on her days off she delivers the Incredible Years Programme with a focus on Pacific parents in the community.
The programme is a successful programme for parents provided to families around New Zealand, and involves parents attending in fun, interactive weekly group sessions.
The sessions are run over 1-2 school terms. It provides plenty of time to discuss and practice new ways to manage children's challenging behaviour, get ideas for growing positive social skills in children and find ways to enhance relationships in families.
In 2010 Maliaga was involved in the development of the Koe Fakatupuolamoui he tau Magafaoa Niue – A Niuean Conceptual Framework for addressing family violence. It was officially launched in 2012 with the other Nga Vaka frameworks.
With her experience, Maliaga was perfect to recruit for the delivery of the inaugural Pasefika Proud Niuean Family Violence training programme in 2016 and is excited to keep facilitating into 2018.
Maliaga is well known within the Niuean community for her passion for the Niuean language, and for the weekly radio show she hosts with Halo Asekona, with whom she facilitates Fakatupuolamoui – the Niuean-specific family violence training programme.
"For over 20 years now I have been delivering health programmes on the radio for the Niuean community every Wednesday night from 7:40 to 8:10pm on 104.6 Planet FM.
"I have been involved in community through voluntary work for a long time."
In 2014 she was made a Member of the New Zealand Order of Merit, for services to the Pacific community and health, and she doesn't plan to stop.
"Even on the radio, Halo and I give advice on air about how to deal with family violence, and how to approach a situation because often it's our own families who are not sure or don't know how to support each other."
Using the Niuean language, Maliaga hopes to help practitioners and also community members who attend the training, to unpack some of the cultural Niuean behaviours and beliefs and look at family violence from a New Zealand perspective.
"The framework is good because we bring in our Niuean values and also look at what else is out there to help support the training.
Maliaga says there are two streams: the professionals, police, social workers, counsellors; and members of the community.
"For the professionals, it makes a difference to the way they approach Niuean families, cultural safety and cultural competency. As for families, we teach how to prevent, how to recognise the different types of abuse and how to act," she says.
"This programme is about prevention and intervention. Prevention is highlighting what is good - defining what a good family is and working towards it.
"And intervention is what you should do when the situation of violence arises, what you can offer, where you can send the victim to and how you can make sure they are safe."
If you know someone who's going through family violence, Maliaga implores that people don't just look and talk about how wrong it is.
"Do something about it."
Because it's Our Families, Our People and Our Responsibility to make sure those within our communities are safe.
Fakatupuolamoui Niue Family Violence Training Programme
A Niuean Family Violence Training programme is being held in Auckland from 21 - 23 June 2018. The programme provides participants with an in-depth insight to Niuean cultural approaches to achieving family wellbeing, especially when dealing with family violence. The programme is FREE, however, due to high demand, limited spaces are available.