Te Olaga Ola Filemu – A Life Embraced With Peace and Wellbeing
The Tuvalu Auckland Community Trust hosted the launch of the Tuvalu Family Violence Prevention Plan "Te Olaga Ola Filemu – A Life Embraced with Peace and Wellbeing" at the Kelston Community Centre in West Auckland on Saturday June 29.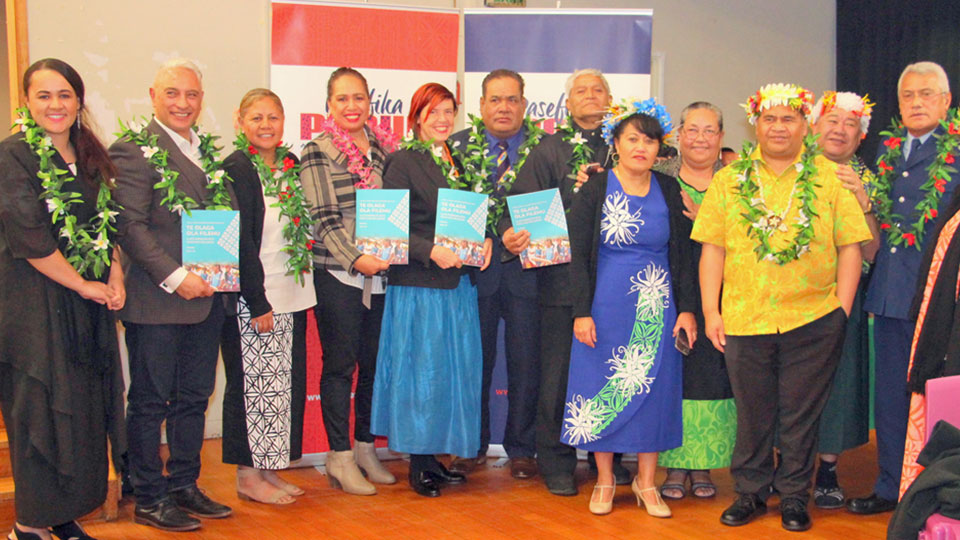 The celebration saw in attendance more than 80 Tuvalu community members, Tuvalu leaders from outside of Auckland from as far away as Oamaru and special guests.
Project Coordinator Manuila Tausi explains the main purpose of the prevention plan.
"We know New Zealand society is very multicultural and diverse," he says.
"But our key focus from the Plan is on the child and the need to love and protect them. The reason for the Plan is to help strengthen wellbeing among us as individuals and families and as part of our local communities."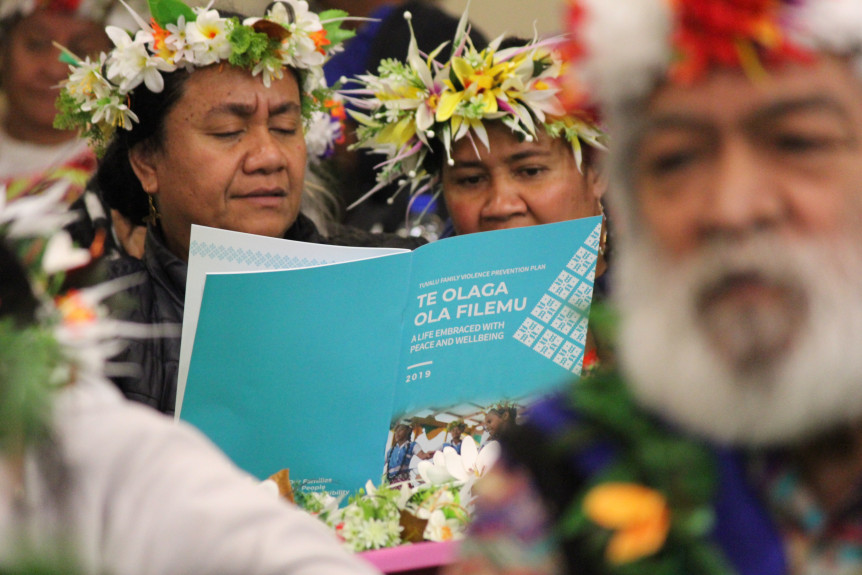 Coming from some of the smallest, most isolated and vulnerable parts of the globe generates a strong sense of resilience among the people of Tuvalu. The group of nine tiny islands with a total population of approximately 11,000 people is the fourth smallest nation on earth.
But Tuvaluans carry deep pride in their culture and families who have left Tuvalu for New Zealand are determined to retain their identity by preserving their language, traditions and culture while ensuring its citizens are supportive and without violence.
Te Olaga Ola Filemu was developed through consultation with Tuvalu communities across New Zealand, including Whangarei, Auckland, Tauranga, Hastings, Palmerston North, Wellington, Christchurch, Oamaru and Dunedin.
"The aim for our people going forward is to look at the plan to see positive things we can do as a community and within our own families as parents and adults," says Manuila.
"When it was laid out, there were quite a few activities which we could do that would help the prevention of violence. We also recognised that there are many things we can do starting within our homes, including educating our own children and emphasising our positive cultural values."
Another was collaborating with other external organisations that can help or financially support community initiatives to prevent family violence.
"With Tuvaluans being very much recent migrants, it's actually quite easy to connect with our communities beyond where we live and work," he adds.
Manuila, born on the once phosphate-rich island of Banaba and raised on the reef island of Nanumaga, was brought up by his aunties and uncles, followed by five years of secondary education on the island of Vaitupu.
His first experience outside of Tuvalu was in 1984 as a New Zealand-funded Form 6 scholarship student at St Andrews College in Christchurch, after which Manuila worked for the Government of Tuvalu in 1989 before continuing with his Masters' degree in Australia. After working for a further five years in Tuvalu, Manuila pursued his PhD in Canada, where he lived in Ottawa for six years before moving to New Zealand in 2004.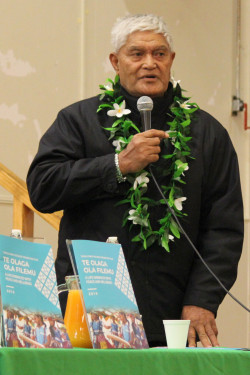 He now lives in Levin and commutes to Wellington, where he worked for MBIE (Ministry of Business Innovation and Employment) and helps facilitate the Nga Vaka Tuvalu Family Violence Prevention Training Programme.
Proud and honoured to have held such an event is Mr Uelese Malaga, Host and President of the Tuvalu Auckland Community Trust.
"As a community of Tuvaluans in New Zealand, we have a strong aspiration to not lose sight of who we are and to actively design, in the spirit of our traditions, our own innovative solutions to the challenges that arise," says Mr Malaga.
"The Tuvalu Family Violence Prevention Plan is a great example of this. Tuvalu communities and churches around New Zealand were involved in its design through a series of workshops that gathered their views on what the prevention of and the intervention in family violence looks like.
"We want this Plan to work; we do not condone violence within our families. We are a peaceful people and we want to reflect that in our daily lives with our loved ones."
Jan Logie, Parliamentary Under-Secretary for Justice responsible to Domestic & Sexual Violence, was the keynote speaker who launched the plan.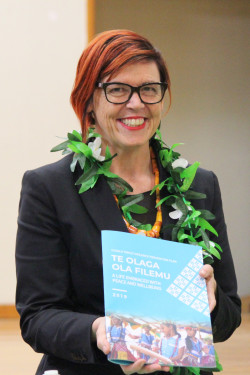 Ms Logie gave credit to the Tuvalu community for taking the initiative.
"The biggest difference comes from the community, which is why I'm so happy to hear that Tuvalu communities around the country have been meeting to work on and develop a plan. You're providing leadership on ending the problem." "They know the solutions to family violence won't just come from government," she said.
Guests included Tuvalu Deputy High Commissioner Mrs Puaita Etuati, Inspector Fata William Fanene and the Family Harm team from Waitemata Police and West Auckland MPs Alfred Ngaro and Agnes Loheni.
There were also performances by the Tuvalu Auckland Community Trust with a song dedicated to the Family Violence Prevention Project written by Rev. Suamalie NT Iosefa Naisali.
The Prevention Plan includes how family violence affects Tuvaluans in New Zealand and provides a vision, strategic responses, the Tuvalu concept of family wellbeing, a profile of Tuvaluans in New Zealand (2013) and more.
Pasefika Proud strongly supported and sponsored the development of the prevention plan.
You can access a digital copy of the plan on the Pasefika Proud website here.
If you would like to see more images from the evening check out our Facebook album of the launch.