Talanoa and Safe Spaces
After a life in administration, working for public and private organisations in Samoa, Eleni Mason moved to New Zealand and became involved in an administration capacity in the health sector. As CEO for Pacific Health Services Porirua, Eleni's focus is on preventing Family Violence, which she knows is beneficial, providing you involve everyone in talanoa (discussion) and allow them a safe space to have their say.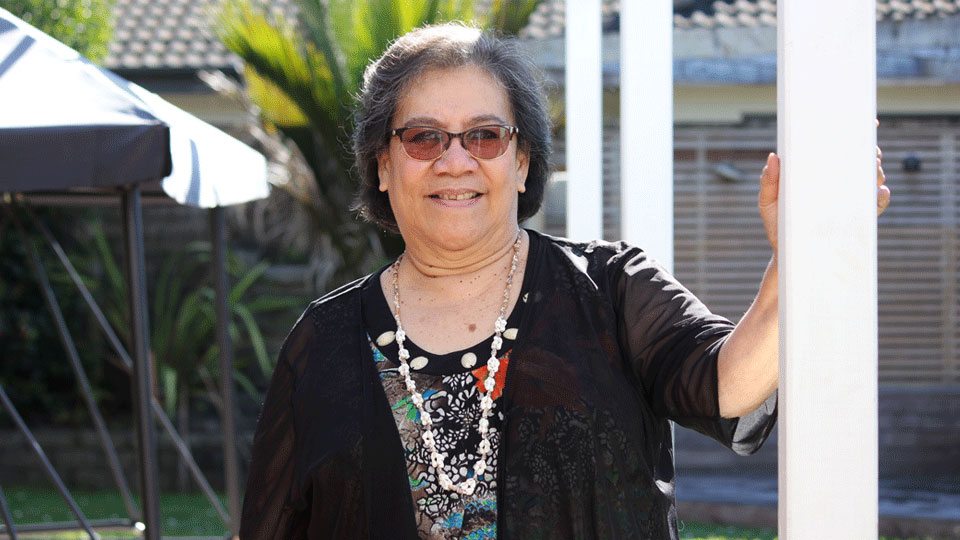 In an era where social work practitioners search for new, innovative ways to deal with family violence, Eleni Mason is proud to have introduced the Asiasiga Model of Care, run successfully in Samoa by the Komiti Tumama since 1930s.
It's a vital village institution and an entry point into the village for activities relating to women, which sees practitioners "visit and inspect in order to protect".
"You're working on the ground directly with people, as that's where the help should be," says Eleni.
"It's really about the community, and having the courage to talk about what they're seeing in their communities and families."
The issues are vast, but Pacific Health Services Porirua's services try to focus on prevention.
"The main drive is Prevention and Healthy Living projects, with a strong focus on family health and wellbeing," she says.
"When you say 'family violence' people sometimes shy away … but it's important that people don't shy away from talking about it.
"We're not going to be able to help if we don't know what's wrong, so whatever's wrong, come and talk to us."
Eleni had experienced family violence first hand and understands perfectly what people go through. But she says that's "another story".
Staff at Pacific Health Service Porirua are careful with their wording, ensuring people are comfortable speaking in order to break the silence.
One way of achieving it is through forming social groups within their Porirua community.
The organisation stages events that allow people to get together and become comfortable enough to talk.
"At these programmes, a lot of talanoa and modelling of non-violence behaviour occur.
"We encourage everyone we work with to participate, innovate, create and celebrate," she says.
"Most of all, it's to enjoy good health and wellbeing through interaction with each other, regardless of what nation you hail from."
Eleni encourages open conversation, not just within the community and professionals, but within families.
"I do it with my children, and I started them very young," she says.
"Every week, we have family talk … they can tell me what's on their mind, I tell them what's on my mine."
She implemented this rule for all her children, as well as nieces and nephews she has taken in who have experienced family violence.
"Now I see them talking with their children and think there might actually be a break in that cycle, because they're getting their kids to talk to them."
Although not a social worker or medical professional, Eleni knows about running a health service. A few years after moving to New Zealand with her family in the mid-1980s, she started work at a small Pacific general practice part-time.
It wasn't long before she was running the office.
"I had to learn medical terms," recalls the mother of six, who hails from Tufuiopa in Apia.
"I took up the part-time job with the Pacific general practice working for doctors, running the office and helping them run their new practice before I was asked by the Medical Director of Royal Oak Accident and Medical Centre in 1995 to take up the role of Practice Manager."
Eleni was the Practice Manager until 2000, then started her own business and focused on studying for her management degrees. She then did fulltime study to complete her qualifications in management.When Eleni was shoulder-tapped to work for South Seas Health Care in Otara for eight weeks, she ended up staying for four years.
Eleni gained her Diploma in Business in Health Management from the University of Auckland and was halfway through her Master of Management when she joined the private sector. It allowed her to take a step back from the type of work that followed her home.
"I went in at 8:30 in the morning and finished at 4:30, and left everything behind," she recalls.
"I didn't take anybody else's problems home, or leave wondering, 'is this family okay?', because that's what happens when you work very closely with the Pacific community. It's not just necessarily in health. When you work in the community and hear about what's happening, you want to help."
Eleni missed the Pacific community action, so she worked at White Cross A & E in Otahuhu. She was then contacted by the Chair of Pacific Health Service Wellington and was asked to also help Pacific Health Service Porirua (PHSP).
Her initial role as acting manager for six months was about development and Pacific communities.
Thirteen years after joining Pacific Health Services Porirua, she's the chief executive, where she says her role is about being on the frontline just as much as it is helping from an executive level.
Eleni intends to continue helping Pacific communities through Pacific Health Services Porirua.
"Having people from Pasefika Proud and MSD who have absolutely understood what we're doing makes our jobs easier," she says.
Find out more