Strive for our Children to Thrive
As an ambitious, yet caring young lawyer seeking justice for the vulnerable in establishing the Mangere Law Centre, Andrew Becroft cites his time in South Auckland as pivotal to his role today as the nation's Children's Commissioner. Appointed in 2016, he sees the need to be a "merchant of hope" for many of today's Pacific youth, and is adamant about "a Pasefika by Pasefika" approach where community support remains key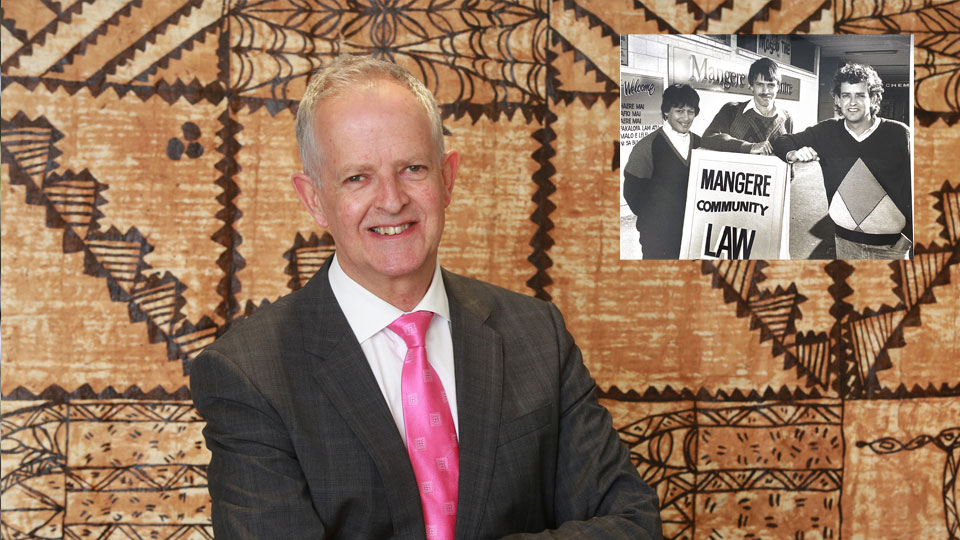 When Andrew Becroft arrived in the new, expanding suburb of Mangere in the 1980s, he found an enormous, yet unmet legal need.
"There were no lawyers set up there and, for locals, it sometime took people two bus rides to get to one," he recalls.
It was hardly a profession his Wellington-based family would have expected, due to a bad speech impediment from childhood.
"Teachers would tell my Mum that there were three things Andrew shouldn't consider doing for a career; being a church minister, in education or doing law."
Nevertheless he pursued law, along with papers in English and history. The more he studied, the greater his interest became, particularly with the idea of making law more accessible to those who need it the most.
A stint at one of the country's first neighbourhood law offices in Grey Lynn was followed by an approach from Fortune Manning, a long standing provider of legal services based in Auckland city. Realising his capabilities, his firm paid for him to attend a live-in speech therapy course.
"The course taught me how to speak clearly and control my stutter, which was enormously helpful," he recalls.
Andrew spent nearly six years at the firm and revelled in court work. Fortune Manning was keen for him to be part of a group study exchange in Oregon, US to study community law centres in practice in the hope it might get it out of his system! But Andrew clearly had his sight on setting one up in Auckland.
"I had written a dissertation about law centres as part of my law degree, and the firm supported the Rotary Group Study Exchange."
A steering group was established and Andrew, along with fellow lawyer Johnny Moses, now a judge, were able to find premises at the Mangere Town Centre.
"On our first morning we arrived at ramshackle offices, lino that was cracked and mouldy and a fire hose that was leaking."
A community-based trust was established and facilities were improved.
The trust moved and expanded to cater for growth within a rapidly growing suburb, providing a wide variety of services, including buying and leasing houses. It prompted the centre to upskill in conveyancing and provide legal education to prevent the scourge of loan sharks operating within Mangere, knowing the most vulnerable in a young, establishing suburb were likely to become targeted and exploited by the most unscrupulous.
"They're like human cockroaches that prey specifically on vulnerable Pacific people, like those who need to travel back to Samoa urgently for a funeral," he says.
"The loan shark would take a loan of maybe $800 and secure more against their house at a rate of 42% interest."
In such times, the most vulnerable are, without doubt, the children.
"I'd ask them if they, the loan sharks, had any idea of the misery they were creating for those families. I learnt a huge amount doing the three-fold task of casework, community legal education and structural change. We worked hard to build relationships with local tangata whenua and joined with them to stop the proposed eastern access to the motorway because they weren't even consulted about it. The QCs started looking at the books, and Andrew and Johnny found a flaw in the procedures that paved the way for tangata whenua to negotiate a settlement with the Airport. Papakāinga housing established at the Pukaki Marae, providing jobs for their community, had a huge impact." he recalls.
"The Council no longer turned up to tell tangata whenua what they're doing. We tell them what we're doing and have genuine, meaningful discussions."
Being in South Auckland was the beginning of Andrew Becroft coming to grips with the enormous changes and growing influence in a diverse and expanding community.
"I look back on those days as a time I really learnt what it was like to have a different cultural perspective compared to my own mainstream one," says Andrew, who grew up in the middle class Wellington suburb of Kilbirnie.
"Time and time again for Pasefika kids, the words racism and racist are often used to express how they feel. It's often referred to as unconscious bias or structural discrimination, but kids at the coalface in education simply use the terms 'racism' and 'racist' because that's their lived experience. It has created an enormous challenge, not only for our education system, but for our nation as a whole."
Yet Andrew sees a number of Pasefika communities across the nation which have not only survived, but thrived.
"It's relevant to make the point in regards to Maori of the profound disproportionality and the negative statistics, which is a great challenge for our nation," he says.
"But it's worth noting the case isn't as negatively disproportionate for Pasefika, because of the community's faith-based emphasis and the role of aiga (family), which is seen as a protective factor. It all goes back to my own experience growing up with my Christian faith. It was one of my big motivations behind me going to Mangere."
As Children's Commissioner, Andrew strives to achieve the balance between being a public watchdog and speaking out in Wellington, making submissions about government policies and getting out to meet young people.
"I remember meeting a group of 12 to 13-year-olds in South Auckland who were each editors for their own school newspaper," he recalls.
"Their level of insight and thoughtfulness in what they were writing about was hugely encouraging. It was a welcome antidote to the feeling that we, as a nation, are not making enough progress. But I'll always remember being visited by a group of senior Pasefika students to our office and hearing their dreams and aspirations. It gives me huge hope."
Children's Commissioner Judge Andrew Becroft represents the 1.1 million people in Aotearoa under the age of 18. They make up 23% (almost a quarter) of New Zealand's total population. The Children's Commissioner is independent from the Government, committed to honouring Te Tiriti o Waitangi and advocating for meaningful engagement with Maori as tangata whenua. The Children's Commissioner has a broad role, including advocating for the implementation of the UN Convention on the Rights of the Child. The Commissioner's Office monitors the services provided under the Oranga Tamariki Act and develops means of consulting with children. occ.org.nz
Pasefika Proud is a Pacific response to focus on community-led solutions that harnesses the transformative power of traditional Pacific cultural values and frameworks to encourage violence-free, respectful relationships that support Pacific peoples to thrive and to build strong resilient families.