Ruby Tui no Stranger to Struggles
Black Ferns Star, Ruby Tui, born to a Samoan father and a Palagi mum in Wellington is no stranger to struggles. She often uses her platform and voice to openly discuss social issues. Despite her struggles, and maybe even because of them, Ruby is the woman she is today - a champion who is strong, confident, bubbly, someone who's candidly open about important social issues such as domestic violence.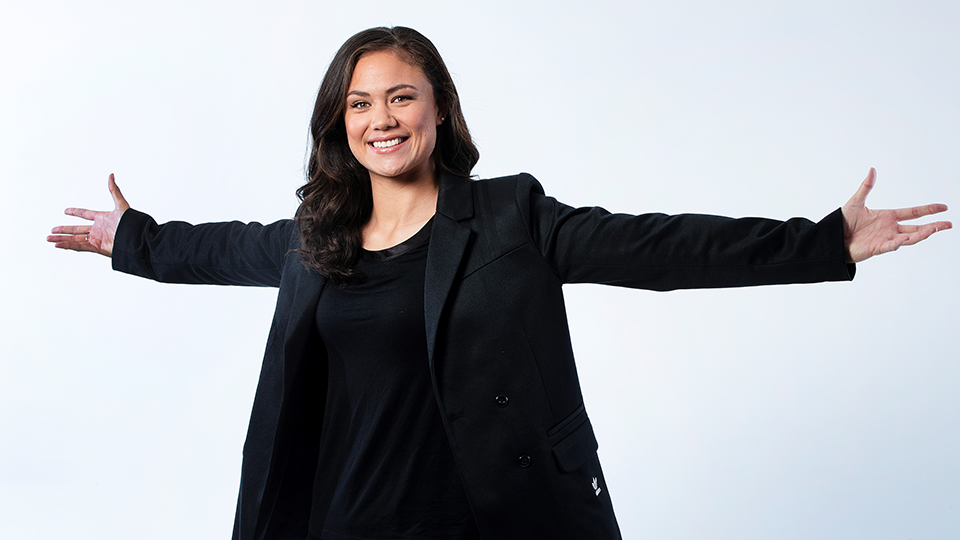 After her parents split up when she was about seven, Ruby moved to the South Island to live with her mum. Her mum had started a new relationship and while Ruby doesn't remember how soon the violence and abuse started she knows it did.
In an interview with Dana Johannsen for Stuff in March this year, she recalls just how bad and "very, very unhealthy" it was.
"It was horrible. I just don't think people realise how hard it is to leave an abusive relationship".
"It is so difficult. Like, your whole identity becomes wrapped up in this horribleness, you believe how you are treated is what you are worth."
But she also watched her mum, who she describes as a "superwoman", leave the relationship, something that most women cannot do, which is often the most dangerous time for victims of domestic abuse.
"My beautiful mother … she called the cops, everything was in place, I got out of school, and we were taken to the women's refuge. It felt like a little FBI mission," Ruby told Stuff in her recollection of the time.
She is candid about her experiences because it's important that, in her sharing of those experiences, someone else can find the strength to get through whatever it is they are enduring.
She says she feels a responsibility to talk about domestic violence as "it's something I have seen up close, and there's a lot of people don't understand about it".
Her Instagram is a place where she offers the world not just a glimpse into her mind or life, but also words of inspiration and encouragement.
"Whatever struggles we go through - from drugs or violence, not feeling like you fit in with your family or living up to parents' expectations, to having too much money or not enough friends - it all affects (sic) us and it's important to acknowledge how they make us feel," she says in a post, going on to clarify that "no matter the struggle or trauma we will all have to find a way to heal that doesn't hurt ourselves or anyone else."
Ruby's openness about her experiences does much in normalising reaching out for help, and normalising issues people are facing.
Wellbeing for Pacific families occurs when all aspects of the individual and collective are in balance, co-existing with environments, kinship and support systems while recognising Pacific culture and values. When something is not right, we often turn to those closest to us for support. These people can be our family, friends or those in our community and are usually those we can trust and depend on for help.
Ruby's story is one of triumph, happiness, peace, and encouragement, both on and off the field.
Supportive and safe relationships are essential, from the relationships she has with her teammates to the relationships she continues to foster in her personal life. She says she draws on her strengths to find positive ways of belonging.
"I'm so proud and grateful that I worked on myself through every breach of trust, heartbreak, disappointment, or hard times with another human, so I can still let people in.
"Because the relationships we build when we put time in are just so beautiful and sometimes lifesaving, and you just never see it coming when you need a shoulder to lean on the most.
"Peace & Love to everyone trying to be a better friend, partner or family member to others."
__________________________________________
PASEFIKA PROUD – THEORY OF CHANGE
For many Pacific people (women included) family is the site where identity, belonging and sacred relationships are nurtured and protected. Violations of sacred relationships create sites of terror, dysfunction, and loss of belonging and identity.
"Violence within the family assaults the sanctity of family and the safety and wellbeing of our most vulnerable family members – women, children, youth and elders."
The Pasefika Proud Theory of Change is strengths-based, focusing on community-led solutions that harness the transformative power of Pacific cultural values and frameworks to encourage violence-free, respectful relationships that support Pacific people to thrive.
In summary, our theory posits that family violence and violence against women contradicts family wellbeing practices and disconnects Pacific people from the values that provide anchors to their identities; and that reconnecting families to these anchors will help to restore peace, harmony, and wellbeing to impacted family systems.
Pasefika Proud works in partnership with communities to support ethnic-specific leadership and action that provides pathways to achieve our vision:

Pacific families and communities are safe, resilient and enjoy wellbeing.
We must keep our women, our children, and families safe.
If you are feeling vulnerable remember that family violence support services are always available. For emergencies, please Dial 111.
To download a PDF file of the following links / resources PLEASE CLICK HERE
CLICK HERE for Auckland Family Violence Service Providers
CLICK HERE for Family Violence Service Providers Outside Auckland
CLICK HERE for Ministry of Social Development Family Services Directory