Redemption, forgiveness and communication
As his marriage deteriorated following his infidelity, Tony Faifai, aka Buks, found God. He formed his relationship with God and was given the chance to form a healthier relationship with his wife and children. The Christian Hip Hop artist uses his story to reach out to those who need the same redemption, forgiveness and second chance he was given. To communicate, to pray and to be Pasefika Proud.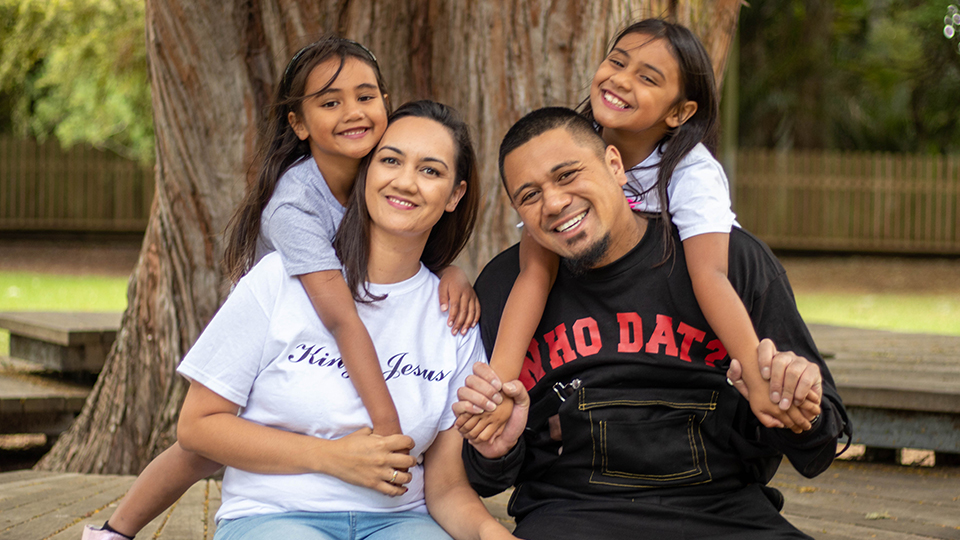 New Zealand-born Samoan Tony 'Buks' Faifai's life before he knew Christ was filled with partying, enjoying time with the boys and affiliating with gangs, some of which were during his marriage to his high school sweetheart.
"I met my wife at school and been together since high school and, just like any marriage, it had its ups and downs. It definitely wasn't all good, there was bad stuff in there, but we learned from it."
Eventually, Tony's wife discovered God, but he had yet to make that connection.
"We were still stuck in the party scene when my wife started going to church and making me go, too," he recalls.
"But even though I went with her, my heart wasn't there," admits the father of two, who was born in Wellington and raised for a while in Samoa before his family returned to New Zealand and settled in south Auckland.
Towards the end of 2016 Tony admitted he was unfaithful to his wife, which further contributed to the deterioration of his marriage.
"My wife asked for a divorce," he recalls. She didn't want to see me anymore," he recalls.
"It meant losing my kids, losing my family, lose everything that I knew before this happened."
There was a lot of anger and hurt which his wife had to work through.
On his part, Tony refocused his own life on seeking the Lord for himself after he had a breakthrough in his car the week he had moved back into his family home.
"My prayers changed from asking God to give my wife and kids back and to restoring my old life and what I had lost, to asking him to heal my wife's heart, to give her peace and joy," he says.
"I asked for peace and joy myself too, and for him to just take the pain away."
Tony dedicated his life and time to God, beginning to write music.
"Came to Christ in 2016 – and in 2017 I started writing my first song Testify –which is on my EP that just dropped about my testimony. I testify about the love of God- my wife features on it."
The whole song is talking about how his marriage was restored by God.
Tony says when his wife called and they decided to get back together, their bond as a family became strengthened, not only through forgiveness and communication but, most importantly through putting Jesus Christ at the center.
"Things that man is in control of, One is communication. Everything is out in the open, everything's been said and nothing is hidden … even the smallest things - if you keep that communication going then there's no reason for anybody to ask what's this, what's that.
"Two, is just being thoughtful and thinking of your partner and what she needs more than what you need yourself, so being selfless - but overall it's ultimately built on God."
For Tony, it was about waking up in the morning, doing devotions, saying prayers with his daughters and my wife and just putting things into place that helped their marriage become successful.
"I think some of us take it for granted that 'yeah okay I'm married'. I go to work, come back home, go to sleep, get up and come back home and there's nothing put into place to execute a good relationship. We're just living day by day," he says.
"But for us, when we first started back, it was communication, it was prayer and time dedicated to God."
Learn more about Tony's journey in his first EP Past, Present, Future which he launched at his place of worship, Elim Church in Manurewa.
Facebook.com/BUKSGOSPELHIPHOPMUZIK
GET HELP
It is important we continue to keep our families and children safe in our homes.
Some Pacific families may be feeling vulnerable. Remember that family violence support services are available. For emergencies please Dial 111.
Click here for resources and links to available service providers.
Pasefika Proud is a Pacific response to focus on community-led solutions that harnesses the transformative power of traditional Pacific cultural values and frameworks to encourage violence-free, respectful relationships that support Pacific peoples to thrive and to build strong resilient families.