Preventing Families from Harm
As a police officer in South Auckland, Papaloa Talosaga has heard plenty of tales of woe of Pacific people arriving in the land of milk and honey, only to find the experience has turned sour. He's working to spread the Pasefika Proud message to build strong families, preventing and addressing violence.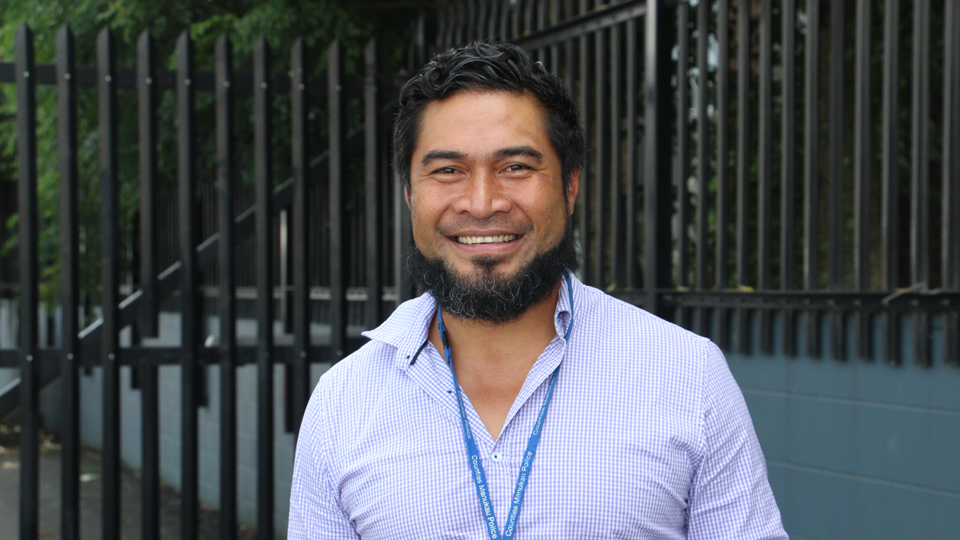 The first incident Papaloa Talosaga was involved in with the New Zealand Police inspired him to be one.
Born in Samoa with aiga (family) links to Saoluafata, Faleapuna, Vailoa Faleata, Alaamagoto and Taufusi, Salelologa, Papaloa recalls his early years as a young, shy Samoan living in Mangere, South Auckland.
The neighbours who they shared a driveway with were drinking outside. Having often mowed their lawn for free to keep the neighbourhood tidy, Papaloa said hello to them and waved.
But out of the blue, one of his neighbours threw a beer bottle which smashed onto the Talosaga's family car before heading towards Papaloa.
"I told my wife to go inside, which she did," he recalls.
"When the neighbour came towards me, kicking down the fence, I ran inside, locked the house and called the police."
By the time two police officers arrived, Papaloa was still shaking. Within moments, however, the shaking and fear within him stopped.
"The female officer first took a statement from me and my wife. They both made sure we were safe and told us about their police safety plan," he says.
"I admired the way both officers handled the incident. I felt secure, even though it was only moments after fearing for my wife and family's lives."
Papaloa, who at the time was cutting carpets for a living, began asking questions about being a police officer. The officers were only too happy to oblige. Together with a friend, Papaloa applied to join the force. He succeeded. His friend missed out.
After working as a community constable for six years, Papaloa now works for the police as part of the Family Harm Team (Whangaia Nga Pa Harakeke – Thriving children, Strong Families, Resilient Communities). It involves working with predominantly Maori and Pacific families in the South Auckland area.
He thrives in his role, enjoys being part the community and advocates the Pasefika Proud campaign message of addressing family violence in Pacific families, using clear and consistent messaging to build strong families, preventing and addressing violence.
For Papaloa, it clearly breaks down barriers of communication.
"There's still the perception among the community of 'whatever' – we in the police don't care," he says.
"But when you introduce yourself to a Samoan by saying Talofa and start speaking Samoan, they listen and respond more truthfully."
Linking in the Pasefika Proud Family Violence Prevention Programmes is also effective in strengthening identity.
His first inclination in potentially threatening situations is to talanoa, to talk about it. Papaloa's proud that he never used force in his first three years as an officer, but agrees there are instances which are potentially dangerous enough to do so.
That's why he supports working alongside Non-Government Organisations to identify problems and providing help and support. Papaloa Talosaga further states that the Police purpose is "be safe and feel safe". That's why he supports the improvements in obtaining Protection Orders to prevent domestic abuse, in which the vast majority are granted immediately.
"Many Pacific people don't know about Protection Orders, which are designed to keep families safe," says Papaloa.
"If the families don't open up to us, the social work agencies who they're linked to usually will."
He's heard plenty of tales of woe of Pacific people arriving in the land of milk and honey, only to find the experience has turned sour, as Papaloa himself reveals.
"In Samoa, I went to Marist Brothers School in Mulivai, then St Joseph's College, where I became Head Boy," he recalls. My dad was a Church Minister and the family moved to New Zealand to start up a church here," he says.
"But everything fell through once we came over. We were staying in Mangere with uncles and aunties. There were no jobs to go to and we had nothing. It was so hard and the stress took its toll on all of us."
Through faith and sheer perseverance, the family survived. The experience remains a driving force for Papaloa Talosaga.
He loves what he does but knows there's so much to do. What he has enjoyed is appearing on the Pacific Media Network and Radio Samoa to promote Pasefika Proud.
"It's amazing how many people come up to me saying they heard me on the radio," he says.
"It's still one of the best ways to communicate with our communities."