MJ's Best of both worlds
A strong sense of independence, resilience and faith runs through Tongan-born Mary Jane Kivalu, or MJ as she's known. Such traits are why she left friends and family in South Auckland to study and forge a new life in the South Island city of Dunedin. Her decision has paid dividends, fulfilling career opportunities by furthering her education and helping local Tongan families in managing conflict.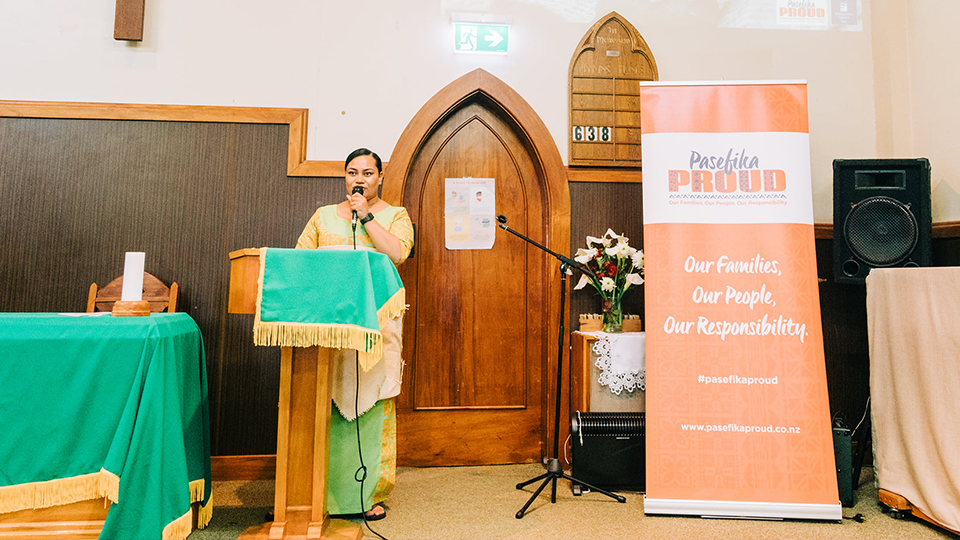 The Project Lead for the Koloa 'o Tonga Programme, Mary Jane Kivalu.
As much as she honours and embraces her family, MaryJane Kivalu grew up with the desire to discover and embrace more than the environment she was raised in.
"Being born and raised in South Auckland, I've always felt the desire to experience something different, or even be better than what was expected of many of us," she recalls.
"I grew up around women who ran away to get married, or got pregnant young. Their priority was to be a stay-at-home mother and live a settled life as a wife before they even turned 25. Although I respect the role of women as mothers, I didn't want to do that straight out of high school. I personally felt like the only way I could avoid going down that path, was to become more independent from my family, to get an education and build a career, and hopefully bring benefits to our people."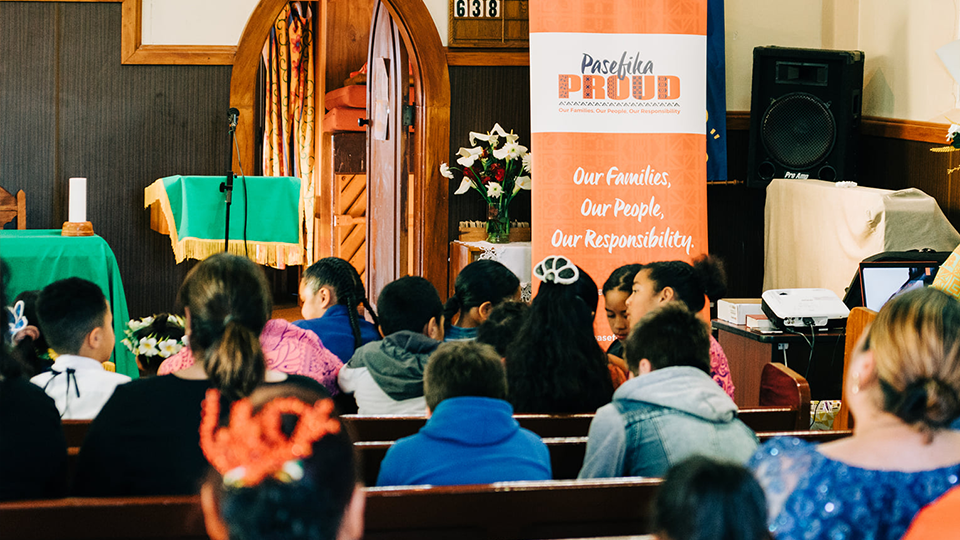 The graduation ceremony for the Koloa 'o Tonga Programme 2020 which was held at the St Kilda Tongan Methodist Church in Dunedin.
That decision to go to University made it easier for MJ's family to accept her moving away from home, despite the distance living away from friends and family. "In the Tongan culture, you don't leave home until you're married, and you're not an adult until you're married. I wanted to learn how to be an adult before I get married, so that I'm in a better position to make decisions for my family and myself." With a greater sense of freedom, she assimilated well in her new-found southern environment, even playing rugby for the Women's Provincial Team, the Otago Spirit.
"My Dad played rugby at National Provincial Championship level and he tried to stop me from following his footsteps. I still played rugby for Otago for a season, but I never took it seriously as it wasn't a priority for me."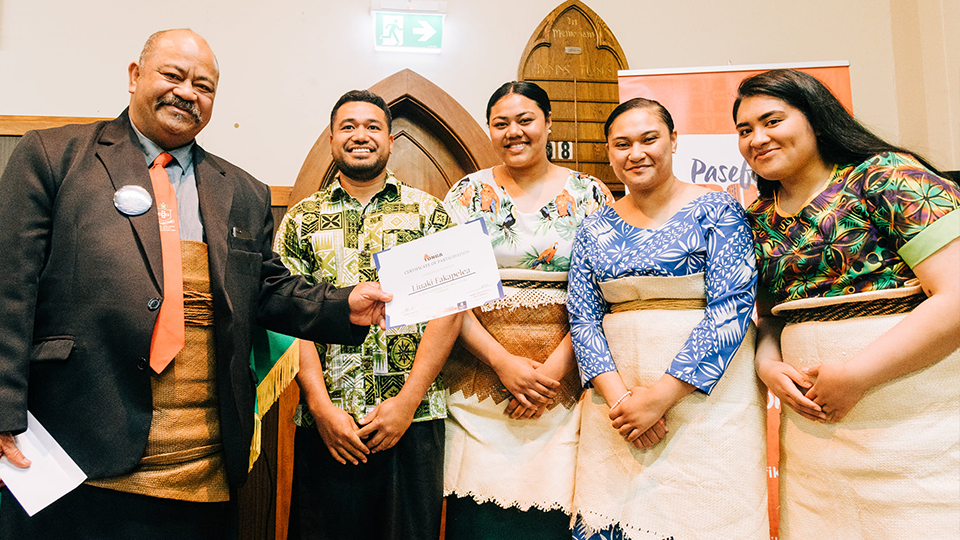 Reverend Liuaki Fakapelea (Siasi 'o Tonga Hou'eiki Dunedin), with a few of the Koloa 'o Tonga facilitators; Ratu Bishop, 'Iunisi Finau, 'Alisi Kivalu and Kalesita Pole
What she did take seriously was her education and the opportunity to contribute to the betterment of her people. With the support of Pasefika Proud, MJ was tasked to devise ways to reduce family violence within their communities by welcoming and encouraging their parents and families to participate. As the Project Lead of the Koloa 'o Tonga Programme for 2020 held at the St Kilda Tongan Methodist Church in Dunedin, MJ led the way for the predominantly English-speaking and New Zealand-born and raised youth, and their respective parents. It's partly related to the doctorate she's working on around developing and acquiring greater cultural intelligence to survive and strive.
"My research is around developing cultural intelligence within our organisations. My hope is that they become better equipped to recruit diversely without the expense of compromising other skills and competencies."
The innovative approach to minimise family violence was to bring communities and families together to learn from one another. The programme ran consistently for 13 weeks straight with around 12 families attending each week. The make-up was split with 50% male and 50% female, with parents attending regularly from diverse age groups throughout.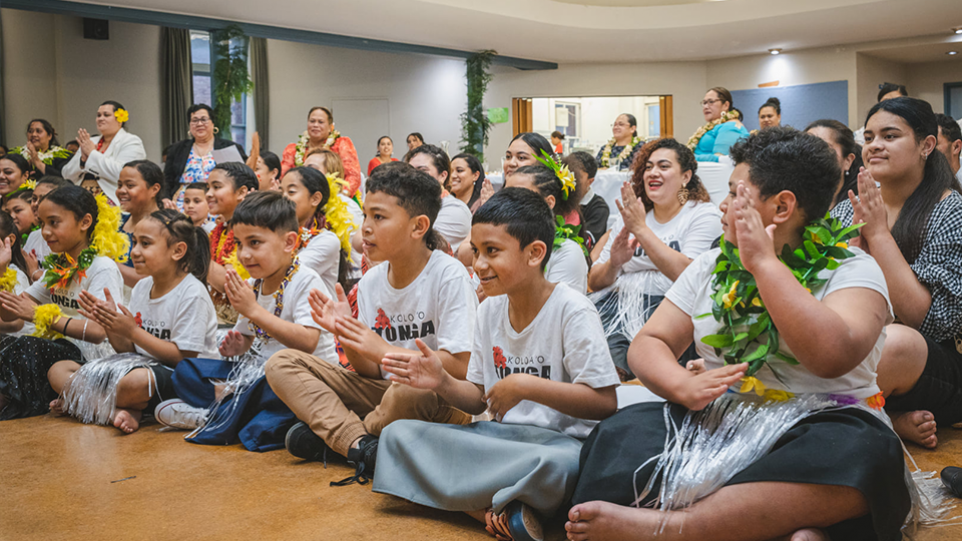 The Koloa 'o Tonga group performing at a Graduation Celebration for one of their facilitators, 'Alisi Kivalu.
"What was most pleasing and surprising was the number of men who attended, with a similar number between males and females, the elderly, middle aged and younger … it was right across the board," MJ recalls.
"We had to split into cohorts to ensure a safe environment and enable an effective and safe talanoa that encompasses the practices of the four main pillars of Tongan society."
"That includes what happens at home, at school, within our communities and our churches. Over the weeks, the participants themselves identified their own areas for improvement and then formulated ways to address them."
Throughout the programme, MJ witnessed a gradual shift within her community.
"Our participants definitely opened up and improved their communication within those who took part. We didn't sweep things under the rug, but we still respected those who were older than us, which is paramount among Tongans," says MJ.
"Living in New Zealand challenges such norms and there's a far greater diversity of people with a willingness to express our own thoughts and views. There's also the fact that newcomers from Tonga still come with the perception that New Zealand is still the land of milk and honey … until when they arrive, they start living here and realise the high cost for good quality of life."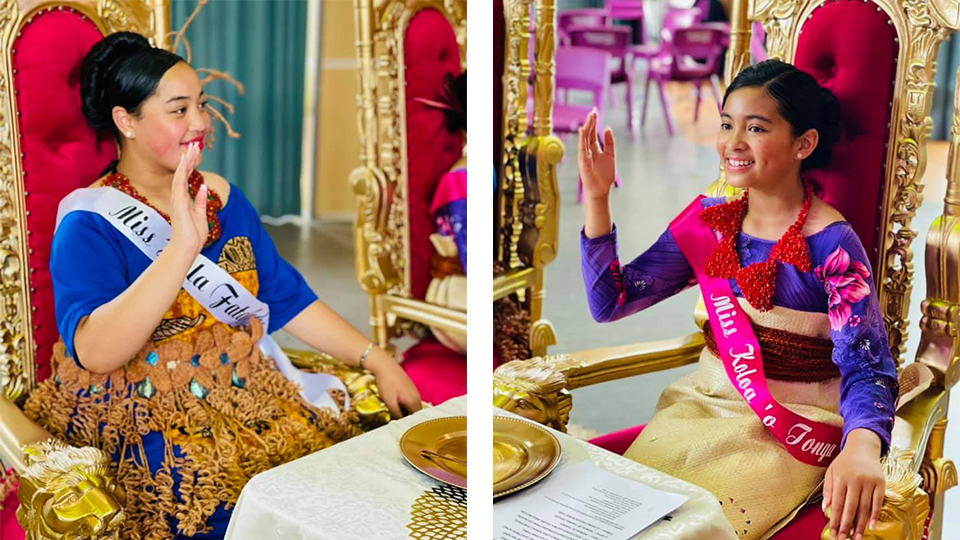 This is a picture of Manusiu Pole & Stephanie Finau-Lihau at the Fe'unu Koula Global Academy Tau'olunga Competition in Auckland. These two young ladies represented the Koloa 'o Tonga Programme in the Junior and Senior Grade (respectively) and they both came home with First Place.
Having initially gone to Otago University to study medicine, MJ struggled but decided to complete a Human Resources Diploma during a year of rest from University. This was a positive turning point towards following what she knew was her true instinct for commerce.
MJ has a goal is to improve diversity at all levels in society. She has played a huge role in championing and leading Pacific student voice in tertiary. She is the founder of the Otago Tongan Students Association and was the President of the New Zealand Tonga Tertiary Students Association from 2016 to 2019, where she now sits as the Board Advisor. MJ was also the first President of the University of Otago Pacific Islands Students Association 2018-2019, and the first Southern Hub Vice President for Tauira Pasifika the national Pacific student voice.
MJ has another goal of helping to grow the Kingdom of Tonga's economy through its abundant and healthy array of produce. "Tonga has a great climate and soil for growing produce which will benefit the Kingdom. People say there's a lot of unemployment, but Tonga has good climate for agriculture and its rich, fertile soils have been acknowledged throughout the region."
MJ now commits her time to finishing her studies and giving back to the Pacific communities. "I get to be a Tongan in New Zealand. I get to celebrate my culture, speak my language and practice my Tongan arts. At the same time I have access to good education, good employment and multiple opportunities. I get to put myself first and still care for my people and so I get to live the best of two worlds."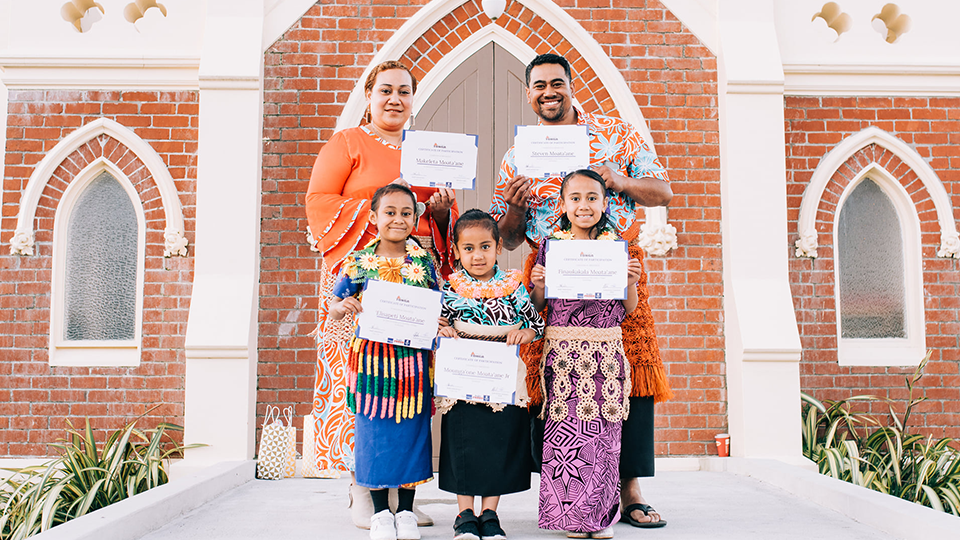 The Moata'ane Family with their graduation certificates. Back row: Makeleta Moata'ane, Steven Moata'ane. Front Row: 'Ilisapeti Moata'ane, Mo'unga'one Jr Moata'ane & Finau Jr Moata'ane.
Pasefika Proud Pathways for Change 2019 - 2023
Pasefika Proud is a social change movement – 'by Pacific for Pacific' – to boost wellbeing for Pacific families and transform attitudes, behaviours and norms that enable violence. Our name and strapline embody our strengths-based, community-led approach.
Pasefika Proud Vision: Pacific families and communities are safe, resilient and enjoy wellbeing through social connections, healthy and happy lifestyles, cultural identity, personal security and safety, spirituality.
Pasefika Proud change strategies: mobilising pacific communities + capability development + strategic priorities.

Download – Pasefika Proud Pathways for Change 2019-2023
Pasefika Proud: Our Families, Our People, Our Responsibility