Measuring and Preventing Poverty
The New Zealand Poverty Measurement Project is not primarily focused on family violence or culture. But Charles Waldegrave is adamant culture is critical to it. The New Zealand Poverty Measurement Project (NZPMP) was established in 1992 by Charles, along with Bob Stephens (School of Government, Victoria University) and Paul Frater from BERL (Business Economic Research Ltd).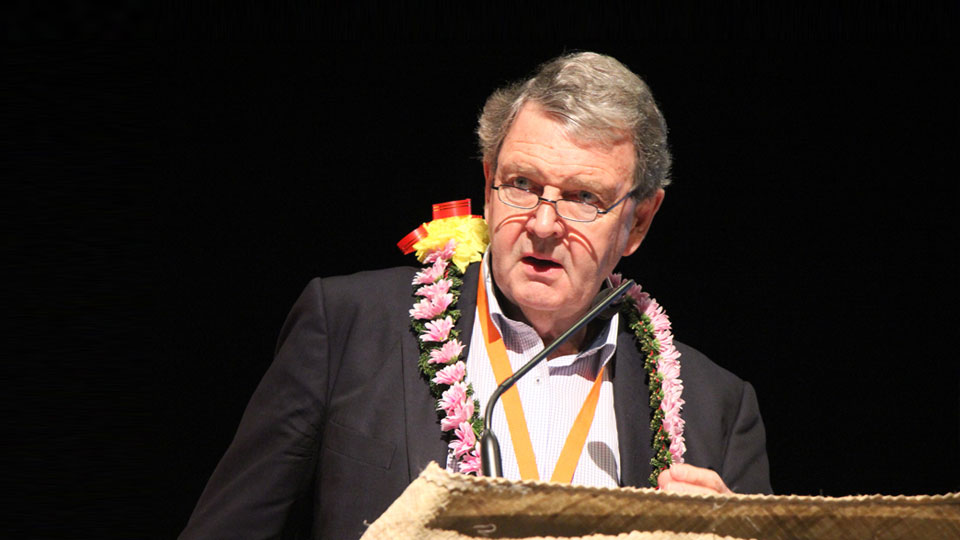 Since the mid-1980s, the Family Centre Social Policy Research Unit in Lower Hutt has been measuring and highlighting poverty in New Zealand. Led by Charles Waldegrave – M.A (Hons) Waik.,M.A. (Hons) Camb.,QSO, the Unit published its first book Poor New Zealand: An Open Letter on Poverty in 1987.
The New Zealand Poverty Measurement Project (NZPMP) was established in 1992 by Charles, along with Bob Stephens (School of Government, Victoria University) and Paul Frater from BERL (Business Economic Research Ltd).
The Project developed the common methodology, widely used today, to measure income to poverty. Prior to 1995 there was no agreed method, according to the government, and any action on poverty was constrained by those claiming the Project reports were anecdotal.
So Charles and his colleagues developed a method based on an emerging international consensus. This included income poverty measures that were relative to each nation's income level and were internationally comparable. The challenge then was to engage government.
"If you don't highlight your work, it's not taken into account in the government's policy-making process," he says.
"Prior to the research, we tried many ways to alert politicians and the public service sector, through media, protests and submissions, with absolutely no success, despite stories in the media, including a documentary on TV. It was extremely frustrating."
They knew they had to change tact to get traction. They did so by developing the research to demonstrate the numbers of people in poverty using internationally accepted measures. They were able to show the groups that were most in poverty, eg. children, single parents, Māori and Pacific people. Charles worked with two economists and they were able to cost the price of removing poverty. Once they provided an evidence base with numbers, the public service began to take note. The Unit was also able to break down the cost of families' weekly expenditure estimates for Maori, Samoan and Pakeha families based in Wellington and Auckland, where costs were, and still are, rising.
"Initially, the government wouldn't accept the findings. They were denying that such poverty existed and during the 1990s they actually banned the word in the public sector," recalls Charles.
"But the research significantly advanced our understanding of the concept of poverty. Its influence really began with the Labour Government's pledge card launched before the 1999 General Election. Later it provided much of the evidence base for the Working for Families package in 2004, which Labour also introduced."
Another important piece of legislation is the Child Poverty Reduction Bill introduced on January 1 last year.
Of the 10 measures featured in the bill, seven have come out of the NZ Poverty Project.
It has taken 25 years to move from research to get to a point now where we actually get a change in law, and now child poverty rates will be monitored every year and publicly reported.
Tackling Trauma
The Family Centre also worked in Samoa in 2009 when the Galu Afi tsunami struck much of the south coast of Upolu, killing 189 people.
Charles says the Family Centre team assisting locals in Samoa worked really hard during the recovery, but witnessed unintentional consequences in the process.
"The standard way of addressing trauma in the past has been by asking them to tell their story," he says.
"But telling their story could easily result in the victim re-living it. If you ask someone who has experienced trauma, such as a natural disaster with many deaths, to re-live it, it could leave them in despair. The key is to try and help people understand the capacity they have had to survive and build hope."
Reframing questions was key. People were encouraged to discuss what they did to safeguard themselves and others from the deadly impacts of the tsunami. They were helped to see their own efforts and what they had achieved for themselves and other family members. It helped them restore a sense of agency and control over their lives.
The Family Centre's third presentation at The Fono was titled Ole Taeao Afua: The New Morning. It is a qualitative investigation into Samoan perspectives on mental health and culturally appropriate services. It was presented by Tafaoimalo Loudeen Parsons from the Family Centre prior to the presentation by Charles.
"It's extremely important, given how dominant the western model is towards our psychiatric hospitals and patient care," she says.
"The Samoan relational notion of self is considered to challenge the universal assumptions of western psychiatric theories. It had important implications for clinical services for Samoan patients and their families."
Charles adds that those trained in the academic sphere often underplay cultural elements because the social sciences focus more on knowledge as being universal. He adds the pressures of technology are impacting on all societies and their cultures. For Pacific people though, the growing secularism and a tendency not to look at spirituality increases the disruption to their cultures.
He addressed the audience at the Pasefika Proud sponsored Nga Vaka o Kaiga Tapu: Pathways to Wellbeing Fono. He saw it as being vital in preserving culture through resilience.
"When you go into the social sciences to learn sociology and psychology, they usually speak as though everything is universal and there's few culturally specific aspects to it, which dilutes things even more" he says.
"Pacific people can lose the rich cultural knowledge they started off with, which is the very thing they need to help heal their people and develop policy with them. This country is rich with cultures with Pasifika prominent, so these need to be reflected in all of our measures and policies."