Breadcrumbs
Home
/
Stories
/
Koko Samoa Youth Show Team: Maintaining Healthy Family Relationships with Gagana Samoa
Koko Samoa Youth Show Team: Maintaining Healthy Family Relationships with Gagana Samoa
For Samoan Language Week, we speak to the Koko Samoa Youth Show team who grace our airwaves every Saturday night from 6pm to 10pm on Radio Samoa 1593AM (and livestreamed on Facebook). They share with us their thoughts on the importance of speaking your mother tongue in maintaining healthy relationships with your family members.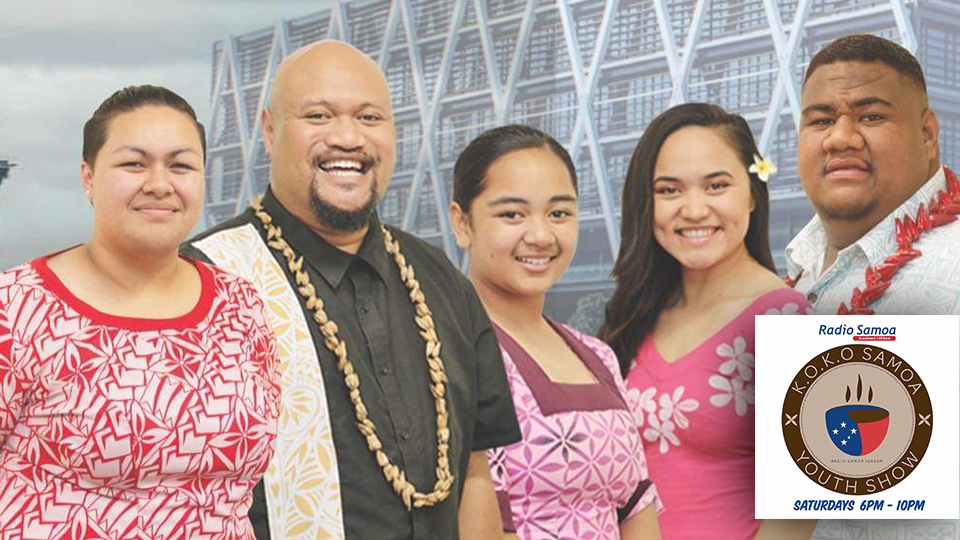 L-R: Felicia Muliaina, Seumanu Simon Matāfai, Sylvia Matāfai-Leniu, Naomi Stretton and Christian Tito.
Tell us about yourselves
Seumanu Simon Matāfai – anchor and producer
I'm a 31-year-old, Kiwi-born Samoan from Avondale West/Central Auckland. My villages in Samoa are Salelologa and Saleaula in Savaii. Erstwhile politician and international activist now Chief Executive of Pacific Events & Entertainment, graduate of University of Auckland and currently finishing a Masters (MBA) at AUT. I was bestowed the orator chief title; Seumanu in 2013 with the completion of my traditional tatau. I've been the Avondale College Samoan Group tutor for 12 years and am a Samoan language interpreter for government & private sector, as well as being an ordained lay preacher of the Samoan Methodist Church.
Naomi Stretton – co-host
Talofa lava! My name is Naomi Stretton. My villages in Samoa are Lotofaga, Aleipata and Moto'otua, and I was born and raised in South Auckland.
Christian Tito – co-host
Talofa Lava, my name is Christian Tito, I'm 20 years of age and born and raised in Samoa before moving to New Zealand in 2012. I am from the village of Lalomalava in Savaii, Samoa, and I live in Otara.
Felicia Muliaina – co-host
Talofa lava, my name is Felicia Muliaina and I'm 25 years old. My villages in Samoa are Nofoali'i, Salelesi, Gataivai, Fusisaluafata, Faleapuna and Vaimoso. I was born and raised in South Auckland.
What's the importance of retaining your Samoan language for your family here in New Zealand?
Seumanu: It's a matter of protecting our identity as Samoans amongst the melting pot of cultures in Aotearoa. Language anchors us as a people to our core values, history, and way of doing things (Fa'a Samoa). As the first Samoa delegate to the One Young World Summit in Pittsburgh, USA I shared that; "Our languages underpin our culture, our culture underpins our identity. We lose our language, we lose our culture, we lose identity, we are nothing…"
Naomi: I believe it's important to retain our Samoan language so that it continues to be passed down from generations, as our ancestors worked so hard to do before us. Our language is beautiful and so intricate, it would be very disheartening if it were lost.
Christian: For me personally, it's important to retain my Samoan language because it's our main language used to communicate with my family at home. Also, in the future, I'll want my kids to be able to speak and understand our mother tongue.
Felicia: For our family, being able to at least understand the Samoan language helps us in terms of communication. Personally, being a first-generation NZ-born Samoan - although my fa'a Samoa leaves a lot to be desired - I understand enough to know what my parents are saying. It also gives us a way of staying connected to our heritage, our roots. Our culture is rich in history, a history that still relies heavily on being passed down through oral tradition, which is, of course, tied to our beautiful language.
How does the language help your family or other Samoan/Pacific families communicate and manage anger/conflict?
Seumanu: There are many contributing factors to family violence and one important factor is miscommunication. Miscommunication can include language barriers where parties misunderstand, misconstrue, or misinterpret what is being said or what the situation is at hand. Being able to communicate effectively in both Samoan and English bridges communication gaps and prevent conflict.
Naomi: Understanding the language can help families avoid miscommunication, which can often lead to anger and conflict. I believe that if our families understand the language, it can allow our tupulaga (youth) to openly communicate their feelings and thoughts with their parents, and vice versa. That way everyone is understood and heard.
Christian: Sometimes our own mother tongue can get the message across to other family members but especially for our elderly who have limited English.
Felicia: Knowing the language helps in Pacific families. Although our elders may know how to speak English, sometimes they cannot fully convey their thoughts or feelings in the language. Being able to use the mother tongue and knowing that those around them can also understand, is helpful in times where conflicts arise.
It has been said that Pasifika languages, cultures and values are protective factors against family violence. What are your thoughts on this statement?
Seumanu: Our languages enable us to appreciate and live out our culture. As a Samoan, the foundation of respect or fa'aaloalo would be a guiding principle in the way we conduct ourselves, thus building resilience towards family violence. It is definitely a part of the solution to this worrisome issue in our community.
Naomi: If I'm being completely honest, I don't fully agree with this statement. For me personally, growing up in a Samoan family, prone to speaking the mother tongue and taught to be strong and proud of my Samoan values and cultures. This did not make me more resilient to family violence as hidings were a real part of my upbringing as a form of discipline.
Christian: For me personally, I disagree with the statement. Yes, we were taught to be proud of our Samoan culture and values, but growing up getting disciplined by the fusipa'u (belt) was just a normal way of the upbringing of any islander kids.
Felicia: I do not think that Pasifika languages and values, as they are often understood now, necessarily protect against family violence. Pretending otherwise would be a true disservice to anyone out there going through this. Although I do not believe family violence is, in any way, an inherent part of any Pasifika culture, discipline was, and I believe it is still a big part of bringing up young ones. Unfortunately, "discipline" and the abuse or misinterpretation of cultural values in the name of 'discipline', has often times turned into family violence. If we were to re-think, re-claim and re-teach those Pasifika values, I believe we could be able to better protect our families against domestic and family violence.
What are some important Samoan values that help maintain respectful/healthy relationships between family members?
Seumanu: In addition to respect or fa'aaloalo, love or alofa are key pillars in our Samoan culture. This could also overlap with our faith as the Apostle Paul said that of faith, hope and love, the greatest of these is love. If we truly love our families then we must protect, provide, and empower them.
Naomi: The most important Samoan value by far would our Christian values. It is the foundation on which we have built all our other values. When relationships with family members are tested, it teaches us to be kind and caring, to show love and patience, and to always forgive. Just as our Lord did to us!
Christian: Respect between one another is the most important value. For example, respecting your sisters is a really basic one that we often forget about. Also, our country has been built upon Christian values, too. As the saying goes "FA'AVAE I LE ATUA SAMOA" – Samoa is founded on God.
Felicia: Respect for your elders and respecting 'le va' (relational space) between people are two that automatically come to mind. Having that respect for the wisdom and knowledge that our elders have and taking good care of those older than ourselves shows humility and warmth. Respecting le 'va' between people is so important. It teaches us how to treat one another with love and respect.
www.facebook.com/KokoSamoaYouthShow/
GET HELP
It is important we continue to keep our families and children safe in our homes.
Some Pacific families may be feeling vulnerable. Remember that family violence support services are available. For emergencies please Dial 111.
Click here for resources and links to available service providers.
Pasefika Proud is a Pacific response to focus on community-led solutions that harnesses the transformative power of traditional Pacific cultural values and frameworks to encourage violence-free, respectful relationships that support Pacific peoples to thrive and to build strong resilient families.