Kainga Pasefika Services – by Pasifika, for Pasefika
Congratulations to Pasefika Proud provider Kainga Pasifika Services for establishing the first community service by Pasifika, for Pasifika in Hawke's Bay. Their 'mother organisation' DOVE Hawke's Bay Family Violence Prevention secured a Whānau Resilience contract in July 2019, with a focus on Pasifika. This led to developing Kainga Pasifika Services as a standalone trust and then to the trust's Level 2 Social Sector Accreditation.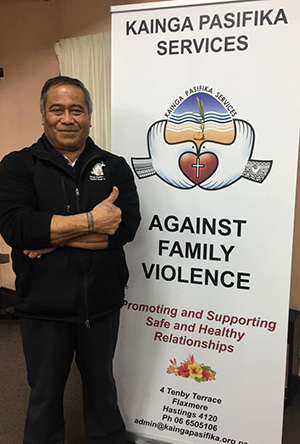 Kainga Pasifika Services have worked hard to become the only Pacific social service in Hawke's Bay with Level 2 Social Sector Accreditation. This means the trust can now contract with government agencies, with their first contract to deliver Whānau Resilience for MSD having been handed over from Dove Hawkes Bay.
Kainga Pasifika Services' first big milestone was achieving charitable trust status in January 2021. With funding from MSD's Community Capability and Resilience Fund (CCRF), the new trust worked with MSD to appoint five trustees, develop policies, set up infrastructure and systems (computers, a client management system and phones) and to lease their new home, co-located with the Catholic Church for Aubert Centre in Flaxmere, Hastings. A website is coming soon.
Their recent Level 2 Social Sector Accreditation provides a firm base for Kainga Pasifika Services to build from and there's a lot of future development potential. For example they have just signed a contract with Pasifika Futures to provide a core Whānau Ora service for Pacific peoples in the Hawke's Bay. MSD secured specific funding to support all Whānau Resilience providers without level 2 status, to help them attain this during the design phase.
The team are already providing driver licensing training and are about to take possession of a customised car to teach driving in. Offering this practical life skill complements their existing programmes promoting and supporting safe and healthy relationships and saying no to family violence.
Huge congratulations to Tevita Faka'osi, Malcolm Byford and everyone at Kainga Pasifika Services every success as you deliver your Whānau Resilience service and introduce Whānau Ora later this year.
More About Kainga Pasefika Services
You may also be interested in reading - The Voice of Kainga Pasifika Services Family First
---
Click here for resources and links to Pasefika Proud service providers.
Pasefika Proud is a Pacific response to focus on community-led solutions that harnesses the transformative power of traditional Pacific cultural values and frameworks to encourage violence-free, respectful relationships that support Pacific peoples to thrive and to build strong resilient families.