Helping Hands
The long-held vision to create a Tongan-focused community hub in the Auckland suburb of Ellerslie became a reality with the opening launch of the Siaola Vahefonua Tongan Methodist Family Wellbeing Service's own offices in March 2020. But within a month of the opening, Tongan communities, along with the nation, found themselves in lockdown due to the deadly onslaught of the COVID-19 epidemic. It was a massive blow to the community, with people losing jobs and the rate of domestic violence on the rise as families were put under the stress of strict COVID-19 restrictions in place to save lives. However Executive Director Kathleen Tuai-Ta'ufo'ou remains determined to continue to do what it takes to assist those in need.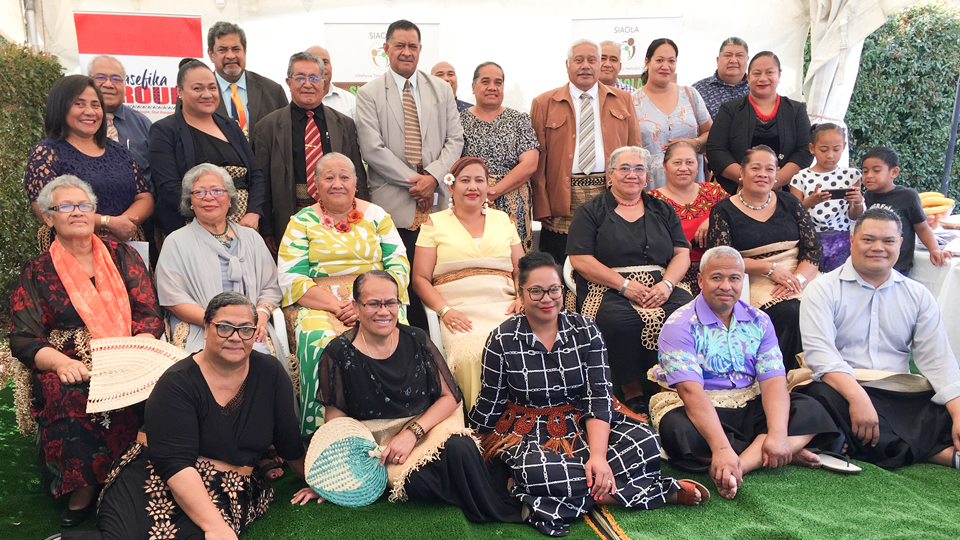 When Kathleen Tuai-Ta'ufo'ou answered the first phone call for the Siaola Vahefonua Tongan Methodist Family Wellbeing Service at 7am in the morning, she had an inkling as to what it was about.
Tongan families started calling the SIAOLA Team for assistance since Alert Level 1 and 2, and the calls have continued to increase throughout the lockdown.
"From that very first call at 7am, the phone didn't stop ringing until 11.30 … in the evening," she recalls.
"People are stressed and anxious, many lost their jobs, transitioned through to the wage subsidy, and are experiencing food shortages due to overcrowded homes, as children and young people are home from school. With a strong governance and support from MSD and other philanthropic providers, SIAOLA has supported over 2000 families 1100 households and more than 15,000 Tongan people throughout the country throughout the four week lockdown. We have helped families access WINZ, other Pasifika Providers, food banks and Health services."
Kathleen says the pressure is immense on families, particularly when Pasifika men, who are generally the main income earners, are made unemployed due to the lockdown.
"For Tongan families, it's particularly hard for our Tongan men, as our fathers and brothers are generally perceived as the main bread-winners in the home," she says.
"They want to be out there earning money for their families, to pay rent and mortgages, to pay the bills and to put food on the table. Covid-19 affects everyone. That's why we've brought in registered counsellors and social workers to support our families",
While Kathleen understands the government's need for an extensive four-week COVID-19 lockdown of the nation, she's dismayed but not surprised at the rising rates of domestic violence that have emerged throughout the country. The SIAOLA Famili Vā Lelei Team (Family Wellbeing) have made themselves available to Tongan families who are needing support for domestic violence.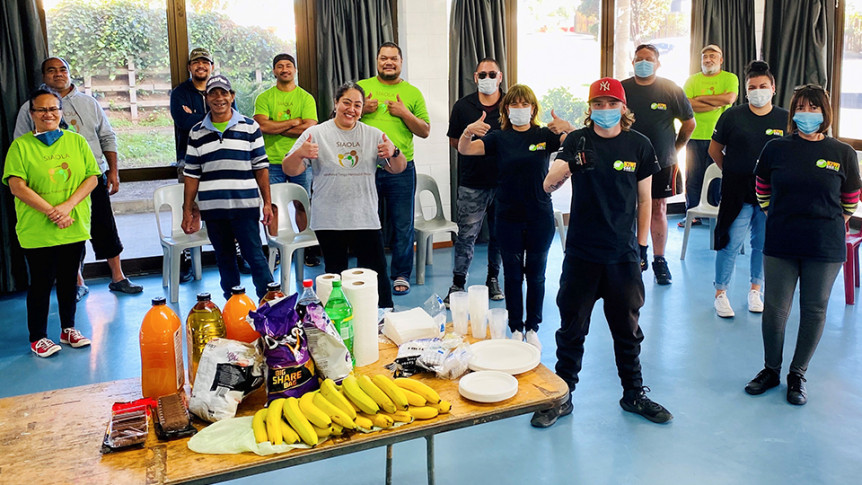 "More than 90% of the households that have contacted SIAOLA during the lockdown have more than one family living in the home", she says.
"We have generations of families in lockdown together, which can generate tensions. This has led to an increase in counselling sessions for men and families. Families have also stressed over the loss of their investments in Kiwi Saver or how to pay their mortgages and rent. We are extremely grateful to the SIAOLA team who have made themselves available at all hours of the day to take calls from distressed families."
A positive outcome that has emerged from this crisis, is the growing number of traditional Church services going online and social media promoting Family challenges.
"It is building resilience for our families. Social media is contributing to the strengthening of the bond between parents, young people and children as they share family tik tok challenges and nominate other families for praise and worship challenges."
Siaola's community services stems back to 2005 when Church and Community leaders came together under the Vahefonua Tonga O Aotearoa synod of the Methodist Church of New Zealand to respond to the growing educational needs for a growing Tongan community. The response exceeded expectations. Rev Tevita Finau, Chairperson, and others set the foundation for what SIAOLA has become today.
"Professional volunteers commit their knowledge and experience to supporting the Tongan community in Aotearoa, and we are extremely grateful," says Kathleen.
"We've been blessed to be based at the Methodist Church of NZ Mission Resourcing building in Penrose for the past 8 years, and are excited to move into our new space."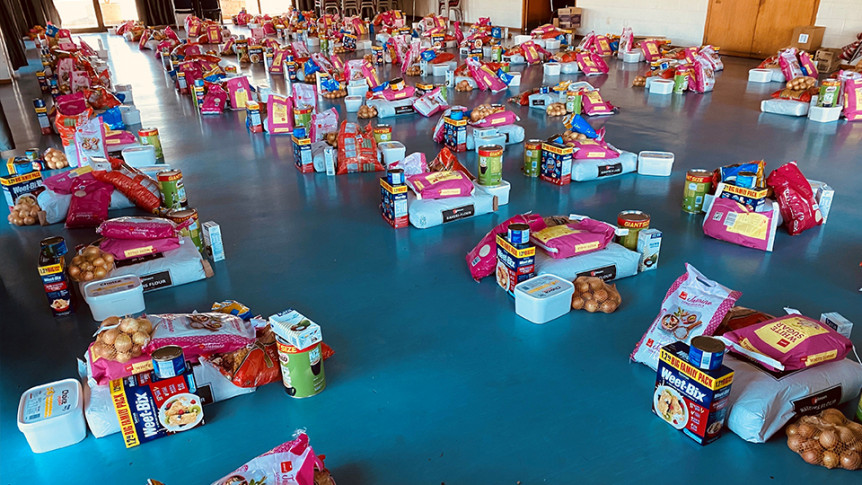 WHO ARE WE?
Vahefonua Tonga Methodist Mission Charitable Trust (SIAOLA) is a Social Service committed to empowering, strengthening and supporting Tongan families to thrive, be successful and safe. We are constituted by Vahefonua O Aotearoa, under the auspices of the Methodist Church of New Zealand. We are a National service based in Central Auckland and target Pacific people with a special focus on Tongan people and their families. The strengths of SIAOLA are reflected in the management and implementation of a number of key initiatives driven by our Professional volunteers. Their passion and commitment to our services has led to the success of four key initiatives. These initiatives come under the Famili Lelei or Family Wellbeing Services that we provide. We serve 35 Tongan church congregations throughout the country with 10,000 members. We serve up to 33 Church denominations and the local community.
WHAT DO WE DO?
Famili

'

Api

Lelei- Home Ownership/ Investment
SIAOLA GREI – We provide a culturally appropriate financial service that educates and journey's with Tongan families supporting them to Budget, Save, Invest and eventually Buy homes. Over the last 2 years our SIAOLA GREI programme has seen 43 families buy new homes. By journeying with these families for six to twelve months we were able to support them to save, budget and to walk with them and show them the process of buying a home as a family.
Famili

Ako Lelei- Education
Laulotaha Mentoring Programme (2007) – It is a one on one mentoring programme for Year 1 to 13 Tongan students with a Professional Mentor from Volunteer Services Auckland/Wellington, School Teachers from the local schools and the Tongan community. It is a holistic programme that includes support for parents also.  We have four services in Northcote College, Aorere College, Sandringham and Wesley Wellington. Over the past 12 years SIAOLA has supported hundreds of young people through to Tertiary level education and trades and apprenticeships. The Laulotaha Mentoring Programme is now seeing the fruits of its labor with Year 1 students from 2007 now graduating from university and are mentors for the programme. In 2018, the founder of Laulotaha, Valeti Finau received a New Zealand Order of Merit for the programme.
Trades and Apprenticeships Pastoral Service (2016)

– We partner with Tongan churches and community to identify young people to enter Trades and Apprenticeships as their career pathway. We provide pastoral care for the young person and their family from entry through to completion of the course.

Vahefonua Tonga Education & Training Expo & Road shows (2007)

– The expo brings together tertiary institutions, trades, social and health providers as well as key government agencies. The aim is that children, youth, parents and the public are exposed to opportunities for future career pathways to success.

Tongan Language Week Celebrations (2016) –

Together with the local community, youth and Tongan Language Nests, we celebrate Tongan language week on an annual basis supporting cultural identity.
Famili

Mo'ui

Lelei- Health
SIAOLA Zumba (2017) – We run SIAOLA Zumba in church halls as part of promoting healthy living. We also support the Healthy Living Programmes run by the District Health Boards within our VTOA churches.
Smoking Cessation within Vahefonua Tonga 35 Churches (2015) – We promote smoking cessation within the 35 Vahefonua Tonga churches and its 8000 members.
Famili

Vā

Lelei- Social services
Famili Vā Lelei Programme (2017) – We run an intensive Family Wellbeing programme on a bi-monthly basis that addresses Family Violence and Child abuse. It is a value and strength based programme with a Tongan Cultural framework. Our Famili Vā Lelei Programme was developed by our Professional volunteers (Clinical Psychologist, Counsellors, Teachers and Social Workers) in 2016 and piloted in 2017. It received two District Commander Awards from Counties Manukau Police as an effective Programme that addresses Family Violence and Abuse within our Tongan community. In 2018, it was the finalist for best Community and Police partnership for the Police Districts in Auckland and won the National Evidence based Problem Oriented (EbBOP) Award for a Family Violence Programme.
Church Leaders Nga Vaka Training (2016) – We partner with the Ministry of Social Development, Pasefika Proud, to provide Family Violence Prevention training to our Church Leaders within our 20 churches in the Auckland region.
Kavamalohi Apitanga Workshops (2016) – We partner every year with the local churches to run Family Violence Prevention Workshops. 
Famili Vā Lelei Campaign/ Pasefika Proud (2016) – We promote Family Violence Prevention in a culturally appropriate way on Social Media, Video's, Fono's, Radio and Newspaper. The aim is to change mindsets.
SIAOLA is a value and strength based service that uses a Tongan Cultural Framework to deliver all our services to the community.
Pasefika Proud is a Pacific response to focus on community-led solutions that harnesses the transformative power of traditional Pacific cultural values and frameworks to encourage violence-free, respectful relationships that support Pacific peoples to thrive and to build strong resilient families.