Helping Hands to End the Harm
The Henderson and Manurewa clinics of The Fono Dental and Medical Health Centres hold groups for Pacific men and women who have volunteered their time in an effort to free themselves from a violent past. Hear from facilitators Loga Crichton (pictured left) and Fononga Le'aliki (pictured right).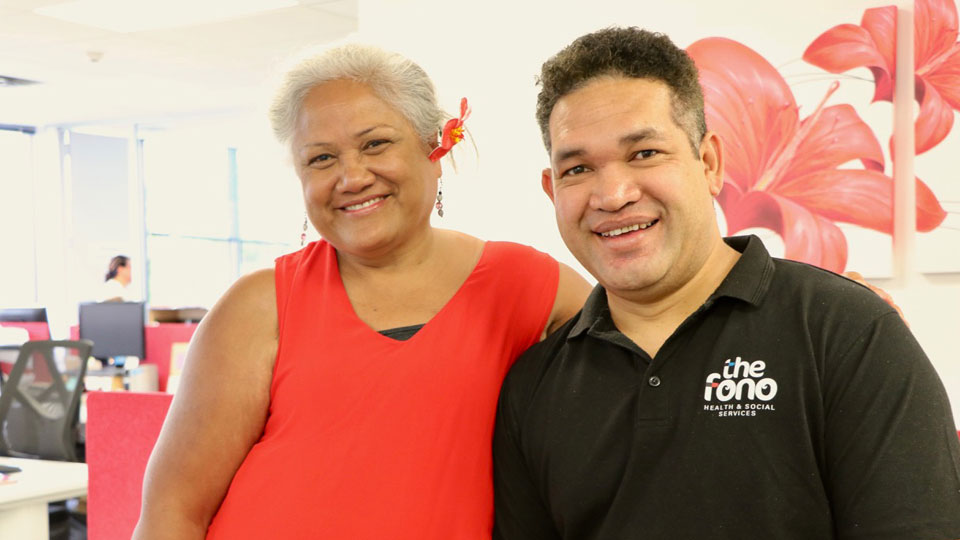 In 2018 the Fono had more than 50 men come through the programme fully funded by Pasefika Proud with 34 group sessions. At least 30 women also joined a women's group via referrals. For facilitator Loga, connecting through language is the key to its ongoing growth.
"It's the point of difference between our programme and others," says Loga, the youngest of eight from the village of Moata'a in Samoa, who came to New Zealand for schooling as a 16-year-old in the mid-1970s.
"A number of Pacific men may have a basic grasp of English, but when they're in a more formal setting, many struggle, especially when others who run the process speak so fast.
But when it's being explained in their own Pacific language, they understand … making the translation as to what is violence brings it home to them."
Fellow facilitator Fononga Le'aliki, of Tongan and Samoan descent, was born in Vanuatu, where his father once worked. He came to New Zealand two years ago, gaining a position as a qualified counsellor for the Pacific Island Community (Tauranga) Trust and was training as a group facilitator at Tauranga Living Without Violence.
But anopportunity to come to Auckland and work with Pacific people was too good to turn down.
"I learnt a lot from my time in Tauranga, which was mainly engaging in a mainstream environment which included Europeans and a few Maori, Asian and Pacific people," he recalls.
"I picked up a lot of skills I knew would help, which grew and developed my passion for the work."
That passion initially provided its challenges for Fononga. While the perpetrators, the vast majority being men, would verbally accept their actions were wrong, not all of them would openly accept the need to change. Breaking down those barriers was key. The challenge is to bring perpetrators to a level where they can recognise the responsibility is on their shoulders.
"There are lots of strongholds and long-held beliefs that keep them where they are," he says.
"They've never really engaged or explored where those values and beliefs stem from. We need to get them to a position where they fully realise the extent of their actions and take responsibility."
Fononga knows what it's like to be a victim of violence. As a young boy in Tonga, he was slashed with a large knife by someone from behind while riding a horse.
"I can't recall the pain … but I remember being in shock and my mind just went blank."
The random attack left significant scars on Fononga, both physically and mentally, as he tried to make sense of what happened.
"It took a long time for me to regain my sense of the world around me. It still affects me now when I communicate, especially when the subject matter is sensitive. I'm blessed to have a wife who knows what I've been through and understands me."
Fononga and Loga confront challenges with men who have been in and out of jail, have drug and alcohol problems and are from families in which family violence is prevalent.
Loga says a number have been through sessions elsewhere, but don't know how to stop them leaning towards violence during times of stress.
"We all have traumas in our lives, which can go back to our younger days … but some get stuck in that experience because they're in an environment where it happens so often they don't know any other way."
Through the Nga vaka o kāiga tapu, Loga is adamant there is a way. Launched in 2012, Nga vaka is a conceptual framework for addressing family violence in eight Pacific communities in New Zealand – Samoan, Tongan, Cook Islands, Tokelau, Niue, Fiji, Tuvalu and Kiribati. It is informed by and aligned with the eight ethnic specific conceptual reports on addressing family violence, with a literature review.
Originally intended as a guide for policy writers, it defines and explains meanings of family, violence, and key concepts and principles that promote family wellbeing for the eight ethnic specific communities.
Loga describes the Nga vaka framework document as "simply the best".
"As a 16-year-old Samoan who came here to New Zealand for schooling in 1976, being able to re-tell that experience all these years later became a learning curve in myself," she says.
"The migration story from the islands is well-known, but each of us have our own unique experience, and when we share it others want to tell their story … it's very moving."
Addressing the cause for Pacific men who are in court is a change that allows Loga and Fononga to speak on behalf of them.
"Instead of providing a letter which is probably not even read properly, this change enables us to build a rapport with the prosecutor," says Loga, who herself suffered from abuse during her marriage.
"I'm also better able to personalise the strengths of the defendant. The programme has been so successful, some of the men who took part as offenders now have the potential to become facilitators themselves.
"That's why we love what we're doing. We want to invest in our Pacific men and those who have benefitted from the programme want to be part of it."
The Fono extends its assistance to the young men (aged 16-19) who are part of the Oceania Careers Academy, which supports them while they're studying to learn a trade and ensuring it's consistent to the Fono organisation's values in caring for its customers, students and patients.
Loga pays credit to Fononga for his passion and ingenuity, which includes presenting a diagram on personal issues and asking each member of the group to dissect what it is for them. The participants' response are powerful and emotional.
"When they first come here, they feel they're are alone and they have no hope," she says.
"But by speaking of their inner turmoil, their frustrations, anger and why they do the things they do, the others in their group want to share their stories because they can relate to them.
"I'll get them to show their hands to me and ask them to tell me if they're hands that are harming children, women and families, or are they hands that are protecting their loved ones.
"They'll look at their own hands in ways they've probably never done so before. It helps them open up to what triggers their patterns of behaviour and find out from the others participating that they're not alone in feeling the way they do."
Loga says many of them still come to the sessions, even if they're no longer required to.
They also recruit friends, family and fellow church members who they think will benefit and are searching for larger venues to hold more such events on a regular basis.
"Their openness to others in the group grows," she says, "and it's a privilege for Fononga and I to be with them on their journey."
Tevita Funaki, CEO of The Fono, describes the work as "a priority area for The Fono."
"We need to recognise the violence that occurs within our families and the fact that the vast majority is caused by men," he says.
"One of our significant strengths is utilising our significant cultural capital. We have an understanding of our families and recognise the importance of communication through our languages.
"This ensures we can build a program that's much more meaningful to the participants because it's by Pacific for Pacific.
"We've had good feedback that those participants are accepting the solutions and looking to make positive changes."