Gagana Tokelau youth taking to the Language
As a founding member and Minister for the Congregational Church of Tokelau in Porirua, Reverend Elder Tui Fakafotu Sopoaga received a QSM medal for services to the Tokelauan community in 2019. His ongoing work includes helping out on family violence and suicide prevention alongside his role in revitalising the Tokelau language which continues to grow in popularity among its youth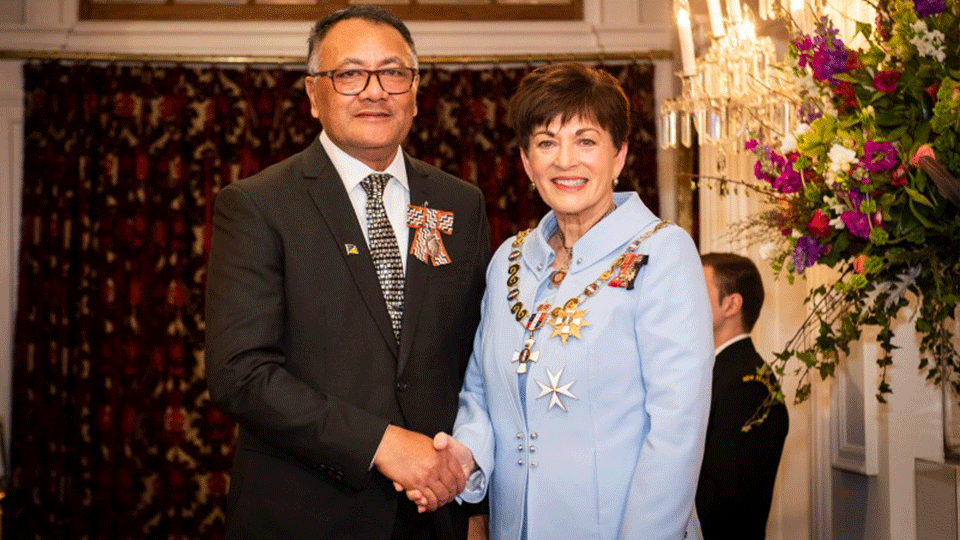 Over the eight years the Ministry of Pacific Peoples have hosted Tokelau Language Week, the Reverend has seen a marked growth in interest and improvement in the language.
"It's our youngsters who have played a big part in wanting to promote and speak the Tokelau language," says Reverend Sopoaga.
"And they're succeeding in doing so by encouraging their parents to join in within their homes. They memorise verses and are picking things up very quickly."
Born in Tokelau in 1956, Reverend Tui become one of the many in his family to depart from the group of tiny atolls, which consists of Fakaofo, Nukunonu and Atafu, and head to New Zealand as they were called to serve by the Tokelau Congregation in Porirua.
Revd Tui came to New Zealand when he was 13 years old and attended the Marlborough Boys College in Blenheim, South Island.
In 1978, he married Ane Sopoaga and in 1979, Tui and Ane entered the Malua Theological College in Samoa.
In 1983, Revd Tui and his wife Ane were called by one of the Islands, Fakaofo, to be their pastor.
In 1988, they were called by a Tokelau Congregation in Porirua. The following year in April, Tui and Ane arrived in Porirua.
With a growing congregation of followers, the group quickly settled in the developing areas of Porirua where, in 1990 they found a piece of land and built the Pahina o Tokelau Church and Pahina Community Hall.
Reverend Tui is a founding member and Chairperson of the Tokelau Bible Translation Committee. He is also Chairman of the Tokelauan Congregational Christian Church in Tokelau, New Zealand and Australia as well as being Chairman of the Tokelau Wellington Leadership Group and also the Tokelau National Council.
Revd Tui oversees a leading role in the Tokelau Community Group, which includes helping the community workshops on suicide prevention and domestic violence.
The church's growing popularity among parishioners in the early years resulted in the need to expand.
"We were renting space from our neighbouring Maori community marae, which we were eternally grateful for, but there were times that we couldn't have our Sunday service because when a Maori tangi is on, we had to look for other venues where we could have our service. So, because of this, our Church Trustees and I sat down and discussed this issue. We came to a conclusion that we needed to look for a piece of land where we could build a church," the Reverend recalls.
Eventually, they found a large, suitable space, completing their work by the end of the decade. In 1991, Revd Tui and the congregation finally finished and opened their new Church now called Pahina o Tokelau, which literally means The Pearl shell or white pearl of Tokelau.
While the combined population of Tokelauans living in New Zealand is around 7000, approximately only 1500 Tokelauans live on the islands. 98% of that population living on those remote islands speak it fluently. But the Reverend appreciates the efforts within the Wellington region and other regions in Aotearoa to further grow the language. He is also proud of the support from the Government and education providers.
"There's a growing recognition of what we bring with our relationships with local government and others in our regions. We also have grown establishing churches in Auckland and Taupo," he says.
"What we'd really like to bring is teaching of the Tokelau language into the schools as part of our curriculum. That would give a huge boost to our people wherever they are."
For people from Tokelau living in New Zealand, family, community, and language are the centre of Faka-Tokelau, the Tokelauan way of life. Over half of the country's Tokelau community live in the Porirua and Hutt Valley areas of Wellington with Tokelau communities also in Auckland, Rotorua, Taupō, Manawatu, Christchurch and Dunedin.
"The improvement of the young ones in their language is what we're excited about," says the Reverend.
"We've also encouraged New Zealand-born parents and children to try and learn it and they're gradually understanding how to speak Tokelauan in their own homes. It has made a great difference to speak the Gagana Tokelau and I appreciate what the New Zealand Government and our local councils have done to promote our language. Our people are responding well to that."
Pasefika Proud Pathways for Change 2019-2023 Pacific families and communities are safe, resilient and enjoy wellbeing.
Click here for resources and links to available service providers.
(external link)(external link)(external link)(external link)(external link)(external link)(external link)
Pasefika Proud is a social change movement – 'by Pacific for Pacific' – to boost wellbeing for Pacific families and transform attitudes, behaviours and norms that enable violence. Our name and strapline embody our strengths-based, community-led approach:
Pasefika Proud: Our Families, Our People, Our Responsibility