Foundations of love, respect and patience
Year 13 Mangere College student leader Levi Teleiai joined ASB Polyfest to keep his aganu'u (culture) alive here in New Zealand. The 17-year-old, who migrated from Samoa in 2016, says the values of love, respect and patience taught to him by family have made him the all-round leader, both in and out of school Samoan group, he is today.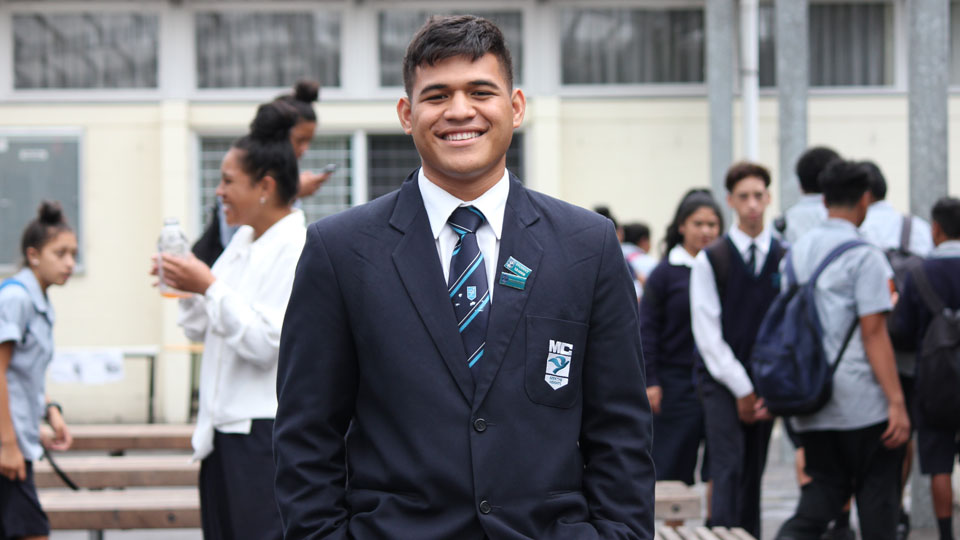 Levi was adopted by his aunty and his uncle, who he happily calls his mum and dad.
From the villages of Falelatai and Samatau, Levi says through his biological parents in Samoa to his adopted parents in New Zealand, the importance of alofa (love) and fa'aaloalo (respect) are integral to building strong foundations within his family.
"O le a se fa'avae e malosi ai le aiga? O lo'u talitonuga, i a a'u a ia, e fai mai la'u tamā a leai se alofa, e ma'imau le taimi," he says. (What makes a strong family? I believe, as I've been taught by my father, if there's no love, it's a waste of time.)
"In my family, everything is about alofa, aganu'u and fa'aaloalo."
Although he grew up in Samoa, Levi says the way in which many families operate in New Zealand is similar in terms of the importance placed on these values and the connection to their Samoan culture.
"It's about communicating and we show love in many ways, especially with respect for our family members."
As the second oldest in his household, Levi makes it a point of listening to his older brother and helping to look after his younger siblings. He wouldn't have it any other way.
"Although we began our aganu'u (culture) - the way we live and how we treat people - in Samoa, we're still going to keep that when we grow up and move.
We'll pass it onto our kids in New Zealand, and then they'll do the same for their kids."
Initially, Levi thought he would come to New Zealand to encounter change and adapt to a less cultural lifestyle.
To his delight, however, the only obvious change was the type of discipline. In Samoa more emphasis is placed on the idea that if children are not physically punished when they do wrong, their personal development will suffer.
He found in New Zealand the Samoan proverb 'e a'oa'i i upu ma tala' (to discipline with words and stories) was not only adhered to literally, but enforced by law.
"O le mea lea e i ai le taimi nei, na o le a'oa'i i upu ma tala. Mo'i a oute tagi ma tina but e le'o pa'i mai se mea ia ta'ita, I'm not hurting from physical discipline but I'm given lessons to use which don't just go into one ear and out the other ear.
"The way we teach our kids about love, respect and traditions is so good. I really love it. In the future, if I have kids, that's what I want to teach them."
It's why Levi takes such pride in being in Mangere College's Samoan group at ASB Polyfest.
Levi is not boastful, just excited to showcase it as much as possible.
"It's a way to keep your aganu'u, your culture, alive."
Levi takes pride in being a leader instilled with the lessons of his elders, adding that joining Samoan group has helped him develop his leadership skills further.
"Without respect, patience or love, how can you be a leader?"
It's Our Families, Our People, Our Responsibility.