Enriching Aotearoa
Unitec Academic Programme Manager 'Aulola (Lola) Fuka Lino has fond memories recalling growing up as a child in Tonga. Life was good to her and their family before moving to Auckland in 1985 when Lola was seven years old. Following the initial culture shock upon arriving in New Zealand, Lola is fulfilling her and her family's wishes and expectations with a sense of gratitude living in a nation that accepts and embraces the diversity of all Pacific nations in Aotearoa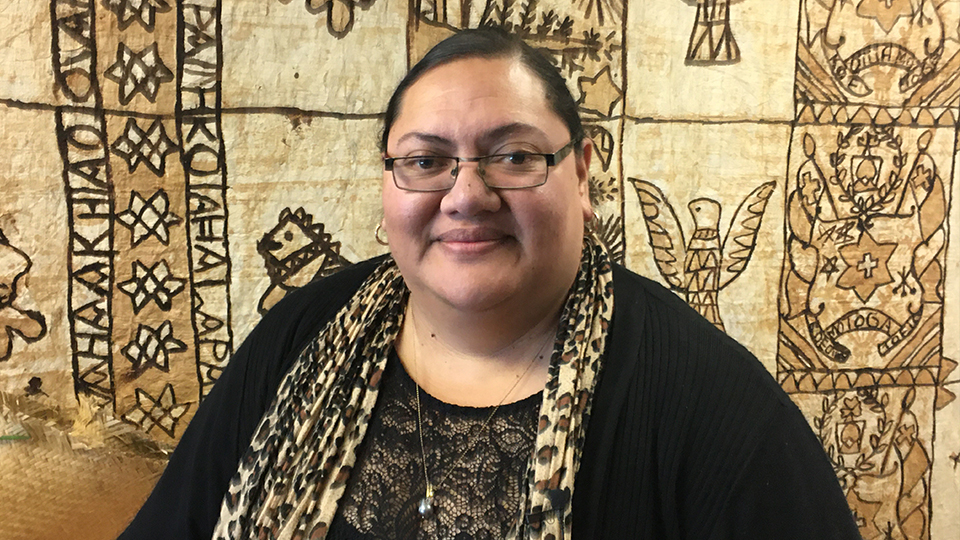 'Yes' and 'No' would be the first two words in English that Lola would speak upon her family's arrival in Auckland. While she grasped those two words relatively quickly, it took a while for her, her brother and older sister to become accustomed to accept a whole new way of life.
"As we came through the hustle and bustle at Auckland Airport, my family and siblings entered an environment we'd never ever seen before," says Lola, born in the Tongan capital of Nuku'alofa.
"It was scary. Being new to this country, we were taken to places I'd never thought of or could have imagined. As a child, it was a challenge for me trying to understand what people around us were saying."
Lola's family initially stayed at her aunty's place in Mt Roskill, a two-bedroom house consisting of three families; her Mum, Dad, sister, brother and grandmother, who's now in her mid-90s. Her grandmother noticed a small shed in the backyard which was then converted into a sleep-out.
"To be honest, I never even knew what a shed was at first. It wasn't until I saw a picture of one in a book that I clicked, especially when I saw a lawnmower squeezed inside it," she says with a smile.
"It's typical of my grandmother. She's in her mid-90s and still as resourceful as ever. Having a few of us crammed together in such a small space actually kept us warm."
But while Lola grew up understanding the family's aim of seeking a better life, she missed Tonga.
"I, personally, never understood why our parents would try and drum into us the reasons for leaving Tonga. Life for us kids there was beautiful. We had somebody who did our duties, we'd go to the local shop which seemed to offer everything we wanted or needed because our parents would pay for it," she recalls.
"I always felt privileged and was grateful we, as children, were able to live a good life in Tonga."
When more of the family came from the islands to settle in New Zealand, the family's priorities turned to careers and education. At secondary school, Lola's initial thoughts were towards medicine. But upon leaving school, she took a 360 turn in the realization of what she truly wanted to do.
"Both my parents are social workers and they inspired me to become one as well," she recalls.
"I just wanted to work with people like them. At one stage we were all living under one roof at a place in Onehunga. Although it was crowded, I was so attracted to being part of a collective, helping people and sharing what we have."
Having studied at AUT from 2016, Lola moved across Auckland due her appointment as programme leader at MIT (Manukau Institute of Technology). She worked there from August 2013 to January 2018, then became a senior lecturer at Unitec's Henderson campus in January 2018 before taking on the role as Academic Programme Manager of Social Practice in July 2019.
Like many families of mixed ethnicities, Lola knows the challenges ahead in retaining the Tongan language in an increasingly diverse community, which includes her own son.
"I have many nieces and nephews who are both Tongan and pakeha," she says.
"I brought my son up in a bilingual pre-school because I wanted to embed the Tongan language in him. But after the age of three, he stopped speaking it. He can understand me, yet won't respond in Tongan, which seems to be fairly common these days.
"But for me, having a Tongan Language Week still holds a place in helping connect us to who we all are. I feel my Tongan-ness enriches even further in Aotearoa. It's given us a place which Maori refer to as Turangawaewae, my place to stand as a Tongan woman, migrant, mother and academic."
Pasefika Proud Pathways for Change 2019-2023 Pacific families and communities are safe, resilient and enjoy wellbeing.
Click here for resources and links to available service providers.
(external link)(external link)
Pasefika Proud is a social change movement – 'by Pacific for Pacific' – to boost wellbeing for Pacific families and transform attitudes, behaviours and norms that enable violence. Our name and strapline embody our strengths-based, community-led approach:
Pasefika Proud: Our Families, Our People, Our Responsibility