Dear Great Grands
Imagine setting up a system so that generations a hundred years into the future can listen to generations from as far back as the mid-1900s. Arizona Nofoali'i Leger did, and it is the inspiration for her Spotify series Dear Great Grands.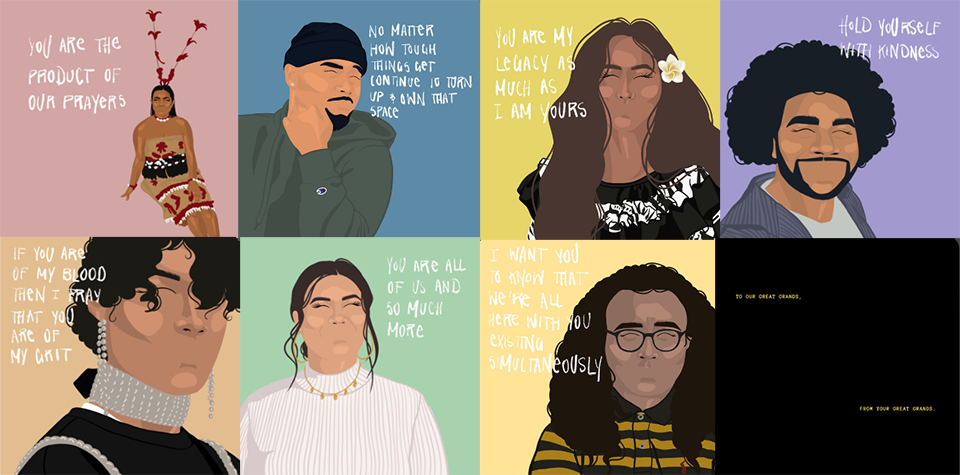 One night Arizona was sitting with her grandparents as they told of their life experiences and their hopes for their grandchildren.
She recorded the evening and had the voice recording stored safely as a family heirloom.
But it also got her thinking about the idea of "our great-grandchildren's generation being able to hear our grandparents' voices talking about their hopes and dreams for us all".
The 25-year-old of Maori, Fijian, Samoan, Tongan and European descent, hopes her recordings will speak to the generations "we will never meet, but who we fight for today", while also encouraging more Pacific communities to create their own oral history by recording the stories and voices of elders and youth.
"That way, we can continue to be the authors of our stories and so our children can hear our hopes and dreams, in our own authentic voice," Arizona says.
The program activates in two phases.
The first is the podcast series which can be heard now on Spotify, the second is the legacy part – which, in partnership with the Auckland War Memorial Museum, will mean the Dear Great Grands series will be re-released in 100 years time for future generations.
Among the voices on the Dear Great Grands series so far is Jordyn Rapana who finished her message with a heartfelt wish for the generations she will never meet.
"You are all of us and so much more. I hope you dream, I hope you laugh, I hope you know that we can never be far from you," Jordan says.
"(And) mostly I hope you know in the core of your being ... you are loved, that you are made, destined, created for here and now, that your contribution to this world does not have to look like anyone else, just be someone you are proud of."
Bailey Poching, of Samoan descent, was another involved in the project.
In his message he talked of how he was standing in front of his phone trying, earnestly, to "impart ancestral wisdom ... some big message" but ended up feeling like some sort of middle-man between his faceless progeny and his legendary mythical Pacific ancestors.
"I just wish I could sit beside you and see the world you are seeing ... I say this for your sake, my mokopuna, I hope the world you live in is a safe one, where you can experience success, and love and happiness because of who you are ... enjoy what you have and remember where you came from."
A series of dreams for the generations that we may never meet but will always love. Click through to each episode below.







---
Pasefika Proud Vision: Pacific families and communities are safe, resilient and enjoy wellbeing.
This includes Cultural identity where Pacific families value, nurture and experience: cultural pride + positive connections to cultural traditions and values + aspirations and focus on future generations + a strong sense of belonging.