Breadcrumbs
Home
/
Stories
/
Building healthy relationships through Kainga Pasifika tools and skills
Building healthy relationships through Kainga Pasifika tools and skills
The Voice Of Kainga Pasifika Services Tevita Faka'osi aired an episode on tools and skills to help build healthy relationships, bringing in a couple who completed Kainga Pasifika Services' 16-session family violence-prevention programme. They shared their experience of how it impacted on their marriage and their family. Listen to the episode.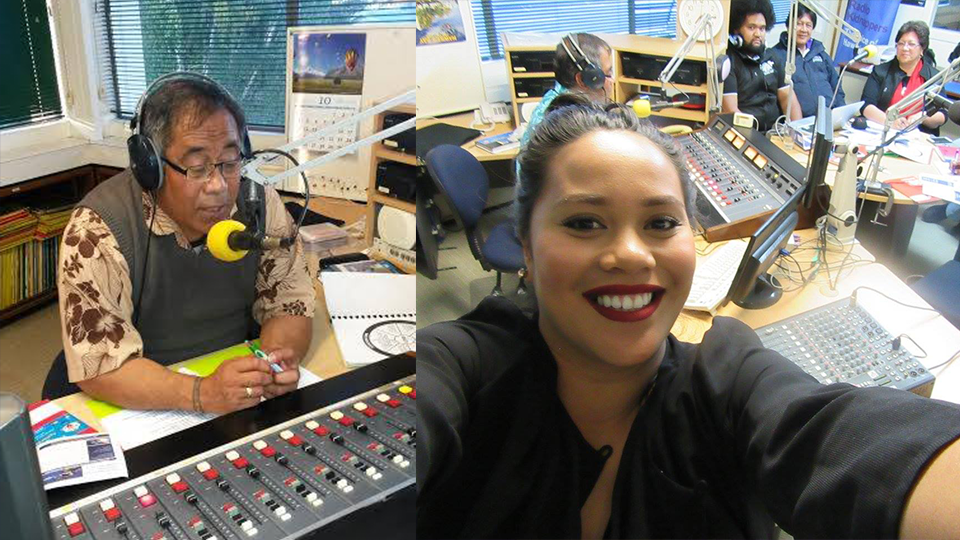 Tevita Faka'osi (left) and Judy Faka'osi Siaki
Tevita Faka'osi discussed tools and skills to help build healthy relationships during a recent episode of the Voice of Kainga Pasifika Services (Dove HB) on Radio Kidknappers. Bringing in Judy Faka'osi Siaki and husband Moughan Sali-Siaki, they talk about how Kainga Pasifika Services helped their marriage and family to be in a better place to help others.
Kainga Pasifika Services provide programmes that give tools and skills to Pacific people, and to their families and communities to create more loving, respectful, family violence-free homes.
The programmes help families to understand violence and abuse, its different forms and its impact on others to develop and maintain skills to achieve more respectful and responsible relationships.
Participants are taught to understand the difference between power and control and "equality" in relationships, including how to manage anger issues and break the cycle of family violence.
The model was created by Tevita and is based on a Pasifika outlook on Safe and Healthy Relationships in three main areas of lives; Relationships, Culture and Spirituality.
At the centre is Mo'ui Kakato - Wellbeing. Kainga Pasifika Services utilises this model to work effectively with Pasifika communities and families in Hawkes Bay. The participants are from various Pacific cultures who have graduated from an extensive training programme run in conjunction with DOVE Hawkes Bay. Their motto is 'Creating Safe and Healthy Relationships and Helping Families to say 'NO' to family violence.'
Judy and Moughan, who had completed the 16-session programme training to become facilitators, spoke with Tevita about the programme's impact on their marriage and family before they moved to Australia.
The couple had looked after youth and young couples' programmes in Hastings.
"We were able to take a lot of our skills with us when we made our move, especially ones when it came to disagreements," recalls Judy, who is adamant that had they had not participated in the programme, she and Moughan would never have worked through their own issues.
"When you're living on your own with your own family, it can be very testing when it comes to money, looking after the children's needs and work while trying to organise our time. What we took from the training with us is how to have a safe disagreement, and a safe time-out. We respect each other's space."
The couple talk about the need to heal on their own, bringing the best versions of themselves into their relationship for the good of their family.
Having grown up in a strict family, Moughan admits that he was led to believe he had to control his family. Participating in the programme showed him a better way.
"It helped me to communicate with my wife as equals and learn how to control my feelings," he says.
"Just being equal and on the same page has helped us a lot."
Most importantly, Moughan says, the programme showed them effective ways of disciplining their children without using force or corporal punishment and understanding the difference between discipline and punishment.
Listen to the episode here:
https://accessmedia.nz/Player.aspx?eid=e7c9c243-5ea4-4e33-aec8-38a420950031.
GET HELP
It is important we continue to keep our families and children safe in our homes.
Some Pacific families may be feeling vulnerable. Remember that family violence support services are available. For emergencies please Dial 111.
Click here for resources and links to available service providers.
Pasefika Proud is a Pacific response to focus on community-led solutions that harnesses the transformative power of traditional Pacific cultural values and frameworks to encourage violence-free, respectful relationships that support Pacific peoples to thrive and to build strong resilient families.