Better to Give Than Receive
A lifelong love of dance, performing and education has enabled John Kiria, who hails from the Cook Islands and of Aitutaki and Rakahanga lineage, to see the world. As part of Cook Islands Maori Language Week and the founder and manager of the Anuanua Performing Arts Troupe, John reflects on his strong sense of faith and its ongoing importance for future generations to have pride in their language, where they're from and the goals for what they want to achieve.
Growing up in a big family from small islands, John Kiria recalls how strongly they were, and still are, tied to their faith, culture and education.
"With my father (from Aitutaki) being a teacher and principal at the local Amuri Primary School, it was always a case of 'do well at school'," he recalls.
"My older sister and younger brother wanted to follow their father's footsteps and ended up becoming teachers. But I wanted to make my own destiny."
John was raised by his grandfather John Karue, who was also heavily steeped in the Cook Islands culture.
"My grandfather was a very cultural man, a man with strong faith and one of the main speakers for our village, a grandfather, composer, tutor and teacher of Cook Island culture," he recalls.
When family members began migrating from the Cook Islands to New Zealand in the 1970s, they brought their pulsating, infectious drumming sounds with them. The Aitutaki Enua was formed following the footsteps of his older siblings. John runs the Auckland-based dance team 'Anuanua' Performing Arts, which has performed on international stages across the Pacific to the likes of Hawaii, Australia, Tahiti even some of his members were chosen to take contract to Dubai, Spain to name a few.
In October last year Auckland hosted the popular Te Maevanui Festival showcase, with performers of more than 900 and with an audience of over 2000 people which brought the house down. But that all changed at the beginning of 2020 with the advent of Covid-19.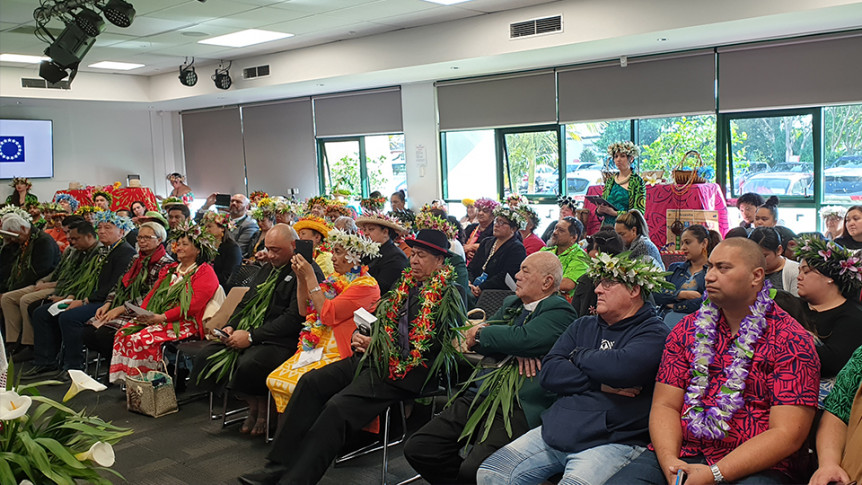 Celebrating Cook Islands Maori Language Week – MIT, Auckland
"We've had to cancel a lot of events due to the pandemic," he says.
Regardless, John doesn't regret for one moment leaving a well-paid fulltime job to continue pursuing his passion for serving his people in the community and doing performances.
"The last fulltime job I had in logistics," he recalls.
"For 15 years I struggled to see my children growing up because of the long hours I worked. I'd be gone before they woke up in the morning and arrive home when they've already gone to bed. Being with my family is so important to me, as is my passion for the Cook Islands community."
John decided to run his own business which involved his true love. Dance, Art and Music
"We were invited to do a performance to celebrate the opening of the new Pasifika Youth court in Mangere," he recalls.
"Ida Malosi, New Zealand's first female Pacific judge, approached me afterwards, saying they needed more people like me who were concerned about the growing rate of youth offending among Cook Islanders in New Zealand. She asked if I could help mentoring them because we need to get more of our Pacific youth back on the right track."
Becoming a self-employed entrepreneur opened the door for more opportunities. John started working for other organizations as a freelance worker with Cook Islands interpretations and translations for the NZ Translation Centre in Wellington. He's eternally grateful for the work that has come his way. For the past 4 years. John has been working with 2 former Prime Ministers of the Cook Island – Dr Joe Williams and Dr Robert Woonton as a Whanau Ora Navigator or Community Liaison Officer. I'm so blessed to be under the guidance of these two champions. I've learned so much not just in the community events but also in politics
"We're doing what we can, helping our Cook Islands people and performing to keep the language, culture and our faith alive. I love working in the community and realize the importance of never holding back what we have to give, because I truly believe that the more you give, the more, you receive."
Pasefika Proud Pathways for Change 2019-2023 Pacific families and communities are safe, resilient and enjoy wellbeing.
Click here for resources and links to available service providers.
(external link)
Pasefika Proud is a social change movement – 'by Pacific for Pacific' – to boost wellbeing for Pacific families and transform attitudes, behaviours and norms that enable violence. Our name and strapline embody our strengths-based, community-led approach:
Pasefika Proud: Our Families, Our People, Our Responsibility