Tackling the Silence of Family Violence
With over 220,000 Facebook views, the pop-styled Porirua ELIM Christian Church's Say Something video released by Pasefika Proud clearly resonated with audiences. But behind the scenes, it has also affected those involved. Producer Glenys Ngateina, along with Ace and Landa Tolai, who play the parents in the video, describe the impact making the video had on them, their friends, family, church and wider community, as people tackle the silent predator that is family violence.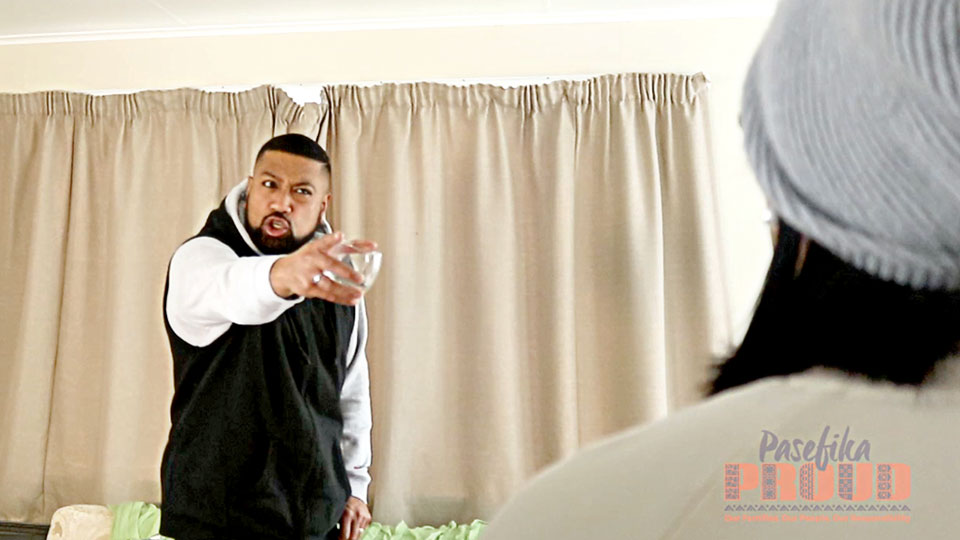 "When I worked on the video, my thoughts were that family violence is such a predator, a silent predator that just holds us back from speaking out," says Wellington-born and raised Cook Islands producer Glenys Ngateina.
As a mother who grew up in a violent environment which she likened to Once Were Warriors, Glenys says the video made her think about her own upbringing.
"I felt like my childhood had been stolen and I couldn't do anything about it, because I stayed silent," she recalls.
While she acknowledges one video won't solve all the nation's family violence issues, it was a good starting point for a conversation that has been silenced in too many Pacific households. For Glenys, the video was part of a message that's already out there.
"It's a reminder to everybody that there are places you can go to for help. You don't need to keep what's happening to you only to yourself," she says.
Ace and Landa Tolai, who lent their acting talents as the parents in the video alongside their real son Lavahki, agree.
Having both been raised in violent households, they say there's no surprise that violence occurred early on in their own marriage.
When Ace and Landa had their two eldest children - they have five altogether - Ace admits that as a father he did similar damage that was done to him to his own eldest.
"I was verbally and physically abused growing up," Ace recalls.
"I thought that was normal, until I realised that deep down I was broken and heading down a path of bad thoughts, feeling unwanted, suicidal and negative thinking. The worst thing about it was not knowing how to deal with what I was going through … I just stayed quiet."
Ace realised his parents, aunties and uncles also didn't know how to end the cycle or speak up about putting a stop to the abuse, "mainly because of their upbringing and not having the access to the type of information and support we have today," he says.
"I never knew any better, and there wasn't enough promotion on family violence prevention back then, but like Landa says, we knew deep down the cycle needed to be broken."
In recalling watching her mother being beaten when her father was intoxicated, Landa says she and Ace were determined to choose a violence-free path.
For Ace, it was a choice to make a change for a better and safer future in their homes and lives.
"There's no place for family violence in our lives," he says.
"We've learnt how to resolve problems without having to go down that path."
Ace's transformation occurred via his spiritual journey through church, but mainly from close cousins he could talk to, which helped turn his life around. "It was attending life groups in our church with people you can trust and keep you accountable," he recalls.
"I shared stories about life, my struggles … whatever was on my plate … and was encouraged and given advice from my peers and through God's word."
Ace says he's not perfect, but after nearly losing his son to suicide because of family violence, he knew it was important to break the cycle and communicate more with his family.
"I can say I'm a better man than the person I used to be," says Ace, who admits that being a part of the video and seeing it genuinely tested them.
"We knew that it was gonna be hard for us, as it would have taken us back to those days … especially as a kid and a young adult, but we realised that if it was gonna help someone, then we were for it."
Landa agrees with Ace about the video's impact, even when acting, because they saw when revisiting it how they used to be.
"We had a rocky start to our relationship," she recalls.
"It brought back not-so-nice memories … especially the arguing … and smashing things. Ace has never laid a hand on me, but it was the verbal abuse we would do to each other."
Landa admits that participating in scenes "impacted our family heaps."
"During the making of this film, we found ourselves arguing and being angry with one another for no reason," she recalls.
"We had to quickly break the negative force, ask for forgiveness and pray, then acknowledging where that was coming from."
Glenys says she didn't realise the couple had continued arguing beyond the acting, until they told her when she showed them the finished video.
"It highlighted for them the issues in their marriage. The video made them realise the impact their arguing was having on their kids, so they decided to get help and start to communicate better with each other."
For Glenys, seeing the active change in the family as they sought help to better communicate with each other, and their children, was heartening.
"Honestly, it's changed the whole dynamic of their family. They recently went away for a family holiday, to get away from the busyness of life, work, bills and other stuff so they decided, "We're going to take the kids on a family break".
They went away for a week, just them and the kids, reconnecting and re-establishing their relationship.
Despite the initial apprehension in opening up, Landa says they chose to do the video anyway to help raise awareness.
"We did it specially for our PI communities who think that it (family violence) is normal, so stay quiet.
"We chose to do it because we wanted to say that enough is enough. Family violence shouldn't be passed down to the next generation. Break the damn cycle!"
Ace and Landa are grateful for their life groups. It's where they're able to share with people they trust and get advice about their relationships, both with each other and their children.
Landa knows people need guidance as to where to start in breaking the cycle.
"It's easy to say it's not okay. But it's also about asking the questions, such as, 'How can I help you to stop?' if you're someone seeing it, or 'Where can I get help to stop', if you're perpetrating it."
Ace and Landa are grateful for the work Pasefika Proud does in raising awareness and helping families like theirs and say they're also grateful "for the opportunity provided to help others like us".
"We believe our families will be stronger and resilient to family violence if we are asking the right questions and given the help needed," says Ace.
"We hope our story will be seen and read by many going through similar situations, and pray that more people will be able to speak up about family violence.
Get Help
If you have experienced family violence or would like to talk to someone about how to keep you or your family safe, call or txt 1737. For online help you can ask Aunty Dee.
If it is an emergency call 111.