Stronger for speaking Samoan
This Samoan Language Week, Samoan reporter LAUMATA LAUANO (pictured in the middle, holding her nephew, beside her mother (left) and sister on the right) reminisces on speaking Samoan only in her first five years of life, and how it strengthened the relationship between her and her parents. It's become increasingly poignant now, caring for her mum who has dementia and has steadily regressed to a state of speaking and understanding little English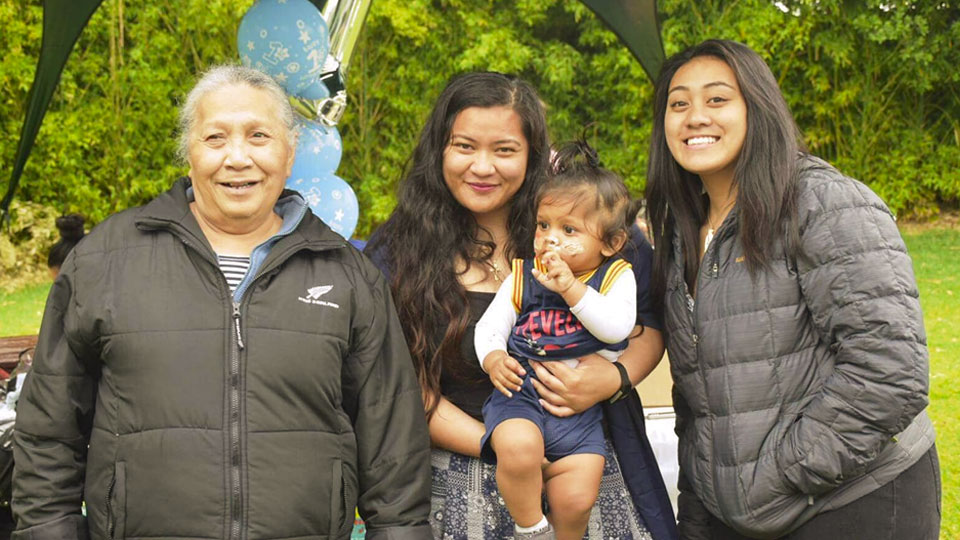 Our household was a Samoan-speaking-only household. Mum (who hails from Saleilua, Falealili) would say that you can speak English at school and (later on in life) at work. At home, however, it was 'fa'asamoa'.
Needless to say, I started school not knowing a lick of English.
They say young children pick up on languages very quickly, so it was never a question of whether I would learn English, but - as mum was always quick to point out - ensuring I would never lose the ability to speak Samoan.
Admittedly, it was a bit touch and go when we lived in the United States for five years. My cousins spoke little to no Samoan around me, while mum was busy taking care of dad (from the village of Patamea in Savai'i), who had cancer.
When we returned to New Zealand, however, immersion, both at home and at church saw me quickly relearn.
It laid a foundation of respect for our language that still informs the way I think and act today.
"E iloa le tama ma le teine Samoa i lana tu, savali, ma lana tautala" mum and dad would say, which many Samoans know is a Samoan proverb which translates to "a Samoan person is revealed by how they carry themselves, how they walk and how they speak".
My parents were strong believers in walking the talk, knowing where you come from and understanding the importance of your culture to who you are and where you stand in your environment.
And being able to express yourself in your mother tongue.
They taught my older brothers and I core Samoan values which they expected us to embody and pass on to our younger siblings and younger members of our family and, hopefully, one day pass onto families of our own.
Speaking Samoan strengthened the bond between my parents and I, chores, lectures and conversations were delivered in the mother tongue, and there was no room for misunderstanding.
If I ever needed clarification, it was given in a way that did not belittle what I already knew. My parents expected me to be atamai (smart) and treated me as such.
Arguments, because no family was ever free from them, between my mother and father always de-escalated because my dad never lost his cool and he would walk away from a heated situation.
I learned just by observing.
It is most handy now, at a time when my mum has begun a steady regression in her English speaking abilities due to her dementia.
Not being able to understand or communicate with my mother in her common Samoan tongue would make taking care of her much more difficult than it is. Not being able to keep my cool like how my dad used to would also have made things difficult.
Although the caregiving roles have slightly reversed, in terms of me now being in charge of caring for my mother, the love and respect remains the same.
Pacific Language Weeks not only celebrate our languages, they empower and encourage Pacific people to strongly hold on to our languages, cultures and identities in New Zealand's modern Eurocentric landscape building stronger, more resilient Pacific families in the process.