Pasifika Funerals in Alert Level 4
Due to the strict rules imposed during Alert Level 4, and to ensure we stop the spread of COVID-19, our ways of engaging with one another, our cultural and traditional practices must change. Bereaved families from all cultures and backgrounds will find this time challenging. This makes it even more important that we treat each other with kindness, love and respect.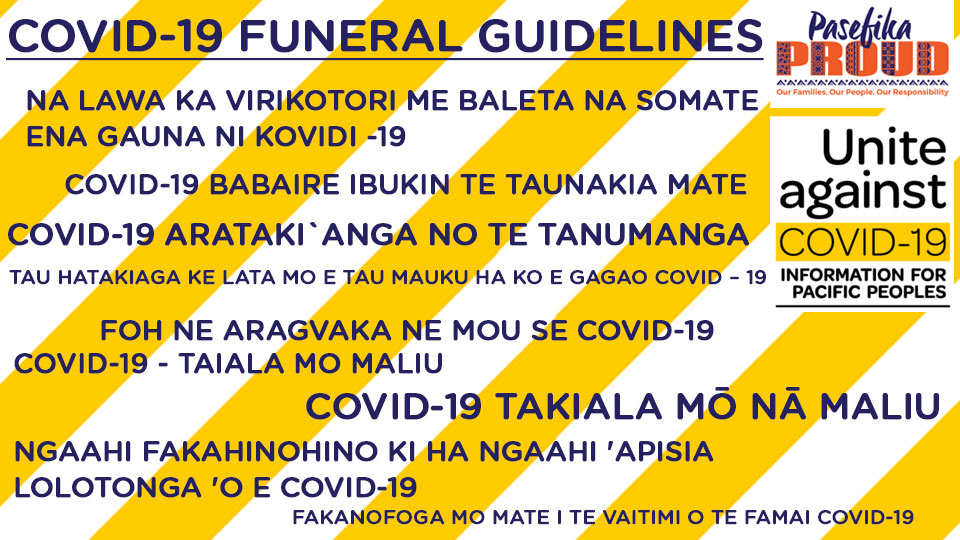 There are now strict rules put in place during Alert Level 4 for when loved ones have passed away. These rules apply to everyone, every culture, every religion.
The information set out below aims to support Pacific Peoples during these difficult times, but also uphold the Ministry of Health COVID-19 Alert Level 4 Funerals and Tangihanga advice.
This means no formal funeral arrangements until further notice.
The rules are for all and religious leaders from any denomination, along with relatives and friends of the deceased must adhere to the COVID-19 protocols while New Zealand is at Alert Level 4.
Families or communities must not carry out burials, cremations or transportation of deceased persons without engaging first with a registered funeral director.
Funeral directors are encouraged to carry out burials and cremations as quickly as possible and provide you with the best options for your situation.
There will be an opportunity for family who have been in the same isolation bubble as the deceased to go to the funeral home to view the body.
Other family and friends or others in separate isolation bubbles cannot go to the funeral home for viewing.
Viewing of bodies must only take place in a funeral home managed by a funeral director registered with their local authority.
The deceased cannot be transported from the funeral home for viewing purposes at any time.
For the full guidelines in English click here.
Read the Pacific Funeral Guideline in the Pacific translations in the links below:
Pacific Funeral Guidelines (Kūki 'Āirani Māori)
Pacific Funeral Guidelines (Vosa Vakaviti)
Pacific Funeral Guidelines (Kiribati)
Pacific Funeral Guidelines (Vagahau Niue)
Pacific Funeral Guidelines (Rotuman)
Pacific Funeral Guidelines (Gagana Samoa)
Pacific Funeral Guidelines (Gagana Tokelau)
Pacific Funeral Guidelines (Lea-Faka-Tonga)
Pacific Funeral Guidelines ('Gana Tuvalu)
Not being able to say goodbye to a loved one, in the way we are used to, will be very challenging.
So it is even more important now than ever to treat each other with love and respect as we must protect people's health and ensure our health system can look after all people in New Zealand who become sick.
Read through the basic advice on mental wellbeing and call or text 1737 – free, anytime, 24 hours a day, 7 days a week – to talk with a trained counsellor. For online help you can ask Aunty Dee.
Pasefika Proud is a Pacific response to focus on community-led solutions that harnesses the transformative power of traditional Pacific cultural values and frameworks to encourage violence-free, respectful relationships that support Pacific peoples to thrive and to build strong resilient families.