Pacific in the Park
To promote wellbeing and safety for our Pacific families and communities in West Auckland we're proud to be sponsoring this year's "Pacific in the Park" on Friday 30th of November 2018 at Moire Park. NZ Police Sergeant Sila Fagaesea Siaki talks about the longstanding event which helps connect key service providers to our communities because it's our families, our people, our responsibility.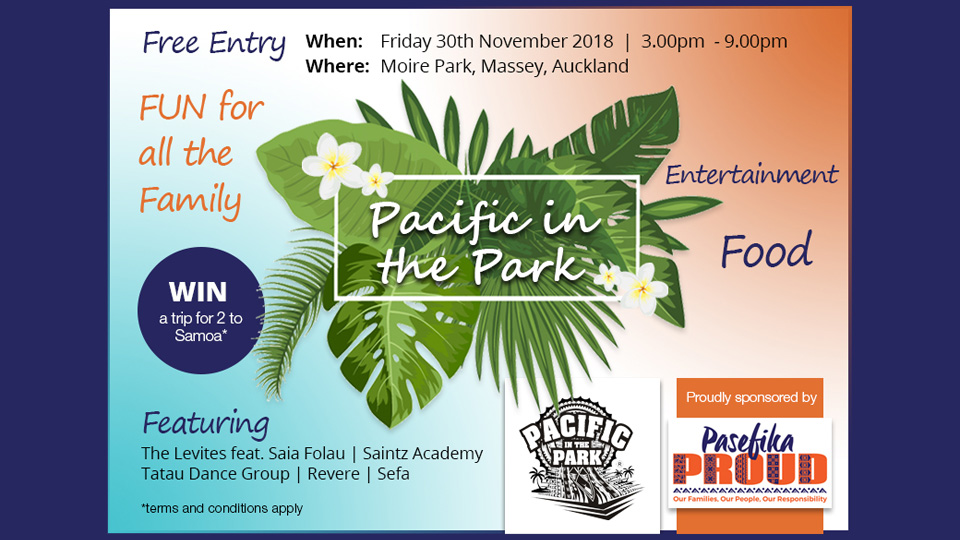 For NZ Police Sergeant Sila Fagaesea Siaki (commonly known as Faga), hosting the return of Pasefika Proud's Pacific in the Park, at Moire Park in Massey, West Auckland on Friday, November 30 from 3-9pm can't come soon enough.
"It has always been a popular event as it provides the opportunity to promote and focus on the people and organisations that serve our communities" says Faga, the Police Pacific Liaison Co-ordinator for the Waitemata District.
"It's certainly not about us. With Pasefika Proud on board (as a sponsor), we're able to promote their messages about family violence prevention, wellbeing and safety, which fits nicely in terms of our messages. It's our business to work towards safer communities and earn the maximum amount of trust possible."
He sees Pacific in the Park as an opportunity for providers, including the Police, to 'give back to the community'.
"The event provides the vehicle and venue for service providers, government and non-government, to come on board and give back instead of waiting in our offices for the community to come to us."
Faga says providers can supply information on what grants are available from various government agencies, how to apply and when.
"We want people to feel comfortable enough to ask how they can be helped."
The latest independent Citizens' Satisfaction Survey Results show 78% of New Zealanders have strong trust and confidence in the Police force.
With more than two decades in the force, he feels that trust is stronger than ever among New Zealand's Pacific community, which he attributes to the growing Pacific presence in the force.
"When I began with police, there were probably two or three Pacific officers based at our station in Henderson. Now there's more than 20," he says.
"Not only is it a sign of the growth of the Pacific community in our region, it's also a sign that it's ok to wear the blue uniform."
It wasn't necessarily the case, even within his own family. Faga recalls his father wanting him to be a factory manager instead, which he hoped would enable him to bring other family members over from Samoa.
But seeing how local police engaged with the community attracted Faga to join the force. He has no regrets and insists the engagement with the local West Auckland community is improving all the time.
"Back in the old days, the Police would rock into a community meeting and tell them, 'this is what you need and this is what we're gonna do for you'.
"Nowadays, we don't do all the talking. We listen."
Hosting barbeques on local streets has also been revealing. Faga recalls visiting a number of streets and door-knocking to find out what the top three issues are concerning the street and how they can address it.
"One person mentioned their dead-end street where people left abandoned cars, another the homes where family violence often took place," he recalls.
"Even things like people not mowing the grass berm in front of their house annoyed neighbours because it made the street look scruffy.
"We arranged a local to mow the berms and gave him a petrol voucher, which he was happy with. We'll take that as a win."
Faga knows there are very few quick-fix solutions and his local community comprises of many disparate organisations.
Churches are still prominent, but he finds people aren't as regularly committed to particular organisations or churches as they used to be.
On a personal level, however, he feels as connected and committed to his Samoan (Lotoso'a, Saleimoa, Faleu, Manono) and Niuean (Avatele) cultures as he has ever been, as a soga'imiti (someone who bears the full pe'a).
"Being only the second in our family to get one, after my Dad, was very special," he recalls.
"My Mum and my sister have a malu (Samoan women's traditional tattoo) as well.
"It was an amazing experience as I could hear the tapping, but I couldn't feel it.
"I was obviously in my own little world, feeling blessed and strengthening my belief in faith and things that happen for a reason."
Faga is rapt to see Pacific in the Park return to West Auckland, saying the entertainment, which includes performances by The Levites featuring Saia Folau, Saintz Academy, Tatau Dance Group, Revere and Sefa is "always popular".
But he urges those who do participate to seek as much assistance from the various government and non-government agencies as possible.
"There are lots of giveaways, entertainment, food and fun things to do, but don't forget there are lots of organisations that can help you."
Pacific in the Park is at Moire Park, Massey in West Auckland on Friday November 30 from 3pm-9pm.