Our Pacific Communities in Self-Isolation
Now that we've passed the first week of self-isolating as a nation, we share some important messages from our Pasifika communities about how to keep being safe, hygienic and respectful during lockdown and beyond. Remember to stay home, stay safe and stay Pasefika Proud.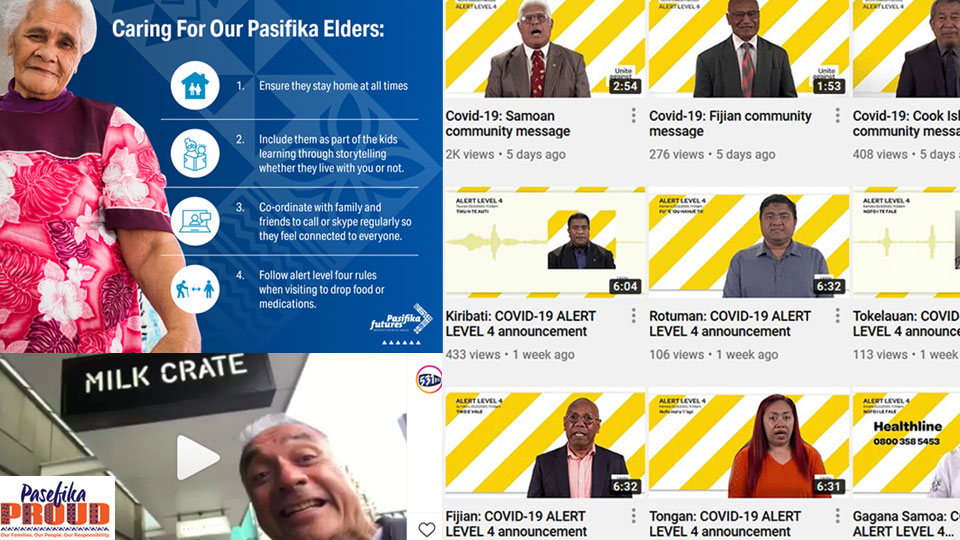 We hope that everyone is staying home, keeping safe and being kind to each other in our isolation bubbles.
During this time there are a lot of messages floating around about what to do, what not to do and where you can get help if you need it.
We bring some of those messages together for you to refer to in order to make things easier.
First and foremost is the information from our government around the nation's lockdown in order to stop the spread of COVID-19 and what the lockdown looks like.
While we should be familiar with it by now, your reference remains https://covid19.govt.nz/
For Alert Level 4 to work, we must all stick to the plan:
1) Stay home. It WILL save lives.
2) It will take some time to build up new daily routines. That's okay.
3) Don't forget to take time to look after yourself, and check-in on others.
4) We all need to stick to the plan – all the time. No exceptions.
5) If you do go out for supplies or exercise, stay local.
6) Got questions? Go to www.covid19.govt.nz #stayhomeNZ
The videos below offer support in our Pasifika Languages to our communities now in Alert Level 4:
Kiribati
Rotuman
Samoan
Tongan
Niuean
Fijian
Kuki Airani
Tuvaluan
Tokelauan
Interaction with others
Staying at home is meant to reduce the transmission of the virus.
For this to work, you are asked to only have contact with the people you live with.
If you want to talk to a friend, call or video chat with them.
If you want to talk to a neighbour, do it over the fence.
Please note that children CAN travel between the homes of separated parents so as long as they live in the same town/city.
Feel free to drop off groceries to others, eg a grandma, but keep a 2-metre distance for her safety.
If you're not sure what assistance may be available or don't know who to contact for help, call the free government helpline on 0800 779 997 (8am–10pm, 7 days a week).
If you're in an essential service, or needing to go get essential supplies, exercise or needing access to healthcare please use precaution.
Like Ete does in this Instagram video on his way to work- as an essential worker in broadcast media.
At-risk people
Vulnerable people in particular should stay at home, and ask others to pick up supplies for them. You just need to ask them to leave these at the door, rather than come in. Drop-offs at the door rather than coming in will protect vulnerable people from exposure to COVID-19.
You are at high-risk if you are over 70, have a compromised immune system or have underlying health conditions.
People with underlying medical conditions include a compromised immune system, liver disease, cancer, kidney disease, heart disease and diabetes mellitus, pregnant women or those on immunosuppressant medications.
You need to take more precautions to protect yourself against all infections, including COVID-19.
The Pasifika Medical Association has this helpful guide for looking after our elders, over 70s, during this time: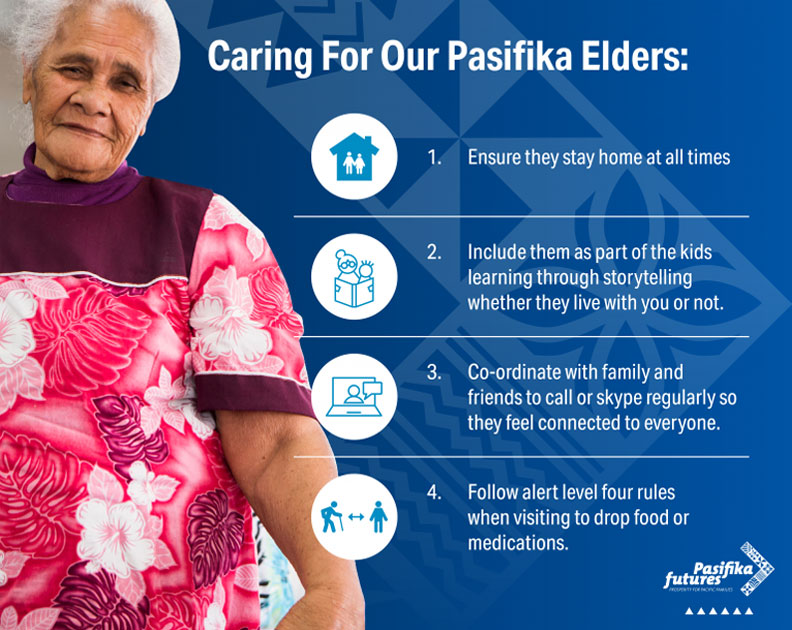 Above all remember to stay home, stay kind and treat our families members and those in your bubble with love and respect.
Get Help
If you or anyone you know are experiencing Family and Domestic Violence and would like to talk to someone 24 hrs, please call or contact Ani Vahua, Theresa Peto and Tania Petelo on 0800 733 843, 09 634 4662 or email address is p.i.w.r@xtra.co.nz.
You can also call or txt 1737 or 0800 1737 1737 and for online help ask Aunty Dee
If it is an emergency call 111.
Pasefika Proud is a Pacific response to focus on community-led solutions that harnesses the transformative power of traditional Pacific cultural values and frameworks to encourage violence-free, respectful relationships that support Pacific peoples to thrive and to build strong resilient families.