Not a nobody
As one of the most recent Pacific migrant populations to New Zealand, Tuvaluans are considered a minority within Pacific communities. Statistician and proud Tuvaluan Manuila Tausi has been involved in the New Zealand Tuvalu community since settling in Wellington with his family in 2004. Despite lacking definitive stats around family violence within the community, he knows it's most certainly an issue.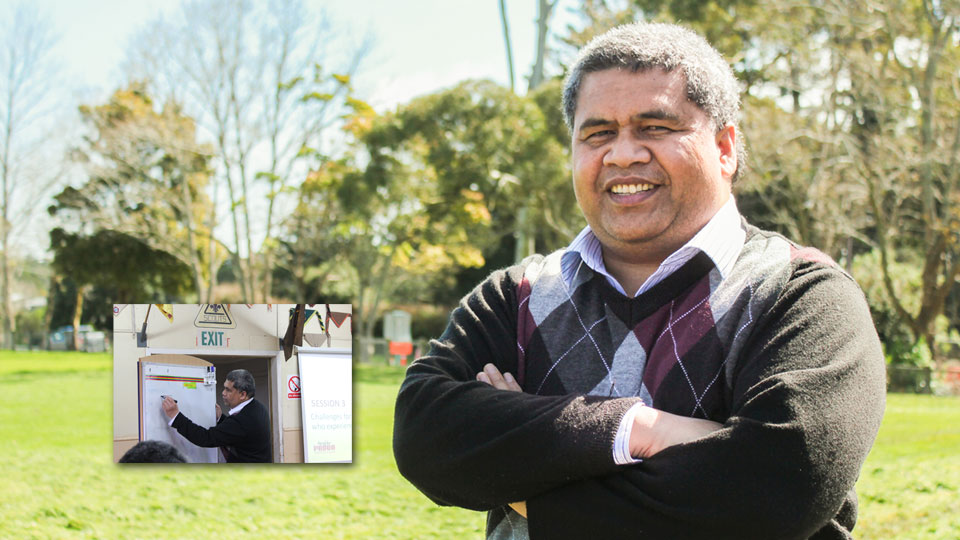 Manuila Tausi is proud to have been involved in the New Zealand Tuvalu community since 2004.
"I was initially asked to lead the discussion around the setting up of the Nga Vaka (o Kāiga Tapu) framework for our Tuvalu community," he recalls.
"It is based on our Tuvaluan culture to address family violence from our cultural perspective."
As a statistician by profession, Manuila works for the Ministry of Business, Innovation and Employment (MBIE), compiling research on migrants and how they're settling here in New Zealand.
Manuila is a leader in the Tuvalu community. He was instrumental in developing Toku fou tiale - the Tuvalu Conceptual Framework to address family violence in New Zealand.
He then participated in developing and facilitating a Pasefika Proud Tuvalu Family Violence Training Programme based on the framework, held in Auckland over five days during August and September 2017.
"The second part (of being involved in the Tuvalu Conceptual Framework) was running family violence training, which brought me here to Auckland."
Although there are no definitive stats around family violence, it is a well-known issue within the community, and one that Manuila hopes to address with promoting awareness.
"There are some things that we do back home (Tuvalu) which may not be considered family violence to us, like discipline for instance," he says.
"But we know it is viewed as child abuse here in New Zealand."
This includes practices that can be seen as undermining the status and rights of women and children.
One area of conflict is that between respect for Tuvalu's male-dominated culture, and human rights issues on improving the status of women and children in kaaiga Tuvalu (Tuvaluan family) in New Zealand.
"We have to realise that we are no longer living back in Tuvalu," he says.
"We are living in New Zealand and there is legislation around the abuse of children and partners, especially for wives, so we have to at least adjust to the environment that we are living in if we can understand that."
As a father and a husband, Manuila believes everyone has a part to play in the eradication of family violence from Tuvaluan families, and from Pacific families in general.
It's a sentiment echoed by a Tuvaluan social worker and mother-of-three who attended the Pasefika Proud Tuvalu Family Violence Training Programme in Auckland.
The woman, who asked to remain anonymous to protect her children, doesn't just work in family violence; but was a victim and survivor of it.
"It's the reason I took a social work paper and furthered my studies," says the full-time practitioner.
"I wasn't physically abused, but psychologically and emotionally abused … I just didn't know that it was abuse at the time, I was told I had to do my duty as a wife and mother.
This is where the Tuvalu culture comes in.
"As the 'head of the house', my husband could boss me around."
Her 'duty' was determined by culture, where she was taken advantage of by an emotionally, psychologically abusive husband.
She was in a dark place. Her husband had beaten her down psychologically. There were days that she wondered whether she could keep on going.
"I felt like I had no one … and like my mother before me, I had thoughts of wanting to end my life."
The only things that kept her going were God and her son.
"They were my only comfort," she recalls.
She then had a daughter and another son.
The mother didn't want to leave her babies alone in the world.
"I thought about what happened to me and my sister- who to this day I've never seen since my mother passed away. I thought if I leave, no one will ever love my kids the way I love them."
Not only did her kids keep her from giving up on life, they inspired her to want to do everything in her power to better their situation.
She had to push through the negative voice of her husband and others asking her why she was going back to study, when her children had terrible health issues.
Overcoming her own doubts and loss of self-esteem, as well as outside forces, including a panel who questioned her ability to handle both university and life as a mother, she pushed through.
She was accepted into Unitec's Bachelor of Social Practitioner Programme and, after dropping out for one semester, she resumed and eventually attained her degree.
"At one point, two of my children were sick in hospital and I was there, with no sleep, watching over them and also studying," she recalls.
"I had to make sure everything at home was done too – food cooked, house cleaned and children quietened."
Some nights her husband would come home drunk and throw things. She would have to pack her children into their van, which she called her office and second home, and they'd park somewhere so the children could sleep and she could study by phone light.
As she came towards the end of her degree, her self-esteem grew. She began to see that she could do life without her husband.
"I had it all planned out. My goal was to achieve my degree and then file for divorce," she recalls. That was my plan and I let him know it."
She was determined not to follow in the footsteps of her mother who had taken her own life because of her father's actions.
"Divorce wasn't my initial choice, but I planned to do it because of how we were living, the violence we were living in," she recalls.
Then things started to change in the relationship … for the better.
"He started to change … not drastically, but bit by bit," she recalls.
"He started picking the children up from school, and when I came home, the food would be cooked."
"Whereas before he would only yell, he now spoke to me in a calm voice."
While they still have many things to work on, she says her husband has become more committed to church, and has contributed to rebuilding his relationship not only with the children, but with her.
"He's now committed to our family and decisions for our family are made by the both of us."
Through her own hard work and perseverance, her situation has changed for the better.
But she knows this isn't always the case for many families.
She believes training for families as well as cultural social workers is much-needed, describing the ongoing training as an eye-opener, even for her as a Tuvaluan social work practitioner.
"Education and training is needed within the community to let people know it's not right for other people to treat you in certain ways," she says.
"Don't let anyone take away your dignity and disrespect you.
"Don't let anyone tell you that you are 'nobody', God is your creator and he made you somebody, no one can take that away from you."
Get Help
If you have experienced family violence or would like to talk to someone about how to keep you or your family safe, call or txt 1737(external link). For online help you can ask Aunty Dee(external link).
If it is an emergency call 111.