Measles Outbreak
As cases of measles continue to rise across New Zealand we share Pasifika translations of Measles Info Sheets below in order to help spread information on how to recognise symptoms so our people are better able to protect themselves and their families. Public health nurse and Miss Samoa NZ 2019 Fonoifafo Seumanu-Mcfarland shares information about the infectious disease and where to go to get your vaccine.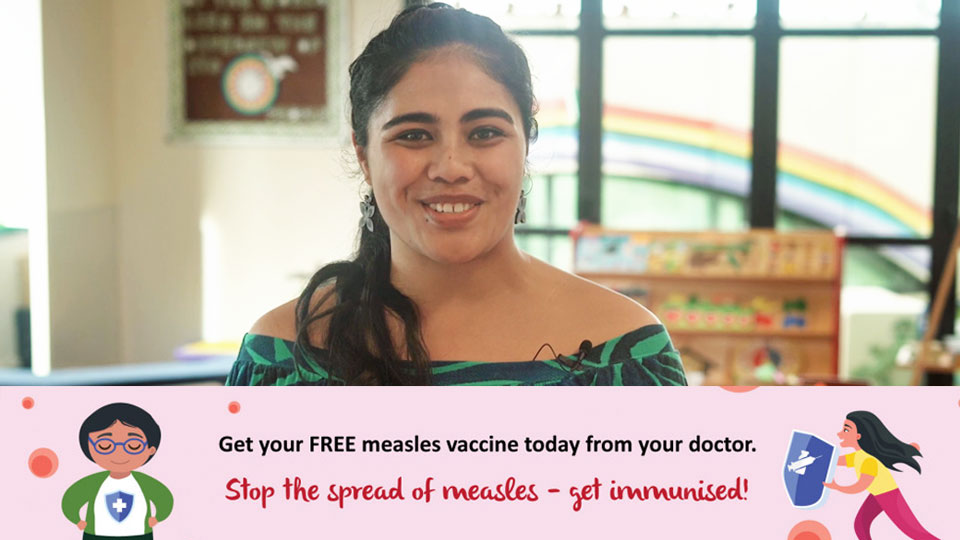 From 1 January 2019 to 9 September 2019 there have been 1131 confirmed cases of measles notified across New Zealand. 944 of these confirmed cases are in the Auckland region.
Measles is a highly infectious disease that can be life threatening. It spreads easily from person to person.
The symptoms of measles include:
Fever
Cough
Runny nose
Sore and watery 'pink eyes'
Rash
If you catch measles, you can infect others from five days before the rash appears until five days after the rash disappears. The virus is highly contagious and spreads easily from person to person through the air.
Immunisation is the best way to protect against getting measles. Measles (MMR) vaccination is free to everyone under the age of 50 and 99 percent effective after two doses.
By being immunised, you will not only be protecting yourself and your family – you'll also stop the disease spreading in your community.
Your doctor or nurse can provide the vaccinations - contact your family doctor to make an appointment.
Due to the outbreak concentrated in the Auckland region there are drop-in vaccination clinics around Auckland, visit the Counties Manukau DHB Measles webpage for dates and times.
However if you are outside the Auckland region you are still eligible to get the measles vaccine for FREE if you were born in 1969 or later.
PLEASE check your measles immunisation status. If you are not clear, and have no documentation it is important you get vaccinated. There is no risk having more than recommended vaccine, but it is a risk not being aware of your immune status.
Further information on measles is available by visiting the following websites:
Translated resources below:
For Early Learning Services
For schools
For the public
Key messages
Samoan | Tongan | Cook Island Māori | Te Reo Māori
Been close to someone with measles? Or showing symptoms? Stay at home and call your doctor or Healthline (0800 611 116) for advice. Healthline has interpreters –when your call is answered, say you'd like an interpreter and the language you'd like to speak in.
Hear from kid's first public health nurse and Miss Samoa NZ 2019-2020, who recently won Miss Samoa at the Teuila Festival in Samoa, on the deadly virus.