Keeping Families Safe working for a peaceful and non-violent Christmas
Let's work together to ensure our Pasefika communities enjoy a safe, peaceful and violence-free family Christmas during the festive season. Sadly, there will be families amongst us who will be subject to family violence so let's lookout and care for each other. OUR FAMILIES .. OUR PEOPLE .. OUR RESPONSIBILITY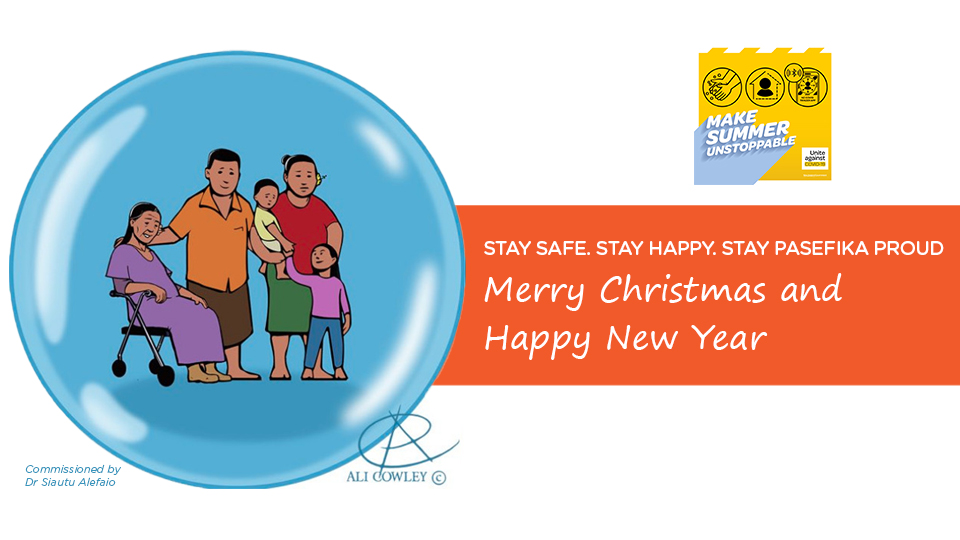 Have a safe and happy Christmas
Set aside money to cover bills in January and February.
Don't feel you need to spend more over Christmas than you can afford. Christmas is not about the presents. It is about spending time together as a family.
Don't drink and drive - arrange for a sober driver before you go out.
If you have a child and there is a custody arrangement, come to an agreement before Christmas so that the children can spend time with both of you.
Remember, problems CAN be solved without arguments.
Take time out if things get heated or stressful. Go somewhere to let things calm down.
Do your bit to Make Summer Unstoppable by doing these four simple things:
- Wash your hands
- Scan QR codes
- Turn on Bluetooth bracing on the NZ Covid Tracer app
- Stay home if you're feeling unwell and get advice about a COVID-19 test.
If you want help to avoid or prevent family violence, contact an appropriate agency.
Most importantly, if you have fears for your own or your children's safety, contact the NZ Police immediately by phoning 111.
Pasefika Proud Pathways for Change 2019-2023 Pacific families and communities are safe, resilient and enjoy wellbeing.
Click here for resources and links to available service providers.
(external link)(external link)(external link)(external link)(external link)
Pasefika Proud is a social change movement – 'by Pacific for Pacific' – to boost wellbeing for Pacific families and transform attitudes, behaviours and norms that enable violence. Our name and strapline embody our strengths-based, community-led approach:
Pasefika Proud: Our Families, Our People, Our Responsibility