Free Food Parcels in Auckland During Lockdown
A list of organisations giving out FREE food parcels during the #COVID_19 Alert Level 4 #LockdownNZ. This information is crowd-sourced so inform us if you know of any missing and we will update accordingly. Remember unless for essential travel (food, healthcare) to stay home, stay safe, stay Pasefika Proud.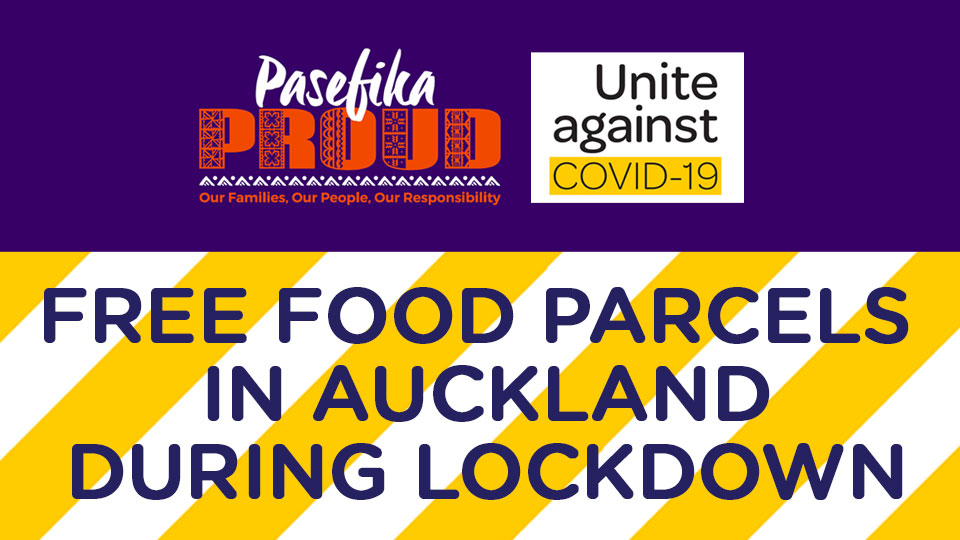 AUCKLAND WIDE
Auckland Council
Aucklanders unable to afford groceries or in self–isolation with no access to other support networks can call 0800 22 22 96 between 7am and 7pm, seven days a week. Callers must meet government criteria for assistance.
Salvation Army
0800 53 00 00
Text your name and postcode to 4114 and a rep. will contact you within 48 hours.
Presbyterian Support Northern
09 309 2054
Collections between 11am – 12pm, Monday to Friday from 8 Madeira Lane, Grafton. No walk-ins.
Foodbank NZ
022 045 8184
www.foodbank.org.nz(external link)
Auckland City Mission
09 303 9200
Monday – Friday, 9.00am – 3.00pm
The Fono (Pasifika only)
COVID-19 Pacific Family Package
021956633
0800 366 648
WEST AUCKLAND
VisionWest
brook.turner@visionwest.org.nz
0800 887 667
Generation Ignite
Drive-through foodbank at 1pm on Fridays at the New Lynn Community Centre, 45 Totara Ave. Operating until 3pm or parcels run out.
Hope Centre Foodbank
02108048436
44H, Unit 4 Portage Road, New Lynn
Care Waitākere (Te Atatū only)
(09) 834 6480 or 0211133355
Pickup food parcels on Thursdays
Available for those in need who are ineligible for WINZ food grants
Village Community Trust
0212598276
Delivering food parcels Monday, Wednesday and Friday
CENTRAL AUCKLAND
Orakei Foodbank
Call 521 5712 and leave message on voicemail with details of how many in family etc. Parcels are only delivered on Tuesdays and Fridays to Orakei, Kohi and Mission Bay
Hills Church
Hillsborough Rd
St Vincent De Paul
Call 09 815 6122 or email Auckland@stvinnies.co.nz and they can deliver a food parcel.
SOUTH AUCKLAND
St Marks Church
09 576 5296
Papakura Marae
Open Mon–Fri 10am–2.30pm, 09 297 2036. Please phone to request a food parcel, someone will ring you back to do a phone interview, then food will be delivered. Only deliveries to Papakura and Manurewa areas currently.
Otara Health Charitable Trust – CRT (COVID Response Team)
Open Mon–Fri, 10am–2pm. Otara families unable to afford groceries or in self–isolation with no access to other support networks and have no transport to get food supplies. Message Otara Health Facebook page or email Tua@otarahealth.org.nz, Julia@otarahealth.org.nz or Mark@otarahealth.org.nz or call ph 09 274 8355
CBNZ Covid19 Response Team (The Community Builders NZ Trust)
Complete our form if you are needing assistance: https://form.jotform.com/201027853369053(external link)
* Providing support to Otara & Hills Road Senior court residents unable to afford groceries or in self–isolation with no access to other support networks and have no transport to get food supplies.  We may be able to support other seniors requiring support in Otara so please get in touch to check.
* If you live on any of the following streets and require urgent support with a food care package please contact your dedicated street leader.  Alternatively send a PM via www.facebook.com/thecommunitybuildersnz/(external link) OR email:
mailto:thecommunitybuildersnz@gmail.com to get connected to your neighbour lead.  Streets include:
- Aldo Place
- Clayton Ave
- Cooper Cres
- Cordoba Court
- Eileen Lane
- Gaye Cres
- Garrett Place
- Parker Cres
- Upper Flat Bush Road
- Velvet Cres
- Vilma Place
- Waipapa Cres
* If you are a kaitiaki for a Pataka Kai and wish to open during Level 4 lock down please get in touch with Candice to open with new our new authorised guidelines.  Contact www.patakai.co.nz(external link) or kaipataka@gmail.com
>>> Message The Community Builders NZ Trust Website: https://www.communitybuildersnz.org/(external link) FB: www.facebook.com/thecommunitybuildersnz/(external link) or Email: thecommunitybuildersnz@gmail.com
Rawiri Community House
09 263 8202
Also providing housing support
The Pride Project Aotearoa HQ (Manurewa only)
0272378756
Are you a single parent, elderly, have underlying health conditions or experience financial hardship? If yes, complete the form
https://form.jotform.com/200917231388859(external link)
Age Concern (Elderly only)
Food parcels and assistance with shopping. Counties Manukau – 09 279 4331
Ngā Whare Waatea Marae, Favona
Open Mon–Fri, 10am–2pm. Head to the Marae at 31 Calthorp Close, Māngere with ID. Wait in car and staff will get to each person one at a time, asking relevant questions as needed.
Māngere Budgeting and Family Support Services
Open Mon-Fri, 9am-4pm, call 0508 22 22 83
Māngere Connect
Assisting elderly, disabled, those living alone or solo parents who do not have support available during isolation with food/medicine collection and deliveries, laundry support or daily friendly phone calls (we have volunteers who can converse in Te reo, Cook Island, Samoan, Tongan or Niuean if you need). Complete Help Request link https://forms.gle/kimNpMTQsPRvpegW8(external link)
or email ns4mangere@gmail.com
South Auckland Christian Foodbank, Papatoetoe
(they usually support the Ōtāhuhu foodbank when it is operating; seem to be busy as they have a COVID-19 urgent fundraiser going)
Contact Ian 0508 CHANGE LIVES / (0508 242 643) / 027 477 1092 / ian@sacbf.org.nz
Takanini Sikh Gurudwara
Collections only. Mon–Fri, 4pm–6pm. Drive in entry gate and open your boot. Do not leave your car. Drive out through exit gate once boot has been loaded.
Support
As we continue to self-isolate for a few more weeks under COVID 19 Alert Level 4, it is important that we continue to keep our families, children safe in our homes.
Some Pacific families may be feeling vulnerable, remember that family violence support services are available during the COVID 19 Level 4 Alert lockdown. For emergencies please Dial 111.
Click here for resources and links to available service providers.
Pasefika Proud is a Pacific response to focus on community-led solutions that harnesses the transformative power of traditional Pacific cultural values and frameworks to encourage violence-free, respectful relationships that support Pacific peoples to thrive and to build strong resilient families.