#CatchYourself Respect Your Bubble by Le Va
Le Va aims to equip families with culturally appropriate information, knowledge and skills to maintain respectful relationships with people in their 'bubble' while we stay at home in isolation due to COVID-19 by providing a suite of practical resources and information on how people can manage their frustration or anger and maintain respectful relationships.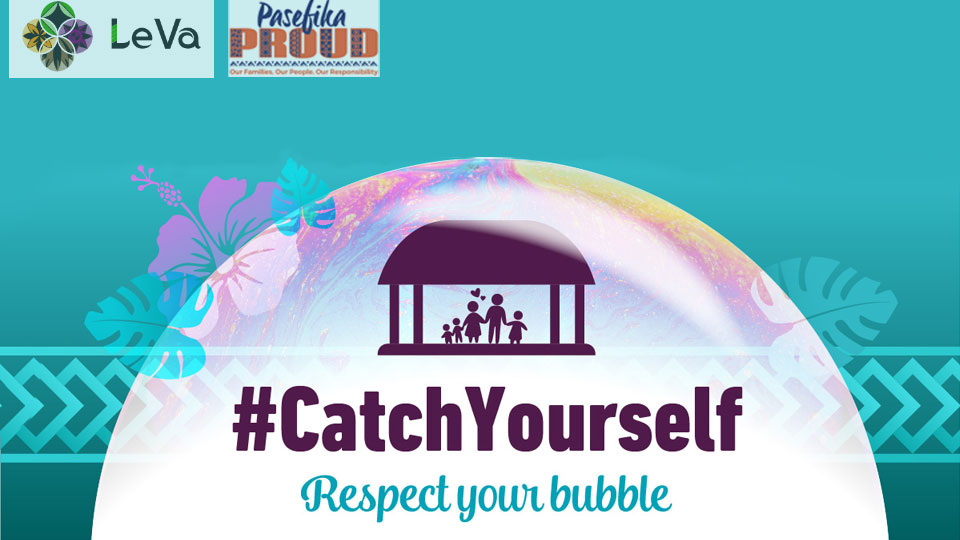 What does 'Trouble in the bubble? #CatchYourself' mean?
With the lockdown, many people will find themselves feeling' irritable, frustrated, anxious or worried. These are normal reactions to a very abnormal situation that all New Zealanders are facing together. We may even get angry with the people that we are living with.
So how do we stop things from getting out of hand? How do we maintain respectful relationships in our bubble?
That's where #CatchYourself comes in. It's based on psychological interventions, known to work:

1. Notice how you feel. Know your triggers and warning signs. If you know what sets off your anger, you know when to #CatchYourself
2. Take a step back and take a deep breath. When we slow down our breathing our mind and body automatically calms down
3. Think before you act. What impact might you have on other people in your bubble? It's not worth it, the situation will pass
4. Show your values in how you act. Focus on maintaining respectful relationships and be kind to people in your bubble
Why focus on preventing violence?
International evidence suggests violence and sexual violence increases during pandemic. The high levels of conflict and stress related to job insecurity, financial worries, isolation from supports, scarcity of food, and unwell whanau members can increase strain on relationships within families, or within the self-isolation 'bubble'.
Our bubble is all of the people that live in our household during isolation.
Violence in the home does not impact all communities equally. Women, children & youth, Pasifika, Maori, and LGBTQ+, and those that already experience economic hardship are at increased risk of experiencing violence.
Pasifika cultures are traditionally collective and communal and family connectedness is a core cultural value. A 'bubble' for Pasifika families is more likely to include many generations and extended family.
However, this may mean increased risk of transmission of infectious diseases – over 40% of Pasifika people experience household crowding compared to 10% of other New Zealanders. This also may mean higher levels of conflict within relationships, and potentially, violence.
We know we can prevent violence.
Republished with permission from Le Va, click through to their website for more information.
Pasefika Proud is a Pacific response to focus on community-led solutions that harnesses the transformative power of traditional Pacific cultural values and frameworks to encourage violence-free, respectful relationships that support Pacific peoples to thrive and to build strong resilient families.