Brothers Adeaze in their role
As the eldest brother to Feagaigafou (known as Nainz) and Logovi'i (Viiz) Tupa'i from the multi-award-winning duo Adeaze, Leatuao Larry Tupa'i-Lavea has distant memories of growing up in Samoa with his mum Selepa Malaefono Feterika Tupa'i.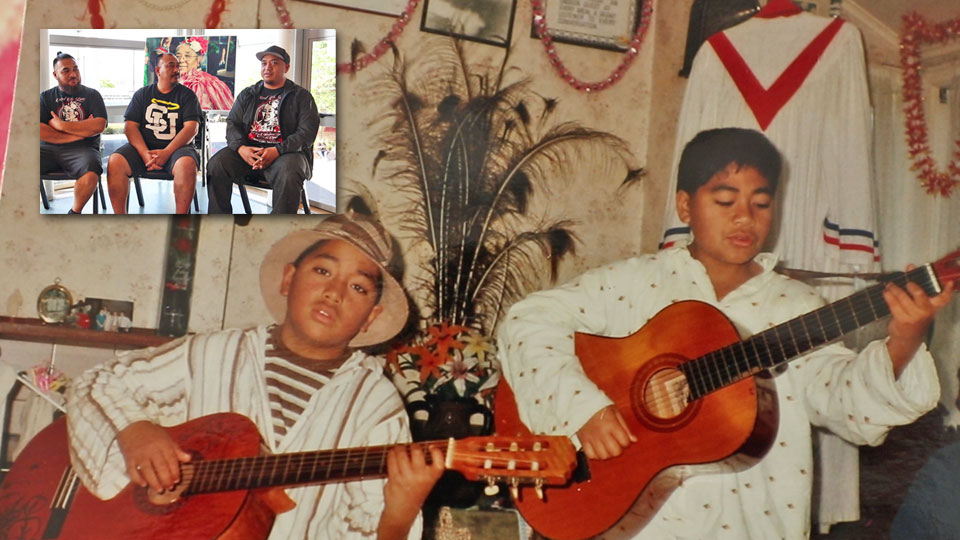 "I was seven when we left Samoa, but what I can remember is that Mum was disabled," Leatuao recalls.
"I can still recall hearing stories of how a fishing spear went through one of her knees when she was a child. She then contracted polio as a consequence of that."
"I remember her being really active. Nothing stopped her then in her younger days and she was always active about what to do with family, with us and travelling between different villages. She was always on the go."
The family left Samoa for New Zealand.
They may have arrived in a wealthier country, but disability aids such as wheelchairs were in short supply.
Feagaigafou remembers his Mum crawling around the house.
"Her knees were like the soles of our feet … really rough," he says. "Mum went about 8-9 years without a wheelchair before she was eligible."
But the boys also remember Selepa just being their mum.
"She was still Mum, calling to us kids in our rooms, waking us up to get ready for school, taking us to the bathroom … all the things a normal Mum would do for their kids, but she was still disabled."
Leatuao would often hear people talk about his Mum's disability.
"I remember growing up with Mum and hearing the stories, and they always came back to that it was a punishment by God, because she might have done something wrong in the past," he says.
"The attitude was they never saw Mum as a whole person. They never really got her involved in a lot of stuff as a consequence."
"The more I kept hearing that, and people saying that stuff about our Mum, I'd get angry and lash out. But Mum was always there to manage the whole thing.
"She'd always say 'why do you let those people get to you? You just smile and forgive'".
The family lived in Tokoroa and Hamilton, and Leatuao remembers the family competitions at home, with his mother leading one side and their father the other.
"One thing that Mum instilled in us was to be confident, be able to speak and perform. We'd have a full-blown theatre performance at home."
As kids Feagaigafou and Logovi'i, the youngest of five siblings, made their television debut performing in the Pinky Star Quest on TV2's iconic kids programme, What Now.
The only problem was the town of Tokoroa suffered a power cut during the telecast, denying their many local supporters the chance to see their new young stars on television.
It didn't stop their musical destiny. The family moved to the South Auckland suburb of Mangere, and the pair formed Adeaze while students at Mangere College.
The constant encouragement from their parents as well as school friends to perform as singers and musicians led the duo to stardom.
Adeaze's debut album in 2004 Always and for Real charted at No 1, receiving double platinum status, with the hit single Getting Stronger, featuring Aaradhna, reaching platinum.
Helen Clark, the Prime Minister of New Zealand at the time, described Adeaze as her favourite group.
By the time Rise & Shine - their follow-up album - arrived seven years later, the music industry had undergone a massive transformation, one which wasn't necessarily beneficial for local artists due to the easy online accessibility.
But the brothers' love for music hasn't diminished at all, thanks to the strength of their mother.
"Mum never complained, never talked about her disability," says Feagaigafou.
"So growing up as a kid, you're like that's normal … until you realise that other Mums are walking around …"
That didn't prevent Selepa being a natural-born leader within her family and community, paving the pathway for her children to follow.
Their mother, who passed away a few years ago, instilled in them the desire to chase their dreams, no matter what.
When Feagaigafou's wife Becks set up a dance academy nine years ago, rounding up her nieces who wanted to start a dance crew, he suggested broadening it to become a performing arts school and they formed the SaintzUp Performing Arts Trust.
"We understood there was a need for it in our communities," he says.
"For four years we had no funding, my wife and I just did it out of our own pocket. And now it's grown so much. We wanted it to be an effective community programme that would have a great chance of making generational changes. It wouldn't be successful today if we didn't get the intentions right and weren't doing it for the right heart.
"Everything that has come from it came from a disabled mother … our mother."