Tongan Society South Canterbury Wins Two Awards
On August 17th the Tongan Society South Canterbury General Manager Sina Latu, and President Pauline Luyton accepted an award celebrating and acknowledging unsung heroes who support New Zealand's health and disability services. The Pacific award recognises volunteers who show passion and commitment through ongoing dedication and support to their community, resulting in being honoured at a ceremony in Parliament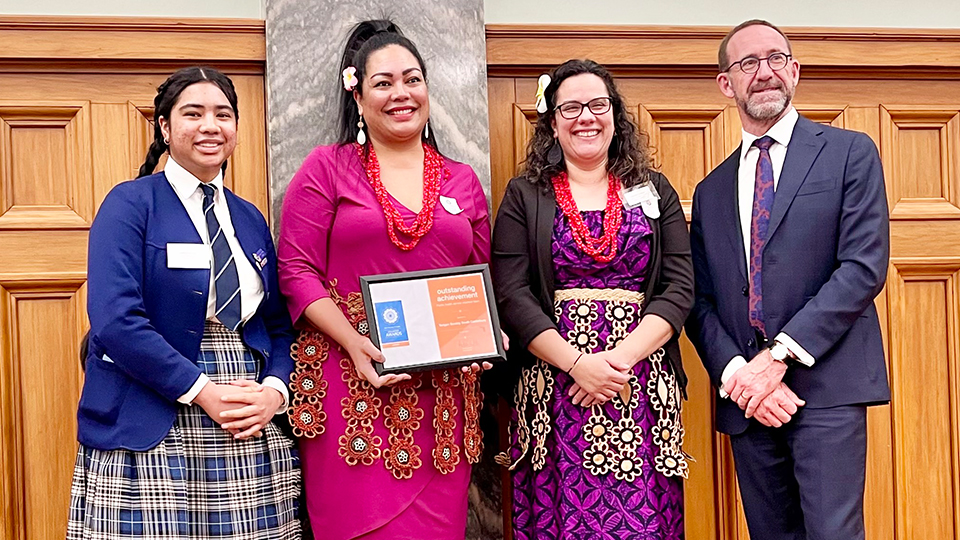 Minister of Health, Andrew Little, following a ceremony at Parliament on Tuesday - from left, Catherin Vea, 17, her mother and society general manager Sina Latu and society president Pauline Luyton
Within a couple of weeks in August, Tongan Society South Canterbury General Manager, Sina Latu, had experienced more than her fair share of triumphs as well as tragedy. On August 17 Sina accepted an award from the Government Minister of Health Andrew Little following a ceremony at Parliament. The award came less than two weeks after the Tongan Society won a South Canterbury Health Care Award, Making a Difference Award/Team Organisation.
Sina was accompanied at the awards by her 17-year-old daughter, Timaru Girls High Pasifika leader Catherine Vea, representing Tongan youth alongside Society president Pauline Luyten and South Canterbury District Health Board staff members Wendy Joy and Joseph Tyro.
"To be taken on a tour of Parliament followed by the award presentations being held in the Grand Hall was awesome, overwhelming and humbling," says Sina.
Such achievements, however, had still been overshadowed by the deaths of five local boys in a horrific car crash on August 7th and the stresses of ongoing lockdowns. But Sina was determined to contribute.
"Some of our young Tongan and Pasifika boys are connected to those who were involved in the crash," she says. "But with our community's response, we don't quite fit into the box that's expected. Pasifika families generally won't ask for help, nor or even want counselling. I thought it was an opportunity to advocate as to how our Pasefika people generally respond to such sad and shocking circumstances.
"We knew that our Pasifika boys who were connected to the five boys needed support. From my experience, I can always sense those young ones in need who are also suffering, most probably in silence," Sina says, "so we reached out and supported our boys in a way that is safe and comfortable to them."
Then we traveled to Wellington for the second surprise, and we were lucky to get back to Timaru before the Lockdown on that night.
"Lockdown means it's back to business. Now we are busy supporting our Pasifika people with a focus on helping them to get vaccinated. We found many have been sitting on the fence but now, as the days fly by, there's finally a sense of urgency which is crucial in effectively dealing with the pandemic."
Tongan Society South Canterbury pictured after winning the South Canterbury Health Care Award
Sina was born in the Kingdom of Tonga and attended Tonga High School, followed by Teachers Training College for two years before marrying and moving to Japan for five years. She was teaching as a Junior High School Assistant English Teacher before moving back to Tonga. She then moved to New Zealand in 2004 with her family and studied at Otago University where she graduated with her degree in Social Work. As a Social Worker at Oranga Tamariki. Sina and her husband have five adult children.
This year's theme for Uike Kātoanga'i 'o e lea faka-Tonga - Tonga Language Week is Fakakoloa 'o Aotearoa 'aki 'a e Ako Lelei, which means enriching Aotearoa with holistic education.
"We have a good number of Tongans in the South Canterbury. Some are part Tongans, some are New Zealand-born, and some were born in Tonga but grew up here, so it's vitally important to recognise and commemorate Tongan heritage." Says Sina.
ABOUT THE AWARDS
South Canterbury Health Care - 'MAKING A DIFFERENCE AWARD' for 2021.
The award category specifically highlights projects, programmes and ideas that provide benefits to the health of our population; either individually or collectively.
2021 Winner - Tongan Society South Canterbury
Minister of Health Volunteer Awards – Pacific Health Service award
This award honours individual or teams of volunteers who show passion and commitment to a Pacific health service. The Nominees will have contributed to Pacific health and disability services through their ongoing dedication and enthusiasm. They ensure their communities are supported to the highest degree.
2021 Winner - Tongan Society South Canterbury

ABOUT - The Tongan Society South Canterbury
The Tongan society was established in 2016 to bring together, support and empower the Tongan community, whanau and kainga in the region. It has been active partnering with SCDHB in informing the Pasifika community on Covid-19 and measles vaccinations and cultural safety within health services.

Tonga Language Week 2021 - Sunday 5 September – Saturday 11 September
This year's theme for Uike Kātoanga'i 'o e lea faka-Tonga - Tonga Language Week is Fakakoloa 'o Aotearoa 'aki 'a e Ako Lelei, which means enriching Aotearoa with holistic education.
The theme serves as a conversation starter on the importance of holistic education, diverse forms of learning and how Aotearoa can benefit from it.
Due to COVID-19 Alert Levels active across Aotearoa Uike Kātoanga'i 'o e lea faka-Tonga - Tonga Language Week will be celebrated online. Activities and events hosted from household-bubbles across the country will be held online to embrace Uike Kātoanga'i 'o e lea faka-Tonga.
Some online events and activities will be available and streamed online on the official NZ Tonga Language Week Facebook page
_________________________________________________

Shared Pacific values underpin Pasefika Proud
Our vision and approach are underpinned by the following shared Pacific values, which help to nurture and sustain family and community wellbeing. They are protective factors for Pacific peoples: LOVE | FAMILY | COLLECTIVE | RESPECT | SPIRITUALITY | RECIPROCITY.